A weak front-runner takes a hard punch as debates shake up the Democratic 2020 field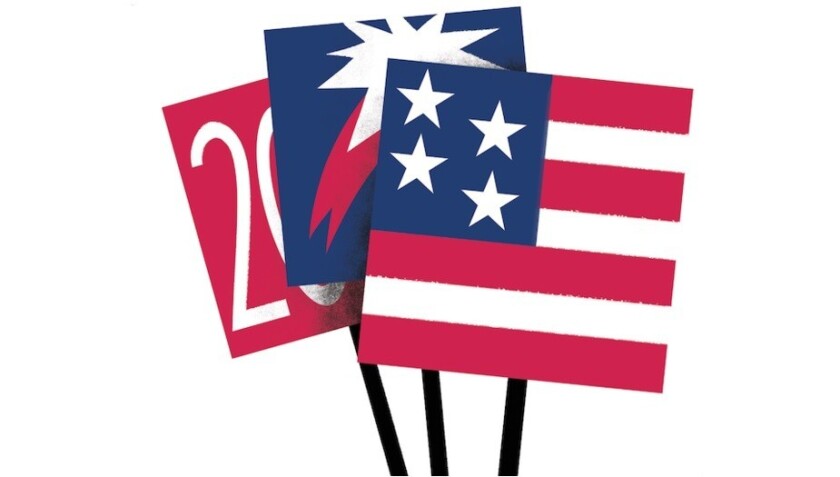 Reporting from Washington —
Before this week's Democratic primary debates, many doubted the events would have much impact on the field — too many candidates crowded onstage, too little time.
We won't know for sure for a few days, as pollsters gauge voter reaction. But in the aftermath of Thursday night's confrontation between Sen. Kamala Harris and former Vice President Joe Biden, the debates appear to have been consequential indeed.
Going in, the Democratic race appeared to be settling into a fixed pattern: Three candidates in their 70s — Biden, Sen. Bernie Sanders and Sen. Elizabeth Warren — had a clear lead over everyone else. Coming out, that no longer seems so clear.
Sign up for the Essential Politics newsletter »
THREE THINGS WE LEARNED
Biden may be the leader in polls, but he's a weak front-runner.
The former vice president has a large well of good feeling to draw on — Democratic voters like him and admire his service, especially as President Obama's wingman.
That, plus the belief on the part of many voters that an experienced, white, male candidate has the strongest shot to beat President Trump, has buoyed Biden so far.
But Thursday night's debate offered a reminder that Biden has run several times before and never well. Rather than command the stage from the center podium, he often faded, as Janet Hook and Evan Halper wrote in their account of Thursday night.
And the problem with running as the "most electable" is that a candidate doesn't have much to fall back on if the aura of electability is punctured. Thursday night it was, at minimum, seriously dented.
Harris' powerful assault on Biden's opposition to school busing for racial integration showed, once again, that his long record in public life carries almost as many liabilities as assets. The debate only scratched the surface: Biden also remains vulnerable, for example, on his support for the 1994 crime bill, as Mark Barabak wrote.
Biden's campaign strategy has been to stay away from the fray, but there's a line between being above it and seeming simply out of it. Thursday night, Biden came far too close to the latter.
The bottom tier of candidates are at the bottom for a reason.
Supporters of Sen. Kirsten Gillibrand, Rep. Eric Swalwell and others who barely qualified for the debate, not to mention Marianne Williamson and Andrew Yang, the two nonpoliticians in the group, had argued that if their candidates could just get on stage, the world would see their potential.
Nope.
Candidates probably won't drop out until lack of money or attention forces them to, but this first round of debates strongly validated the Democratic National Committee's decision to ratchet up the criteria for the third set of debates in September.
A field of 20 or more candidates doesn't serve voters well — it's too many for anyone to keep track of. In our system, everyone has a right to run, but not everyone has a right to be taken seriously. By the fall, if the field has shrunk to a dozen or so, that will be all to the good.
The generational division is powerful.
As our polls and others have shown, Democratic voters, unlike Republicans, prefer candidates to have political experience. But they also view being older than 70 as a liability.
Warren, who turned 70 last week, did not seem hindered by that. Biden, 76, and Sanders, 77, both did.
Harris, 54, as well as Sen. Cory Booker, 50, and former Housing Secretary Julián Castro, 44, made strong cases for themselves in the two nights of debates. So did Pete Buttigieg, who at 37 is the youngest of the major candidates and who has struggled for the past week with the impact of a police shooting in his hometown of South Bend, Ind., where he's mayor.
If they maintain their momentum, the younger candidates will give Democrats a set of choices who are more diverse by both race and experience, and perhaps stronger overall, than the trio of elders who seemed in control before the debates began.
WHAT TO LOOK FOR NEXT
Good post-debate polls take a few days, but by next week, we'll have a firmer sense of where the field stands.
One major question will be whether black voters have shifted.
Harris had the biggest breakout moment of the debates, as Melanie Mason and I wrote, and it was aimed directly at those voters and at Biden's expense.
Biden's lead in polls has come about in large part because of support from African Americans, particularly those older than 50. They play a big role in Democratic primaries, especially in the South and some of the big, industrial states. Tyrone Beason explored those dynamics with voters in South Carolina earlier this week.
Harris can't win without those voters. So Biden served as a major boulder in her path. Confronting him over his past opposition to school busing — a major civil rights issue — was an effort to blast that boulder away.
But black voters also have a history of loyalty to candidates they favor. And Biden has the support of many black elected officials, something his campaign demonstrated again Friday morning by announcing an endorsement from the mayor of Atlanta, Keisha Lance Bottoms.
Will Thursday night's confrontation move black voters away from Biden? And if not that, what?
Unlike the Biden-Harris confrontation, however, not every contest has a zero-sum at this point. Most Democratic primary voters haven't committed to a specific candidate, so it's very possible for someone to rise without it being at someone else's expense.
One useful gauge is a question that YouGov has been including in polls for the Economist. It asks primary voters to list all the candidates they are "considering."
As the primary season progresses, the list of names voters are seriously thinking about will shrink. But in the aftermath of the first round of debates, the betting here is that list will have grown.
MISSED THE DEBATE, NEED A RECAP?
We have you covered.
Here's Barabak and Mason on Debate Night 1, Halper's list of key takeaways and Hook's analysis of how the first night showcased the Democratic Party's move to the left.
And here's Hook and Halper's account of Debate Night 2, Lorraine Ali's review of the sometimes chaotic show and our analysis of how Harris' risky move appears to have paid off.
Finally, here's Halper's predebate look at how Democratic Party Chair Tom Perez has managed the process, seeking to exorcise the demons of 2016.
We'll do it all again for the next round of debates in July. I hope you'll all come along with us for the ride.
SUPREME COURT RAISES THE STAKES
Friday morning's announcement that the Supreme Court will rule on the fate of the "Dreamers" next spring adds yet another big unknown to an already unpredictable year.
Trump wants to revoke Obama's order that has prevented deportation of young immigrants who came to the U.S. as children. If the high court rules against Trump, that would be a sharp slap on one of his main issues, immigration.
Yet, if the justices rule that he can go ahead, Trump will be faced with either deporting hundreds of thousands of young, often telegenic and politically popular immigrants or backing down. Either way, the ruling could have an impact on the election, as David Savage wrote.
The justices wrapped up their term this week with two big rulings, both 5-4 and written by Chief Justice John G. Roberts Jr.
In one case, Roberts slapped down — at least for now — the administration's effort to add a question about citizenship to the 2020 census. Roberts' decision, as Savage wrote, allowed the administration an opportunity to try to revive the citizenship question, but it's unclear if they have time to do so before the census has to get under way.
In the other case, the court finally closed the door, after years of debate, on efforts to challenge partisan gerrymanders in federal court.
"Federal judges have no license to reallocate political power between the two major political parties, with no plausible grant of authority in the Constitution and no legal standards to limit and direct their decisions," Roberts wrote.
The ruling will raise the stakes for the 2020 election in closely divided states where partisan control of redistricting is at stake — North Carolina, Wisconsin and Texas, are all examples.
But a flurry of citizen initiatives around the country have already put limits on gerrymandering in some states. Expect to see more of that as a result of the high court's decision.
RED INK RISING
Few in Washington seem to care much, and, in fact, the U.S. economy has more pressing immediate problems, but the federal debt is on track to reach unsustainable levels over the next few decades, the Congressional Budget Office reported this week.
Trump's tax cuts, which blew a huge hole in the budget, play a major role in the rising tide of red in the nation's books. Right now, paying for the debt remains easily manageable because of low interest rates. But if those rates begin to rise — and eventually they will — the burden will become increasingly heavy, Jennifer Haberkorn reported.
MUST-SEE TV
Robert S. Mueller III is scheduled to testify on Capitol Hill on July 17. We'll be there.
THE IMPACT OF A PHOTO
Congress seemed headed for a stalemate over $4.5 billion in supplemental funds to deal with the flood of asylum seekers, especially children, at the southern border.
But a widely publicized photo of a dead father and his young daughter, drowned in the Rio Grande, put unstoppable pressure on lawmakers to accept a compromise.
As Haberkorn wrote, the terms of the deal were a setback for House Speaker Nancy Pelosi, who had to accept a Senate bill that left out safeguards that Democratic liberals wanted.
Moderate Democrats, fearing political attack if they failed to pass a bill, insisted that Pelosi allow a vote on the Senate-passed measure. That marks one of the very few times that restive members of the Democratic caucus have forced Pelosi's hand on a major issue.
JOKING WITH VLADIMIR
"Don't meddle in the election," Trump, smiling and mock-wagging his finger, told Russian President Vladimir Putin when the two met Friday morning in Osaka, Japan. Both men laughed.
Trump knows, of course, that the joking image will make his critics explode in outrage. He and many of his supporters revel in that.
The president is in Japan for the G-20 economic summit, but as Eli Stokols and Tracy Wilkinson wrote, he's there with unclear goals and low expectations.
Trump's foreign policy agenda at these meetings mostly seems to be to hold meetings with other leaders and get photographed on the world stage.
The most serious part of the trip is likely to be his meeting on Saturday with China's President Xi Jinping. As Don Lee wrote, the session could head off a global recession or worsen the outlook, depending on whether the two reach a truce in their trade war.
Another major issue potentially for discussion with Xi, Putin and European leaders would be the continuing tensions between the U.S. and Iran.
Trump said Sunday that he would be open to talks with Iran without preconditions. But on Monday, the administration imposed new sanctions whose real impact is limited, but which angered Iranian leaders by personally targeting the country's supreme leader, Ayatollah Khamenei.
As has been true for months, Trump's goals with Iran remain a muddle.
SEX AND MONEY
Rep. Duncan Hunter has been living on borrowed time politically for months, ever since he was indicted for misuse of campaign funds. This week, his problems got significantly worse as prosecutors said in a court filing that he had used some of the money to pay for extramarital affairs.
As Caroline Engelmayer wrote, that helps explain why Hunter's wife and co-defendant has decided to plead guilty and cooperate with the government. The case against Hunter, a Republican from Alpine, is set to go to trial in September.
LOGISTICS
That wraps up this week. Until next time, keep track of all the developments in national politics and the Trump administration at our Politics page and on Twitter @latimespolitics.
Send your comments, suggestions and news tips to politics@latimes.com.
If you like this newsletter, tell your friends to sign up.
---
Get our Essential Politics newsletter
The latest news, analysis and insights from our bureau chiefs in Sacramento and D.C.
You may occasionally receive promotional content from the Los Angeles Times.