Newsletter: Essential Politics: After border standoff, more tensions lie ahead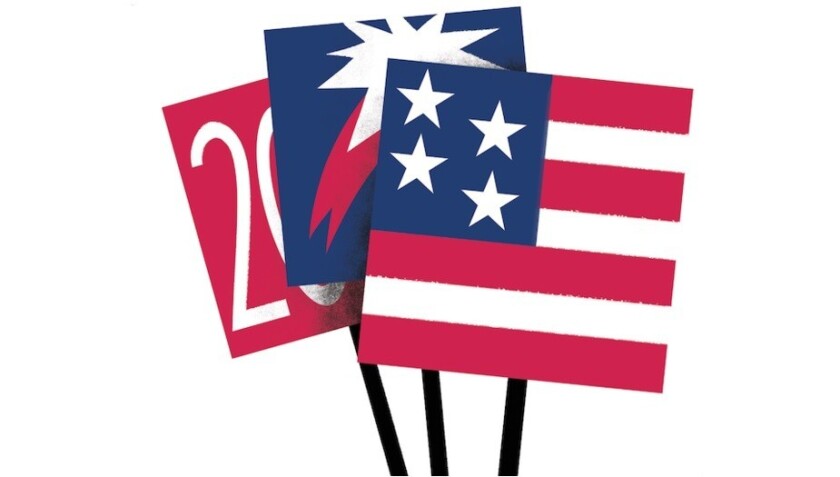 President Trump's social media posts about illegal immigration toward the end of the long holiday weekend seemed to match the tension playing out along the U.S.-Mexico border in Southern California.
It's unlikely to be the final word on the matter, with migrants from Central America now confronted by Border Patrol agents.
FROM TWITTER TO TIJUANA
Among the many tweets from Trump after the Thanksgiving holiday — including topics like interest rates and oil prices — was a demand for Mexico to stop migrants now gathering at the border.
"No crossings!" the president tweeted.
Hours later, a group of those who had traveled to the border rushed the area near the San Ysidro Port of Entry, prompting the U.S. Border Patrol to fire tear gas.
The migrants carried hand-painted American and Honduran flags and chanted: "We are not criminals! We are international workers!"
The border crossing opened again to travelers on Sunday evening.
A few days earlier, my colleague David S. Cloud reported that the White House has authorized extensive new powers for U.S. troops to potentially use against migrants including, if necessary, deadly force.
And the incident came just hours after Mexico's incoming leadership denied a published report that it had agreed to a Trump administration proposal requiring asylum seekers to wait in Mexico as U.S. authorities consider their claims for safe haven.
Sign up for the Essential Politics newsletter »
NATIONAL LIGHTNING ROUND
-- The president on Thanksgiving contradicted the CIA's assessment that Saudi Crown Prince Mohammed bin Salman had ordered the killing of Washington Post columnist Jamal Khashoggi. The next day, Turkish Foreign Minister Mevlut Cavusoglu slammed Trump for "turning a blind eye" in Khashoggi's death.
-- The Trump administration on Friday again asked the Supreme Court to bypass the usual legal process to take on another controversial issue: the decision to ban transgender people from military service.
-- In an exceedingly rare rebuke of a president, Chief Justice John G. Roberts Jr. chastised Trump last week for attacking a federal judge who ruled against his asylum policy as a partisan "Obama judge."
-- Conservative writer and conspiracy theorist Jerome Corsi is in plea negotiations with special counsel Robert S. Mueller III, according to a person with knowledge of the talks.
-- Nearly six months after Trump and North Korean leader Kim Jong Un embraced at a summit and made vague promises of peace, talks have flatlined and Pyongyang has taken no significant steps to reduce its nuclear arsenal or capabilities.
GOV. BROWN PARDONS IMMIGRANTS, EX-LEGISLATOR
Gov. Jerry Brown has made it a practice of issuing clemency decisions around the Christmas holiday; this year, his final in office, he added a group of decisions for Thanksgiving.
On Wednesday, he granted pardons and commutations to a group that included onetime drug offenders, immigrants facing deportation and former state Sen. Roderick Wright.
Brown issued 38 pardons for people convicted of felonies who had completed their sentences and commuted the existing sentences of 70 more.
THE FIRST 'FIRST PARTNER' FOR CALIFORNIA
Six weeks from today, California's 40th governor will take the oath of office in Sacramento. And while the focus will be on Gov.-elect Gavin Newsom, keep an eye on the woman who's likely to be standing next to him.
And don't call Jennifer Siebel Newsom "first lady."
As Melanie Mason writes, the new governor's spouse is an accomplished documentary filmmaker who focuses on gender dynamics in society — someone whose own path forward will be watched closely in the ways it interacts, or clashes, with that of the new chief executive.
And the title? Siebel Newsom prefers "first partner," a term she sees as more inclusive than the traditional sobriquet given to the wife of a governor.
TODAY'S ESSENTIALS
-- The California Democratic Party has launched an investigation into unspecified allegations of sexual misconduct against its chairman, Eric Bauman, involving party staff members.
-- The endless campaign season is coming to the Golden State, a side effect of a new law that seeks to make the state a powerful player in the 2020 presidential race.
-- A coalition of bail bond industry groups took a major step last week toward blocking California's historic overhaul of the bail system, submitting more than enough signatures required for a statewide referendum on the law in 2020.
-- California's state budget costs for fighting two deadly wildfires that ignited less than two weeks ago have already topped $118 million.
LOGISTICS
Essential Politics is published Monday and Friday.
You can keep up with breaking news on our politics page throughout the day. And are you following us on Twitter at @latimespolitics?
Please send thoughts, concerns and news tips to politics@latimes.com.
Did someone forward you this? Sign up here to get Essential Politics in your inbox.
Follow me on Twitter at @johnmyers and listen to the weekly California Politics Podcast
---
Get our Essential Politics newsletter
The latest news, analysis and insights from our politics teams from Sacramento to D.C.
You may occasionally receive promotional content from the Los Angeles Times.