Voting is changing in Los Angeles County. Here's what you need to know and how to find a vote center
Nearly 1,000 new vote centers have dreplace the precinct polling places used in past L.A. County elections. Angelenos will no longer be confined to voting in their neighborhoods. These centers will also be open for days before the election. Find one that's convenient to you.
Need a ride to the polls? L.A. Metro offering free fares on election day.
California decides: A five-part series looking at California's diverse electorate
The San Joaquin Valley remains an upbeat bastion for Trump, even as Democrats dominate the state government and make preparations for the March 3 primary election.
In the eastern Coachella Valley, a new generation of Latinos is winning seats on school boards and water districts, and joining city commissions.
Even in the left-wing heart of California, the Democratic Party electorate is far from monolithic heading into the March 3 presidential primary on Super Tuesday.
The younger-generation vote has proved elusive for Democrats in conservative parts of California such as Placer County.
To come out on top in California's primary, Democratic contenders must appeal to a patchwork of ethnic constituencies, among them the large Iranian American population that spans San Diego, Los Angeles and the Bay Area.
How Democratic delegates are chosen in California
Meet the presidential candidates
Where the candidates stand on key issues
Hometown: America as seen from the candidates' front doors
Burlington shaped Sanders as Sanders shaped Burlington, so much so that it's hard to consider one without the other.
The rich, brainy city of Cambridge, Mass., reflects Elizabeth Warren's have-a-plan approach as well as inequality issues at the center of her campaign.
After decades of malaise, South Bend went through big changes during Pete Buttigieg's tenure as mayor. But there is fear that the gains have been uneven and that its fragile progress could slip away.
Joe Biden's hometown of Wilmington is known for its small size and relationship-based politics. But just as in national politics, backlash has been brewing against the status quo.
Stay up to date with the latest news on the presidential primary
Los Angeles County and local races
A look at what George Gascón, Jackie Lacey and Rachael Rossi bring to the table.
Rivals to Supervisor Mark Ridley-Thomas say the district needs a fresh perspective. He says they don't understand how government works.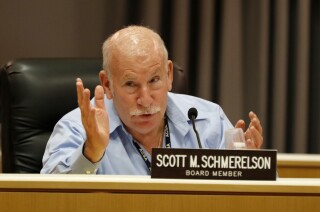 Charter school supporters attack teachers union-backed incumbent L.A. school board campain
Charters school backers and the teachers union have much at stake in upcoming LAUSD school board elections in which a majority of seats are up for grabs.
The candidates running for L.A. County supervisor have pledged to ease homelessness, but many were in elected office as it became a crisis.
California's largest school district has not taken an official position on a bond measure that would raise billions of dollars for schools. A clause on developer fees may be part of the reason.
City Council candidates Kevin de León and Mark Ridley-Thomas have declined to rule out running for mayor in 2022, drawing criticism from rivals.
Rivals for L.A. County supervisor, Herb Wesson, Holly Mitchell and Jan Perry, are fighting over the L.A. County Democratic Party's endorsement of Wesson.
Behind the money in local races
Incumbent Councilmen David Ryu and John Lee have benefited from outside spending, as has council candidate Kevin de León.

The donations represent the political canyon between incumbent Jackie Lacey and George Gascón — law enforcement unions on one side, progressive donors on the other.
There is only one statewide proposition on the ballot
Recommendations from the Los Angeles Times editorial board
Jackie Lacey is not the energetic innovator and leader that the L.A. County district attorney's office needs. The better choice is George Gascón.

Despite some concerns about her approach to several important issues, Supervisor Kathryn Barger is a better choice for county supervisor than either of her challengers

Janice Hahn has been a decent, caring supervisor. She deserves to be reelected to the Los Angeles County Board of Supervisors.

Of the 10 candidates running to succeed Mark Ridley-Thomas on the Board of Supervisors, the standout is Holly Mitchell, an impressive state lawmaker who has focused her work on justice, equity and fiscal issues.

Measure FD deserves support so that county firefighters and paramedics can provide needed service amid growing fire dangers and increasing need for paramedics.

Measure R would significantly strengthen civilian oversight of the L.A. Sheriff's Department and improve psychiatric care for people we currently send to jail.

The Santa Clarita assemblywoman and former school board member is the best prepared candidate in the race to replace Katie Hill.

The Times recommends a yes vote on this year's state bond measure for public school, community college and college funding, Proposition 13.

Voters would have a hard time finding another candidate with Mark Ridley-Thomas' experience and knowledge, as well as his list of accomplishments.

The former state Senate leader has proved himself as someone who can get big, tough projects done. The L.A. City Council needs someone like that.

Lundquist has experience working within and for the community and — more importantly — a vision for a cleaner, healthier, more humane city.

In L.A. City Council races, there's value in experience, particularly when leaders embrace change and are willing to do the work to make it happen.

In the coming election, the incumbents, flawed though some may be, are the best candidates and should be returned to their seats.
Los Angeles Times editorial board endorsements for the U.S. House, California ballot measures and more.
Mark your calendar
Stay updated with The Times' presidential election calendar. Add these events to your phone or desktop by subscribing (compatible with Apple, Google and Outlook calendars) and sign up to receive updates on our coverage.
Did you vote at an L.A. County vote center?
---
Get our Essential Politics newsletter
The latest news, analysis and insights from our politics teams from Sacramento to D.C.
You may occasionally receive promotional content from the Los Angeles Times.