Bavel's hummus masabacha
Yields
Makes a generous 2 cups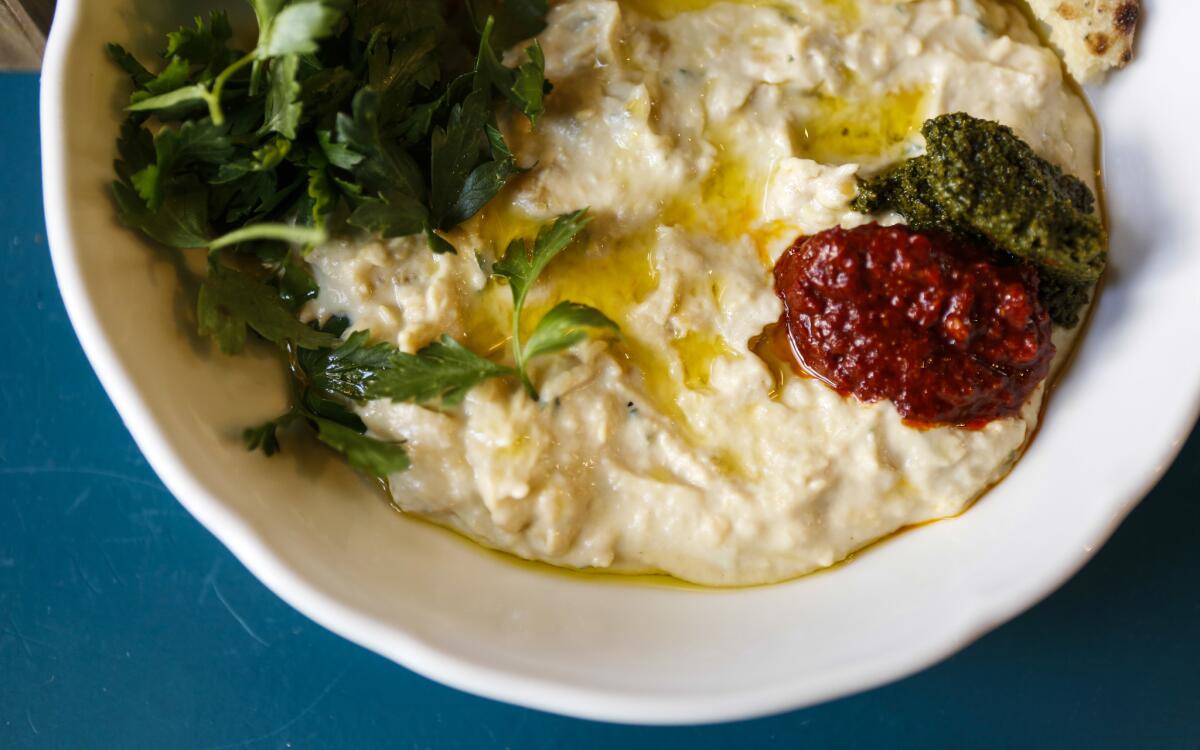 Print Recipe

Print Recipe
Hummus is definitely having a moment. It seems you can't scroll through a menu without at least one offering. And with all of the varieties available — I've seen variations flavored with everything from edamame to chipotle, roasted butternut squash to English pea with watercress — it's become the muse of many a chef.
You might even argue hummus is the next avocado toast.
"It's like risotto," says chef Sean Lowenthal. "You just need an ingredient to become a theme to bind the dish."
Lowenthal, owner of Little Beast in Eagle Rock, has served at least 15 varieties of hummus since the restaurant opened five years ago. Currently, he's offering a black-eyed pea hummus topped with a Hoppin' John-inspired salsa as part of a Southern-themed pop-up at the restaurant through the summer.
"I was trying to figure out why we love black-eyed peas in the South but nobody else eats them," he says. He wanted to find a vehicle for the ingredient that would be more approachable to guests, particularly those in Southern California. "And everyone loves hummus."
For some chefs, the dish is more about tradition and technique. Perhaps the most lauded hummus at the moment can be found at downtown L.A.'s Bevel, chef/owner Ori Menashe's latest venture with partner Genevieve Gergis. The late Times critic Jonathan Gold, in his final restaurant review, waxed poetic about Menashe's hummus offerings.
"I lived in Israel for 14 years and, to me, the original form is best. Like a perfect steak, it shows a lot of skill," Menashe says. "Like steak, it's more vulnerable when you can't cover it with different flavors."
Menashe went through hundreds of tests to come up with the right technique for his hummus, which Gold described as "magnificent, a ring of silky, airy purée" surrounding a thicker, coarse hummus masabacha.
The airy hummus simply can't be replicated using home equipment, but the rustic hummus masabacha can be made simply by whipping a handful of ingredients — parsley, garlic, salt, lemon juice, garbanzo beans, tahini and water — together using a mortar and pestle.
Though the method is simple, Menashe stresses using the best ingredients. He sources Spanish garbanzos, a smaller legume Menashe says has better, more concentrated flavor, and he uses an imported tahini paste used by many chefs in Israel.
John Gladish, chef and owner of the Fat Dog in Fairfax and North Hollywood, uses the idea of traditional hummus — garbanzo beans, lemon juice and garlic — as a starting point, "and then we always add to it."
"Three or four times a year, I come up with a new hummus," he says. The restaurant had just taken a beet salad off the menu, and had extra beets on hand. "I was like, 'Let's make this work.' "
For Gladish, the beet hummus is all about the garnish.
"Beets present all these opportunities," he notes. Beets work with a variety of crumbled fresh cheese, along with a crunchy topping such as seeds or nuts. Add greens — basil, tarragon, parsley — and "it makes the dish more of a salad hummus as opposed to just puréed garbanzos with beets."
At the modern Mediterranean restaurant Momed (with locations in Atwater Village and Beverly Hills), owner Alex Sarkissian says the avocado hummus is one of the classic dishes that remains from when the first restaurant opened almost 10 years ago. The recipe flavors puréed avocados simply, with garlic, lime and lemon juice, tahini, cumin and a touch of salt.
"Most people keep the garbanzo as the base ingredient while switching up other flavors," Sarkissian says. Initially, he was concerned the dish might taste too much like guacamole without the garbanzo beans. "But think of the tahini as the key ingredient." And it's worked. Sarkissian calls the hummus one of the "superstars" on the menu. "Everyone talks about it."
And for the record, that avocado hummus also tastes really good on toast.
Garbanzo beans
1
In a deep bowl, cover the garbanzo beans with 3 cups of water and 1 ½ teaspoons baking soda. Soak overnight, and up to 24 hours. The next day, rinse the beans well.
2
In a large pot, combine the garbanzos with the remaining 1 ½ teaspoons baking soda. Toast the garbanzos over low heat until the skins start to fall off, eight to 10 minutes. Add the remaining 5 cups water and bring to a boil. Reduce the heat to a simmer and, using a small strainer, skim the foam and skins that rise to the surface. Cook the garbanzos until tender, 35 to 45 minutes, then remove from heat. Leave the garbanzos in the liquid for 10 minute before straining. This makes approximately 3 cups cooked garbanzos. The garbanzos can be made up to a few days in advance; cover and refrigerate to store.
Hummus masabacha
1
In a large mortar, combine the parsley, garlic and salt, and smash using a pestle to combine. Add the lemon juice and set aside for two minutes, then add the garbanzos, tahini and water. Using the pestle in a circular motion, whip the contents until combined. This makes a generous 2 cups hummus, which will keep, covered and refrigerated, up to three days.
Adapted from a recipe by Ori Menashe, chef and co-owner of Bavel.
---
Get our Cooking newsletter.
Your roundup of inspiring recipes and kitchen tricks.
You may occasionally receive promotional content from the Los Angeles Times.