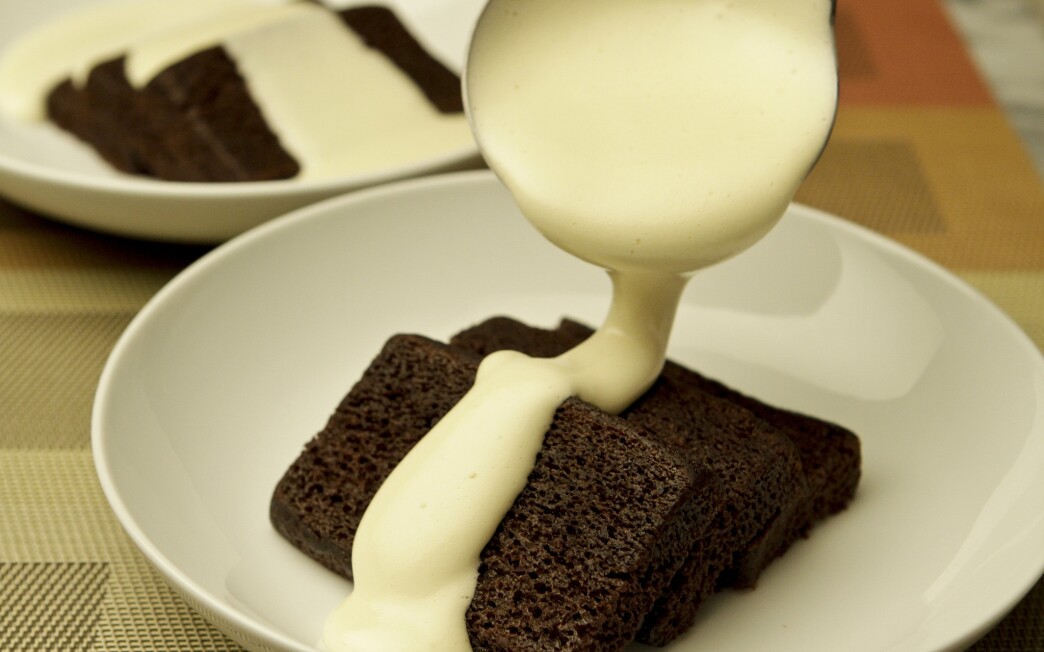 Print Recipe

Print Recipe
Whisk some egg yolks with a little sugar until they take on a bright, velvety sheen, then drizzle in a little wine. Place the bowl over gently simmering water and keep beating, and in just minutes you have a light and airy custard, faintly sweet and enticingly smooth, rich with the almost smoky aroma of Marsala.
That's it -- the simple wonder of zabaglione.
A traditional Italian dessert, zabaglione is as elegant to serve as it is simple to make. Quickly prepared, it makes a perfect dessert, whether you're serving a formal dinner for company, or following a meal of leftovers on a busy weeknight.
What's not to love about zabaglione? It's easy and versatile, and you probably already have the ingredients at home. Whip up a batch and serve it spooned over freshly diced fruit, or ladle it over a cake or a crisp, flaky pastry as a velvety sauce. Or serve it simply by itself, in a beautiful glass. The trick is to serve it fresh and warm, just off the stove.
Because of its alcohol content, zabaglione is a decidedly adult dessert. The classic Italian method calls for Marsala; the French version, sabayon, typically incorporates a sweet wine, such as Sauternes.
But that's just a starting point. Zabaglione works with almost any wine or liquor. A rum-based zabaglione is delightfully exotic spooned over freshly grilled pineapple, and one infused with applejack brandy would work perfectly spooned over an apple tart or a scoop of pecan praline ice cream. Try a tequila version brightened with citrus zest, or perhaps a plum wine zabaglione with honey and toasted almonds.
If you're concerned about the liquor overpowering the zabaglione, replace some of it with wine to temper its intensity. Or replace some or all of the alcohol with fruit juice.
Try a sherry-based zabaglione, whisking in a moderately sweet oloroso with just a touch of hazelnut liqueur. The custard is full-bodied and lightly sweet from the aged sherry, the hints of hazelnut earthy and warm. It's perfect spooned over a handful of ripe figs.
Or have a little fun, and try a zabaglione using beer. A Belgian ale with its delicate, light flavor will give the custard a nice, malty finish. Because of the carbonation, it can swell to almost twice the volume of a traditional zabaglione. Ethereal almost, it pairs well with a fresh batch of spiced gingerbread, though it would work equally well spooned into a glass, lightly topped with crushed gingersnaps for a play on texture.
If you like, arrange fresh fruit on an oven-proof plate and spoon the zabaglione over, then place the dish under the broiler for a minute or so to brown the top.
There may be no better way to end a meal than with a scoop of frozen zabaglione, though, of course, you'll have to plan ahead. Make a zabaglione as you normally would, with the liquor or flavor of your choosing. As soon as the custard is done, gently fold it into a bowl of freshly whipped cream. Spoon the zabaglione into a chilled bowl or loaf dish, then gently cover the surface with plastic wrap and freeze until firm.
Frozen zabaglione won't be solid, like ice cream; it will be a little softer, like gelato or semifreddo. But the method is simple, and doesn't require an ice cream maker. Try it once and you might never go back to commercial ice cream again.
Love chocolate? Try a frozen chocolate zabaglione, combining Port in the base with a whipped chocolate ganache before freezing.
Fully chilled, the frozen zabaglione is smooth and velvety, the rich chocolate flavor complemented with subtle hints of fruit from the Port. And it makes a perfect dessert for company, scooped into glasses and sprinkled over with chocolate shavings or fresh berries.
Of course, it works equally well served in a simple bowl, savored on a quiet weeknight after a long day.
1
In a large bowl, whisk together the egg yolks and sugar until combined and frothy. Whisk in the beer.
2
Set the bowl over a large pot of simmering water, making sure the bottom of the bowl does not touch the water. Continue to whisk until the mixture increases in volume and thickens to a thick, foamy cream, easily coating the back of a spoon. The final consistency should be similar to that of a very thick hollandaise.
3
Remove from heat and serve immediately. This makes about 2 cups of zabaglione.
---
Get our new Cooking newsletter.
You may occasionally receive promotional content from the Los Angeles Times.