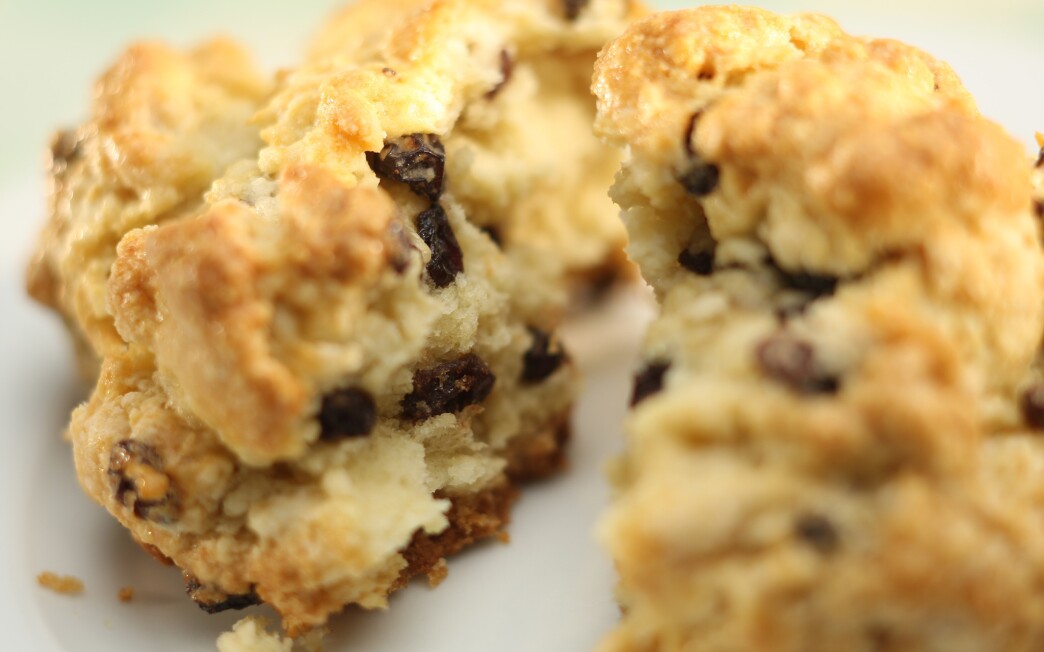 Print Recipe

Print Recipe
Dear SOS: I discovered the best currant scones at La Provence in Beverly Hills. Even the shape is special: free-form and crispy.
Shirley Bilfield
Century City
Dear Shirley: Fan of currants? Then look no further! Each of these scones is packed with those tiny little raisins, so you can be sure every bite has an extra dose of tangy sweetness. They're great served with a little softened butter, honey or marmalade, and make the perfect quick breakfast.
1
Heat the oven to 350 degrees. In a large bowl, sift together the flour, sugar, baking soda, baking powder and salt.
2
Cut in the butter until the mixture is crumbly.
3
In a medium bowl, whisk together 2 of the eggs, the vanilla and buttermilk. Pour the buttermilk mixture over the dry ingredients, and stir together to evenly distribute. (The dough will be crumbly.) Stir in the currants.
4
Pour the mixture onto a lightly floured cutting board, and gently knead to form a cohesive mass. Be careful not to overmix, or the dough will be tough.
5
Scoop the scones using a large (4-ounce) scoop onto a parchment-lined baking sheet, or divide the dough into 14 portions (each portion will be about one-half cup), leaving 3 inches between each.
6
In a small bowl, whisk together the remaining egg with the milk to form an egg wash. Brush the egg wash over each of the scones.
7
Bake the scones until puffed, lightly browned and a toothpick inserted comes out clean, about 30 minutes, rotating halfway through baking for even coloring. Remove to a rack and cool slightly before serving.
Adapted from La Provence Cafe.
---
Get our new Cooking newsletter.
You may occasionally receive promotional content from the Los Angeles Times.