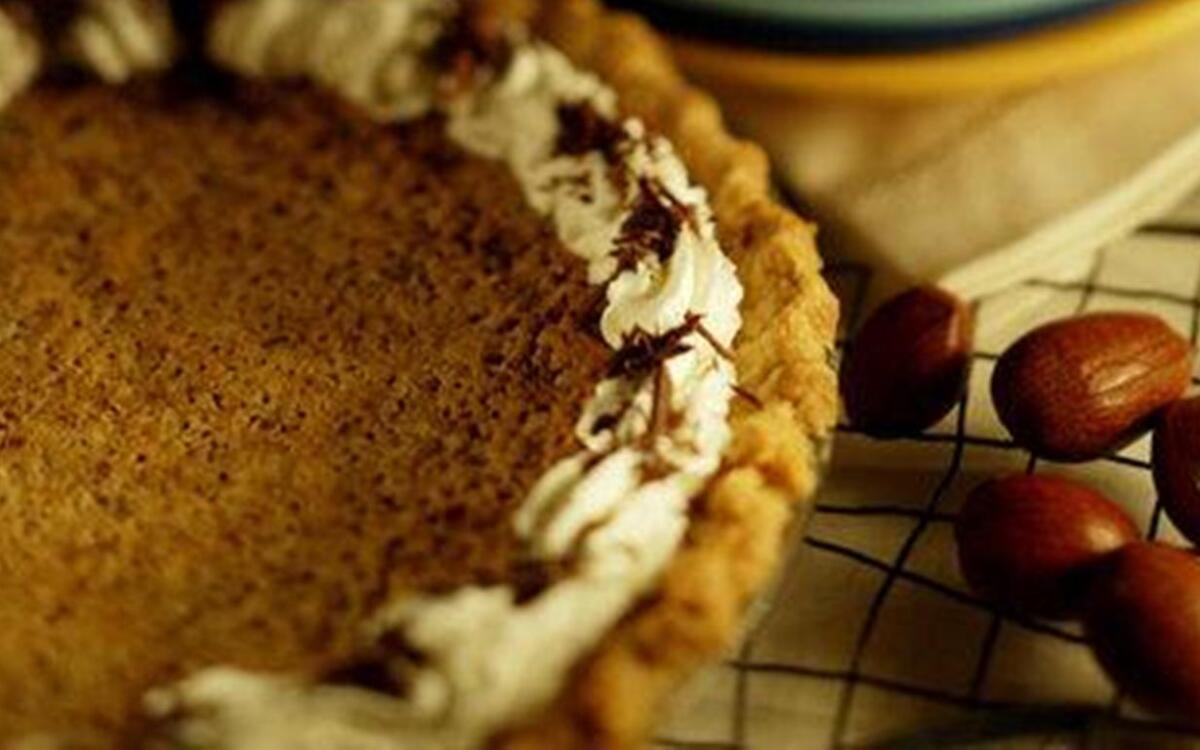 Print Recipe

Print Recipe
I have no idea when basketball season starts or if baseball season ever ends, but I always know when the Kentucky Derby is running. The first Saturday in May is permanently on my calendar as the best excuse in sports for a party. Twenty-five years after I left Louisville, I still see the race as an incentive to drink bourbon, eat hot Browns and indulge in a pie that dares not speak its registered-trademark name.
No matter how far I am from the track, I know I'll be partying like a Louisvillian. Over three Derbies there, I learned that the best fetes are not on the infield -- the people I socialized with avoided Churchill Downs like the human zoo it is and instead holed up at home to pour their bourbon with a clear view of the TV.
I tend to be a bit more patriotic about the menu, though. My friends served whatever they wanted in their hometown simply because they were in their hometown. My nostalgic side wants every dish to have roots and meaning, maybe even be the edible equivalent of the state song sung before the race (but not as sappy).
Some of the food I serve is grounded in Derby tradition and other dishes are just local favorites. I always make Benedictine, a cucumber-flavored cream cheese spread that was invented by a caterer named Jennie Benedict in the early 1900s in Louisville and was sold in just about every deli in town when I lived there. Thinned out with mayonnaise, or with sour cream, Benedictine can work as a dip; otherwise you can just slather it on crackers or party rye or make it the filling in a fat sandwich, maybe with ham or turkey.
The original recipe used grated onion, but green onions are subtler. It also called for green food coloring, but outside the South that just looks fake to me. Some cooks add dill to get the color, but a little of the cucumber peel can do the same thing and keep the flavor more direct.
I also always make bourbon balls, partly because they need to be done a few weeks in advance -- I know I have to have the party no matter how busy I get if a batch is gaining strength in my kitchen.
The bourbon that flavors them is as important as the bourbon we always drink straight after the first few attempts at too-sweet mint juleps are abandoned. The best bourbons for sipping, the small-batch brands such as Knob Creek or Woodford Reserve, also are best for cooking. They're less cloying and add a smoothness and intensity that Old Granddad can't quite muster.
The rest of the Derby lineup varies from year to year. I might make burgoo, the distinctive Kentucky soup that calls for half the vegetables in a lush garden, from lima beans and okra to potatoes and tomatoes. Originally it was cooked up with squirrel and rabbit, but chicken and beef do just fine. Burgoo has a long tradition at political fund-raisers, and it is a crowd-pleaser. But it's best at parties where guests don't mind juggling a bowlful along with a glass and a slab of corn bread.
Hot Browns also are a knife-and-fork enterprise but more than worth the struggle. Invented at the Brown Hotel in downtown Louisville in 1923 as an after-dance snack, these are sandwiches almost designed to absorb bourbon. Fresh roast turkey is layered under a rich cream sauce, broiled with a Parmigiano-Reggiano crust and then topped with bacon and tomatoes.
For bigger parties, I cut hot Browns down to two-bite size for hors d'oeuvres. These work better if the turkey and ham are diced and then mixed with crumbled bacon and the cheese sauce before being spread on baguette slices and run under the broiler. To vary the flavor, I might add a little Smithfield or country ham to the mix.
I have a whole repertoire of other Louisville favorites I can pull out, such as hot sausage balls made from biscuit dough loaded with Cheddar cheese. But the sure winner is dessert.
Everyone in Kentucky calls it Derby-Pie, in flagrant disregard of the family business -- Kern's Kitchens in Louisville -- that invented the recipe in the 1950s and registered the name. I can't say that, but I can call my variation one of the easiest desserts I know. The bourbon makes it heady, the butter and eggs make it gooey and the nuts and chocolate make it irresistible, especially if it's served warm with whipped cream spiked with bourbon.
The best part is that you don't have to wait all afternoon to try it, which is one more reason I follow the Derby. It requires the shortest attention span in sports: Two minutes, and you're free to eat and drink.
1
Heat the oven to 350 degrees.
2
Combine the sugar, flour and salt in a mixing bowl and toss with a fork until mixed. Add the eggs, butter and bourbon and mix really well. Stir in the chocolate chips and walnuts. Scrape into the pie shell. Bake until the top feels firm to the touch, 45 minutes.
3
Cool the pie on a rack at least 1 hour before slicing and serving with whipped cream (flavored with a little bourbon if you like). Once it's cut, it can be reheated for better flavor.
---
Get our new Cooking newsletter.
Your roundup of inspiring recipes and kitchen tricks.
You may occasionally receive promotional content from the Los Angeles Times.