Braised savoy cabbage with anchovies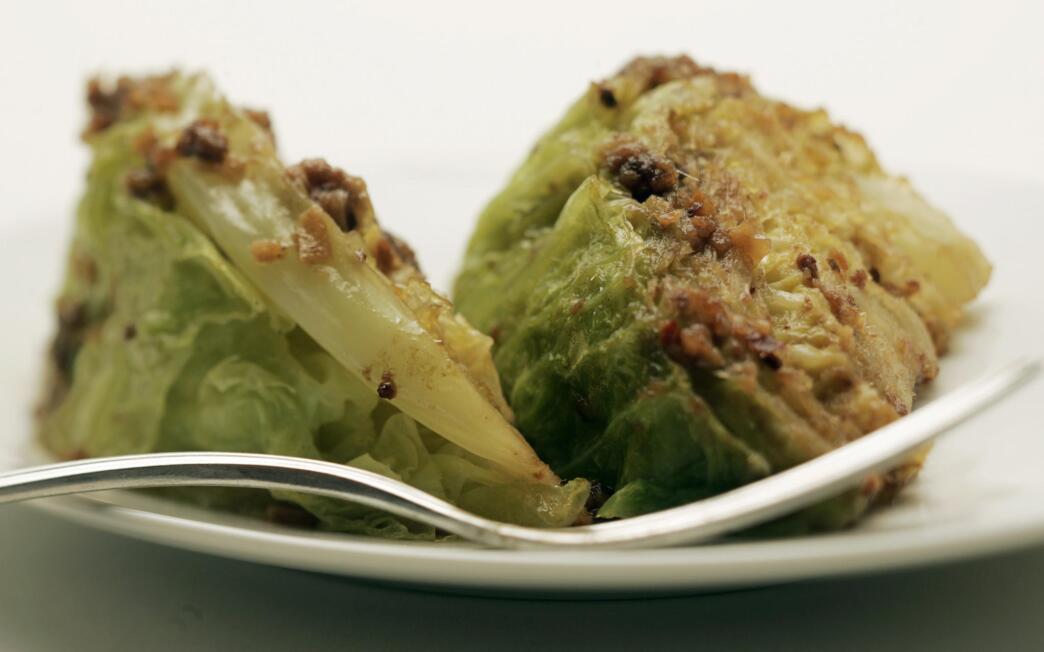 Print Recipe

Print Recipe
Mark Twain famously said cauliflower is just cabbage with a college education. To spin the analogy, savoy cabbage is cabbage fresh out of finishing school.
Unlike its tougher, rougher, aromatic cousins, this bright and leafy variation is the very model of delicacy and refinement. It looks prettier, with almost lacy leaves, and it tastes more mellow, whether you eat it raw or cooked. It is truly cabbage made for cooking any which way: It steams softly, braises beautifully and can even be boiled without losing its color, flavor and tenderness.
Savoy is a five-letter word for "easy" compared with the ordinary red or green cabbage. It is easy to cut up, with just a hard core and very few tough veins in its leaves rather than a head full of trouble. It's really easy to cook, and fast. And it's definitely easy to eat, especially stewed to an almost caramelized state with garlic and anchovies. Best of all, it doesn't smell pungent when cooking.
For all its superiority, savoy is cabbage to the core, though. It has the same crunchy texture and almost nutty flavor that make cabbage one of the most versatile ingredients in the crisper drawer. If you've never cooked it before, trying it is like discovering a whole new vegetable, and a green one in wintertime at that.
You can even use it in pasta, in a very classic and hearty preparation called pizzocheri, with strong-flavored noodles layered with waxy potatoes, garlic, sage, butter and a very creamy, melty cheese such as Taleggio.
The combination is sensational even if you don't start with the traditional buckwheat noodles used in northern Italy. If you can find whole wheat fettuccine, or thick noodles made from farro or chestnuts, use those. But you will still get a fabulous supper if you resort to semolina noodles.
Much of what makes this light and easy cabbage so alluring can be traced to its lineage. Ordinary cabbages evoke cold climates and hard times in the whole part of the world we now think of as Eastern Europe. It has the image of peasant food, of desperate sustenance for the deprived.
But savoy is a highly cultivated aristocrat born in Italy, where they know from elegance and flavor. (Savoy cabbage is also known as Milano there.) Apparently it dates at least from the 1500s, although some sources say its predecessors were prized by the early Romans.
It remains the green standard in kitchens in France and Italy today, although it is not as widely cultivated in this country.
Not surprisingly, savoy works best in recipes that do not conjure sauerkraut and famine. Its leaves are so tender and pliable that they are especially amenable to stuffing after you steam them.
In France, the whole head is actually stuffed, with foie gras or sausage or mushrooms, then reassembled, bound in cheesecloth and boiled; it can then be sliced for layers of flavor. Individual stuffed cabbages are a breeze by comparison.
Savoy, like anything Italian, takes well to richness. Nut oils, especially pistachio and hazelnut, bring out more of its inherent flavor. Butter suits it well, but truffle butter transforms it. And sour cream is like the ultimate gilding of the cabbage lily: It sounds like excess but tastes perfectly restrained.
Salt is the simplest seasoning for savoy, and caraway seeds the most predictable, but it also plays well with sage, thyme and chives. At its simplest, just braised in oil or butter, savoy makes the perfect partner for salmon, duck, pork, beef and especially sausages.
Like any cabbage, savoys are keepers. They last at least a week in the refrigerator, which means that having a head on hand can save your salad any night -- just shred it and toss it with carrots, a little nut oil and some vinegar, and it's a crunchy alternative to everyday lettuce or fancier mesclun.
You can also use it instead of lettuce in a taco or burrito and get a superior crunchiness, to boot.
Regular cabbage would work, but not as delicately.
1
Wash the cabbage. Remove the tough outer leaves. Cut in half, then cut each half into 4 wedges. Cut away the core.
2
Heat the chicken broth in a large skillet. When the broth is simmering, add the cabbage wedges, cut side down, and cook, covered, until tender, about 10 to 12 minutes, turning over halfway through.
3
Heat the olive oil in another large skillet over medium heat. Add the garlic and saute 1 minute, then stir in the anchovies and cook, breaking up with a wooden spoon, until the garlic is soft, about 5 minutes. Stir in the hot pepper flakes.
4
Place the cooked cabbage wedges in the skillet with the anchovies and turn the wedges to coat with the anchovy mixture. Cook until the wedges have turned a caramel color, about 3 to 4 minutes per side. Season with salt and pepper to taste.
Adapted from a recipe by Rose Busico.
---
Get our new Cooking newsletter.
You may occasionally receive promotional content from the Los Angeles Times.