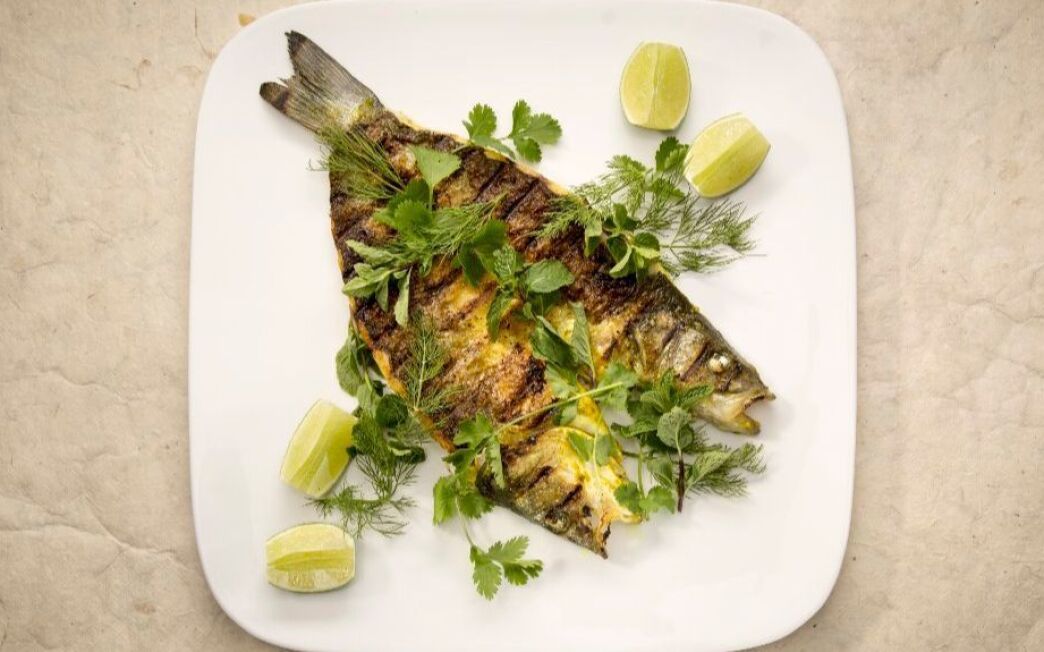 Print Recipe

Print Recipe
A butterflied whole branzino is marinated with turmeric, garlic and spicy Thai chiles just long enough for the flavors to infuse, then the fish is quickly grilled until the skin is burnished and blistered and the interior is barely cooked through. Serve it simple with an assortment of fragrant fresh herb sprigs — cilantro, mint, dill — and lime wedges.
1
Using a blender, puree the vegetable oil, fish sauce, turmeric, chiles and garlic until smooth. Brush the marinade all over the butterflied fish on a plate and let sit for 30 minutes to allow the flavors to infuse the fish.
2
Heat a gas or charcoal grill or grill pan over to medium-high. Place the fish, skin-side down, on the grill and cook until the skin is brown and blistered, about 4 minutes. Carefully flip the fish over and continue to cook until the flesh is barely cooked through, 2 to 4 minutes more.
3
Transfer the fish to serving platter, scatter the herb leaves over the top and drizzle everything with some olive oil. Serve immediately with lime wedges on the side.
Adapted from Bryant Ng, chef of Cassia Restaurant in Santa Monica.
---
Get our new Cooking newsletter.
Your roundup of inspiring recipes and kitchen tricks.
You may occasionally receive promotional content from the Los Angeles Times.