Chocolate truffle cakes
Time
Active work time: 25 minutes Total preparation time: 40 minutes plus 1 hour chilling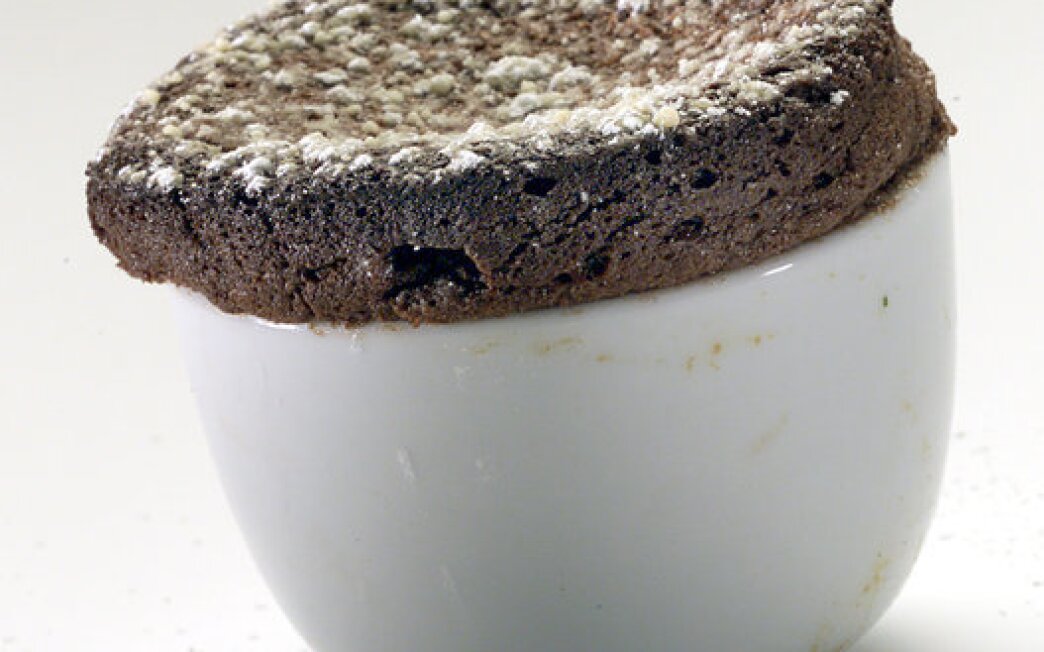 Print Recipe

Print Recipe
Chocolate remains among the most mystical of culinary delights, but too often home cooks avoid its pleasures because chocolate intimidates them. They think of the mysterious act of "tempering" chocolate or recall what happened when a drop of water found its way out of the double boiler and a whole silky batch seized on the spot. In fact, chocolate is like those other mystical luxuries, foie gras, caviar and truffles-often the less you do to it, the better.
For the home cook, ganache is the perfect example of chocolate's greatness, versatility and simplicity. The fancy French name denotes simply this: equal parts chopped chocolate and hot cream, stirred until they are incorporated into one another.
By itself, the result is perfect in texture and purity of flavor. Use it on ice cream, with cake or with fruit. Furthermore, it is easily flavored. Infuse the cream with citrus zest, vanilla (which enhances the chocolate flavor), ginger or cinnamon, or enhance the final sauce by adding oils such as hazelnut or walnut. Or you can offset the sweetness with the cool acidity of creme fraiche.
Cooled and left to set, ganache can be rolled into balls and dusted with cocoa to make chocolate truffles. (The French Laundry adds corn syrup to the cream for texture, 1/12 of the basic ganache recipe by weight.) Add chopped nuts or raisins to give those truffles another dimension. Beat room temperature butter into ganache and you have a beautiful glaze for cakes. Fold in whipped egg whites and you have a delicate mousse. Alter the density by adding more cream and you can whip this ganache into soft peaks. Add some ganache to a mug of hot milk and you have extraordinary hot chocolate.
If you're unfamiliar with the ways of chocolate, ganache is the perfect introduction to an amazing product.
Though versions of this molten-centered truffle cake are served at high-end restaurants throughout the country, this one is an example of the simplicity of chocolate. It's the perfect do-ahead dessert because it freezes so well; then you just heat and serve. It's very light in texture because it's virtually flourless, and its center is runny, molten chocolate-otherwise known as ganache.
Buy good chocolate, such as Valrhona or Callebaut. We prefer chocolate without much added sugar, called bittersweet. That bitterness is an important component in a good chocolate dessert. And whenever you're spotlighting an ingredient, it's important to buy the very best.
But once you have good chocolate in your possession, all you need is a little hot cream to turn it into a multipurpose dazzler.
Ganache
1
Grate the chocolate and place it in a bowl. Bring the whipping cream just to a boil and pour it over the chocolate. Slowly stir until smooth. Transfer the mixture into a shallow glass dish and let it cool slightly, about 10 minutes, the place it in the freezer to chill, 1 hour.
2
Scoop out 10 balls using a 1/2-teaspoon measuring spoon and shape them so they're round. Chill until ready to use.
Cake
1
Heat the oven to 375 degrees.
2
Melt the chocolate and butter in the top of a double boiler set over, but not touching, simmering water. Stir in the flour and remove from the heat to cool slightly.
3
Whip the yolks in the bowl of an electric mixer and slowly add the sugar until the whisk leaves a thick ribbon that stays on top of the batter when it is lifted out, about 5 minutes. Pour the chocolate into the yolk-sugar mixture and gently fold them together.
4
Spray 10 (1/2-cup) ramekins with cooking spray. Half-fill each with chocolate batter, place 1 ganache ball in the center and then continue filling to the top with more batter. Place the ramekins on a rimmed baking sheet. (The recipe can be made ahead to this point up to 1 hour in advance and stored at room temperature, or 1 week in advance and frozen, tightly covered.)
5
Bake the cakes until they begin to pull away from the sides of the ramekins, 13 to 15 minutes. Dust with powdered sugar.
This is almost more of a molten-centered chocolate souffle than a cake.The batter can be prepared up to 1 hour ahead of time and left at room temperature to be baked at the last minute. Or you can make it even more in advance, freeze it, then pop it straight into the oven. The baking time in that case will increase to 20 minutes. At the restaurant, this cake is made in three-inch ring molds set onto a baking sheet and then unmolded after baking. Since most home cooks don't have ring molds, in the Test Kitchen we used 1/2-cup (4-ounce) ramekins and then dusted the tops with powdered sugar after baking. They worked perfectly.
---
Get our new Cooking newsletter.
You may occasionally receive promotional content from the Los Angeles Times.