Cilantro pesto beet fettuccine with arugula and cream dressing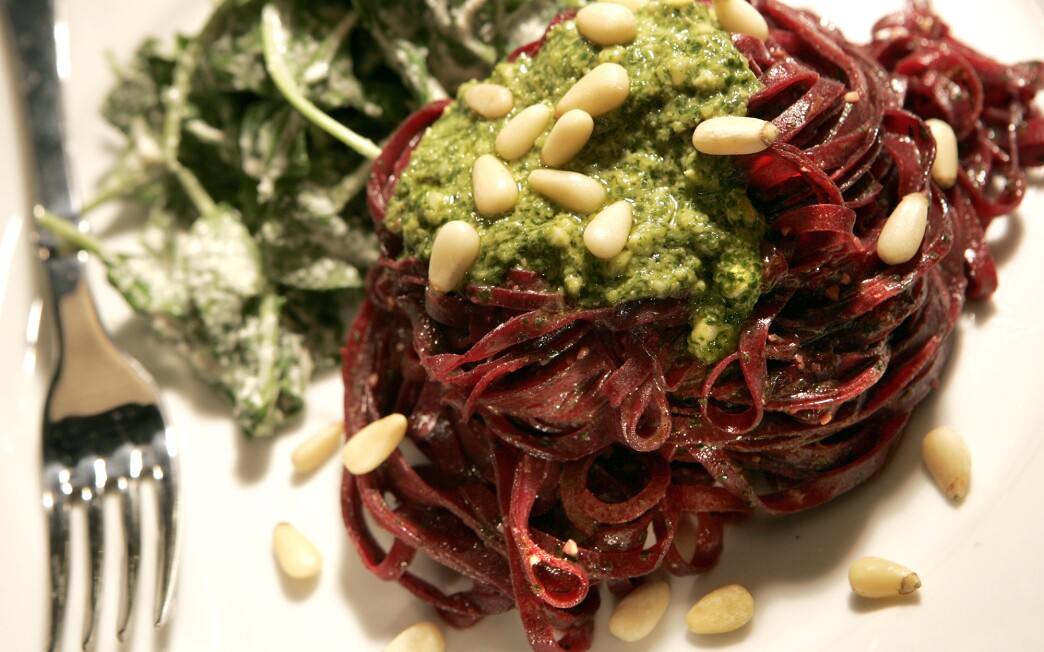 Print Recipe

Print Recipe
Diva Dompe and Amanda Brown pad barefoot around Dompe's rickety house in the sun-soaked hills of Echo Park, preparing a "cheesy" vegan sauce of cashews, garlic, olive oil and lemon juice to mix with spiraled zucchini noodles. Once the concoction is topped with chopped walnuts and put in a dehydrator for 20 minutes, the women will cheekily refer to it as "baked macaroni and cheese." It's a popular dish among fans of their raw food and vegan catering company Crops and Rawbers.
Later, Dompe, 22, and Brown, 27, head to the studio in Brown's Eagle Rock home, where they play in the psych-art-rock band Pocahaunted with Brown's husband, Britt. The house is cluttered with hand-decorated cassette tapes that Amanda and Britt put out through a record label they run called Not Not Fun. In their spare time, Amanda is writing a vampire novel while Dompe studies biology and sings in the LA Ladies Choir. Both women also make "collage art."
Their catering side project, as they call it, operates largely off the grid -- popping up at art openings, rock shows and warehouse parties. It's part of a small but growing DIY foodie movement among those at the vanguard of L.A.'s underground art and music scene.
"People don't realize that just as there are all these professional people going to train at Le Cordon Bleu, there is a whole generation of chefs who are punks, and they're partying and they're hedonists and they're into food and sucking the nectar out of life," Brown says.
Starting a counterculture catering company is similar to starting a rock band, says Alex Brown, 27, of the food-blogging and vegetarian-catering team Hot Knives. "When you're getting into music, you want to be into the most obscure bands with the smallest-release records. With food, it's the same thing," he says.
"Explaining why somebody should be into a Momotaro tomato is not that different from an Amoeba employee telling you that you should listen to 'Forever Changes' by Love," adds his partner in Hot Knives, Evan George, 26.
Alex also plays in an experimental drone band with Britt called Robedoor and works for a gourmet food importer. George covers healthcare for the Los Angeles Daily Journal and moonlights as a chef at the popular Echo Park vegetarian cafe Elf, which is run by members of the former indie rock band Viva K.
The caterer who sells raw vegan desserts to Elf is Stephen Hauptfuhr, 35, of Mooi, who in the late '80s was largely responsible for jump-starting L.A.'s rave scene through a weekly downtown acid-house dance party called Alice's House. He also has put out more than half a dozen records, mostly electronica and dance music, under various names, including Mr. Kool-Aid.
Hauptfuhr's catering career grew out of weekly dinner parties he used to throw at his loft in the Brewery on the industrial outskirts of downtown L.A. These days, the thin, soft-spoken and intensely private Hauptfuhr mostly caters small private dinners and sells prepared food to Whole Foods, Naturewell and Elf.
The fact that this trio of newcomers to the catering world (all started operations within the last two years) is vegetarian, vegan or raw is, according to those involved, attributable to the nature of today's increasingly eco-conscious food landscape.
Still, none of the groups is militant about its dietary choices and all have a healthy sense of humor about how they are sometimes perceived.
"Just because Diva and I love to be in the sunshine and we love fresh food and we love to make music and walk around barefoot doesn't mean we're hippies," Amanda says. "I just always want to take things to the next level. One day, maybe I'll become a liquid-tarian and then a breath-arian, where all I'm eating is my breath."
And if you're a vegan and you want to take things to the next level, there aren't many places for you to practice your craft, George says. "That's why people are doing it underground."
Hot Knives came to be four years ago as a regular recipe column in the now defunct alt-weekly L.A. Alternative Press. In 2006, George and Alex pulled it onto their own blog, Hot Knives, publishing recipes they were working on along with liberal servings of the two -- George tall and serious, Alex bespectacled and zany -- goofing off with food and craft beer on video.
They also post musical pairings for the food they make. For example, "Walkin' With Jesus" by Spacemen 3 is suggested as a soundtrack for bean on bean noodle salad. Their catering gigs initially came about because fans of their blog approached them to do a wedding. And cooking for fans is still the Hot Knives ideal.
"People who are like, 'Oh yeah, I've been up late at night at my computer and I've been hungry and I've totally wanted to hang out in that website, and now I can hire those guys to chill with me and drink beer and make me my wedding feast,' " says George, taking a break from pureeing guacamole mixed with fresh English peas in the kitchen of the house Alex shares with his girlfriend, Lake Sharp, who performs in an experimental dance troupe called Body City with George's girlfriend, Meagan Yellott. Hot Knives once catered a six-course private party to raise funds to send the troupe to New York to go on tour with the L.A. band Glasser.
Examples of musicians-turned-food fanatics aren't hard to find. Terri Wahl, who played in the L.A. punk band the Red Aunts in the '90s, is the owner of Eagle Rock's Auntie Em's Kitchen. Alex Kapranos, the singer for Franz Ferdinand, used to write a weekly food column for the Guardian called Soundbites (one of his best pieces was titled, "Let me eat cake! I'm a rock star!"); ex-Shins drummer Jesse Sandoval is starting up his own taco truck in Portland, Ore., called Nuevo Mexico.
Randy Randall, the guitarist of the L.A. punk band No Age, says that's because bringing people together through food is much like going to a rock show. Randall is vegan and a fan of Crops and Rawbers, who once catered a No Age show at the Echo Park gallery Tiny Creatures. He says the healthful nature of the food these new caterers serve plays into the "forward-thinking, progressive" nature of L.A.'s DIY punk scene.
"The goal with food and music is to take positive action," Randall says. "There's enough harsh stuff out there, so why do something negative?"
Hauptfuhr agrees. "During the rave days, we'd go out in the desert and have carnival rides and there'd be 6,000 people dancing. It wasn't very healthy, but people were really enjoying what we were doing," he says, plating a vegan "snikerz" cake he is serving at a fundraiser for the Hollywood gallery LACE. "Now, I'm doing something that I get the same response for, but it's actually really good for you."
Noodles
1
Use a spiralizer or saladaco to cut the beet into long fettuccine noodles. (If using the zucchini, slice it thinly lengthwise into strips about the thickness and width of a fettuccine noodle.)
2
Place the noodles in a bowl and toss with the sea salt. Set the noodles aside for at least 30 minutes to an hour to allow the salt to extract excess water and soften the noodles.
3
Press the noodles gently but firmly in a strainer to extract excess moisture and set aside. (If you have a food dehydrator, you can lightly coat the noodles with olive oil, spread them on a nonstick sheet and dehydrate them at 100 degrees for about 30 minutes to soften even more.)
Cilantro pesto
1
While the noodles are softening, prepare the pesto.
2
In a blender, combine the oil, vinegar and nutritional yeast and blend well. Add the cilantro and garlic and blend as needed for desired thickness and texture.
3
Add the pine nuts and blend quickly to coarsely chop, giving the pesto a thicker texture. Makes about 1 cup pesto. Set aside.
Arugula with cream dressing
1
Prepare the cream dressing: In the bowl of a food processor, combine the cashews, garlic, lemon juice and sea salt and process until smooth. Add the tarragon and thyme and, with the motor running, add enough water to achieve the desired consistency. (Add less water for a thicker dressing, more for a thinner dressing.) This makes about 1 cup dressing.
2
Place the arugula in a medium bowl and toss with enough dressing to lightly coat (you may not use all the dressing). Set the salad aside while you prepare the rest of the meal.
Cilantro pesto beet fettuccine and final assembly
1
Place the noodles in a large bowl. Stir in a few generous tablespoons of the pesto and mix well, making sure to coat all the noodles with the sauce.
2
Divide the noodles between 2 plates, leaving room for the salad, and spoon more pesto over each serving. Divide the arugula salad between the 2 plates. Garnish the pasta with a sprinkling of pine nuts and serve immediately.
From Stephen Hauptfuhr at Mooi. Soak the cashews for the cream dressing at least 4 hours. Spiralizers and saladacos are spiral slicers that are sometimes available at cooking stores and are widely available online. Celtic sea salt and unfiltered olive oil are available at most cooking stores and select well-stocked markets. Nutritional yeast is generally available at health food stores as well as in the health food sections of well-stocked markets.
---
Get our new Cooking newsletter.
You may occasionally receive promotional content from the Los Angeles Times.