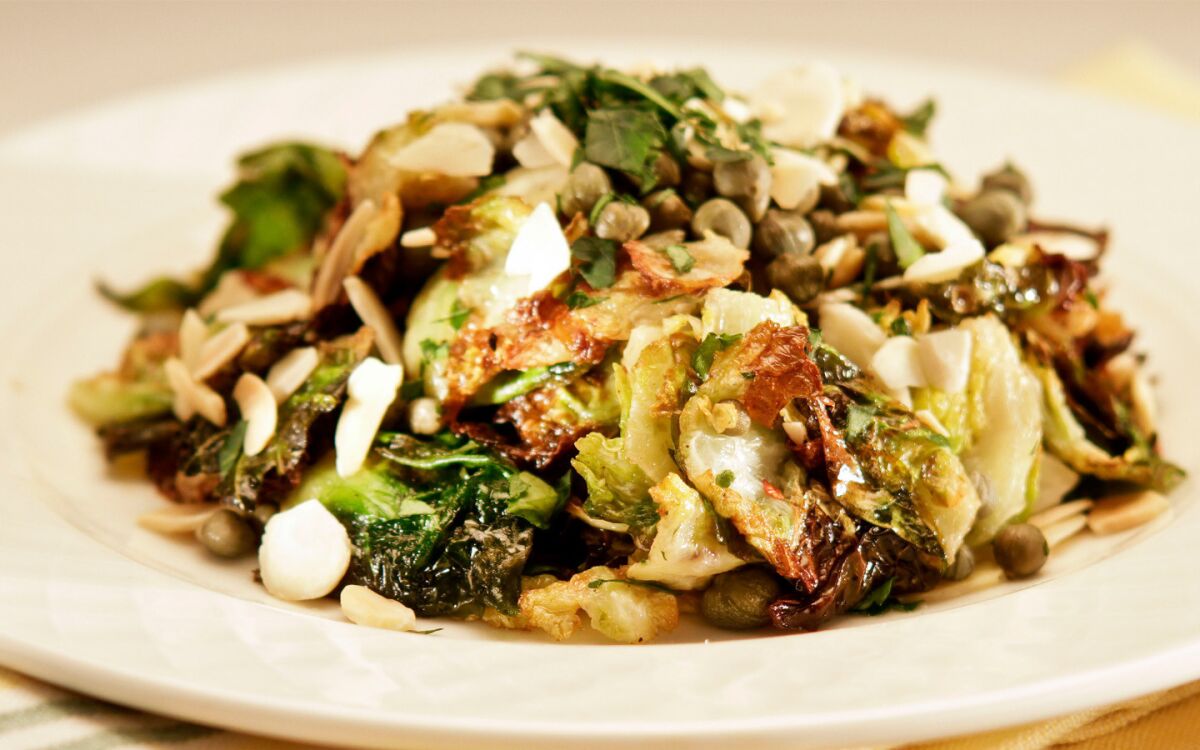 Print Recipe

Print Recipe
Cleo Restaurant's preparation of Brussels sprouts is kind of like a salad -- Brussels sprout leaves tossed with a tangy vinaigrette, capers and toasted almonds -- except that the leaves are deep-fried first, giving the whole dish a surprising texture and crunch.
From the story: Culinary SOS: Cleo's Brussels sprouts
1
Separate the leaves from the Brussels sprouts. To remove the leaves quickly and easily, core the sprouts at their base using a paring or tourne knife, then lightly press the cored sprouts to loosen the leaves.
2
In a medium, heavy-bottomed pot, add enough vegetable oil to come up the sides of the pot by about 3 inches. Heat the oil until a thermometer inserted reaches 360 degrees.
3
While the oil is heating, make the vinaigrette: In a medium bowl, whisk together the olive oil and vinegar. Season to taste with salt and pepper.
4
Deep-fry the Brussels sprout leaves, a small handful at a time, just until the leaves begin to crisp around the edges, 15 to 30 seconds. Be careful, because the oil may splatter a bit as the leaves are added. Remove the leaves immediately and drain on a paper-towel lined rack, pressing the leaves with paper towels to remove excess oil. Continue frying the leaves, in small batches, until all of them are cooked.
5
To assemble the dish, place the fried leaves in a large bowl, add one-half of the vinaigrette, along with the chile flakes, capers, almonds and parsley. Gently toss, then taste and adjust the flavorings and seasonings as desired. Serve immediately.
Adapted from Cleo restaurant in Hollywood.
---
Get our new Cooking newsletter.
Your roundup of inspiring recipes and kitchen tricks.
You may occasionally receive promotional content from the Los Angeles Times.