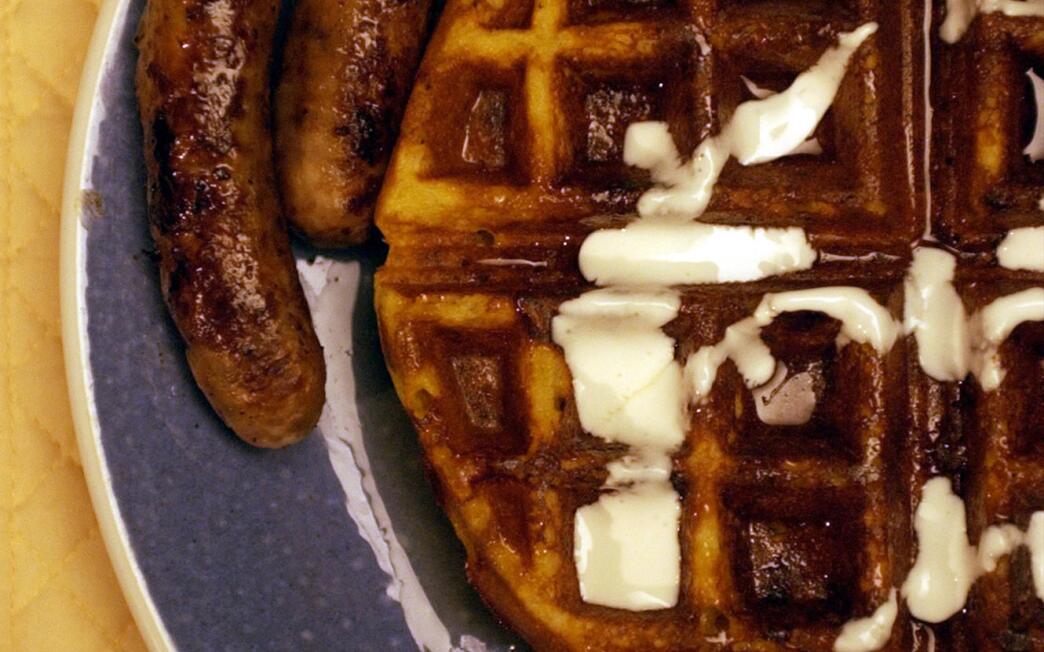 Print Recipe

Print Recipe
Belgian waffles as we know them -- light golden platforms for pyramids of frothy whipped cream and gooey strawberries -- were first introduced to America at the 1964 World's Fair in Flushing Meadows, N.Y. They were an instant food fad, capturing the exuberance of the '60s with their generous proportions and over-the-top sweetness.
Later, the fun-food sensation turned into an showy brunch dish, finally fading away into the land of kitsch. Most of us just don't eat that way any more.
But waffles are wonderful, and unadorned Belgian waffles are more wonderful than most because their superior height (often more than an inch) allows for extra lightness and creates deep wells for syrups or topping to be caught in. They're great vehicles for contrasting flavors and textures.
So, taking advantage of the many new Belgian waffle makers on the markets, we experimented with savory waffle recipes, looking for grown-up combinations that would make the most of Belgian waffles' unique characteristics. To emphasize height and lightness, we added yeast to a buckwheat waffle, and were rewarded with a wonderful hint of sourdough flavor. To add heft and crunch, we used cornmeal in another; chopped serrano chiles and cheddar cheese add a Southwestern flair. For a touch of haute, we added ground hazelnuts to the batter in one recipe, sprinkling in chopped nuts just before closing the lid of the waffle iron. In every case, we paid attention to toppings and accompaniments, orchestrating the combinations of crisp and creamy, smooth and sweet, savory and fresh. The hazelnut waffles are perfect with ripe strawberries, just coming into season.
But use your imagination: jam, Nutella, flavored butters, sour cream, yogurt or fruit sauces all make delicious toppings.
The ideal Belgian waffle is dark golden brown, with a nice sheen. If the waffles are too lightly browned, they will lack appealing nutty flavor; they'll also be prone to sogginess. A waffle that's too dark brown leaves a bitter taste in the mouth and will have a dry center.
When waffles are browned just right, the outside is crisp and the inside is light, moist and fluffy. If your waffles are soggy or pull apart when removed from the iron, your batter may be too thin. Over-mixing can make for a tough, heavy waffle. Waffles that stick to the iron may be a result of too little oil or butter in the batter.
For any of these recipes, be sure your waffle iron is seasoned (brush it with oil and let it heat for 5 minutes or so, the way you would season a skillet). Even "nonstick" waffle irons need to be sprayed with cooking spray or brushed with oil before pouring on the waffle batter.
Use a measuring cup to pour the batter onto the center of the waffle grid. Use a heat-proof spatula to spread it evenly over the grid to the edges before closing the lid. Follow the manufacturer's instructions for amounts of batter for each waffle.
Once the lid is closed, do not open it until the ready light comes on. In some cases we found that the waffles were not always done at this point so we baked them for another minute or so.
If you have a problem removing the waffles from the iron, use the tip of a nonstick spatula to loosen one corner.
Waffles are best eaten hot from the iron. Otherwise, put them on a wire rack and keep warm in a 200-degree oven or remove them to a wire rack and let them cool before reheating them. Do not stack them.
Baked waffles can be frozen. Freeze them unwrapped, then seal them in bags and return to the freezer. To serve, heat frozen waffles on a baking sheet at 400 degrees for 8 to 10 minutes.
Waffle batter can be made and kept in the refrigerator for as long as two days. Let refrigerated batter stand at room temperature for 30 minutes before cooking. Stir the batter before baking the waffles. The batter may have thickened; add a little milk or buttermilk to reach the right consistency.
1
Melt the butter in a small skillet. Saute the chile in the butter just until tender, about 4 minutes. Set aside to cool.
2
Combine the corn flour, cornmeal, baking powder, sugar, salt and red pepper flakes. Stir in the half-and-half, milk and butter-chile mixture. Stir in the cheese, then fold in the beaten egg whites.
3
Heat a nonstick Belgian waffle iron until hot. Spray the waffle iron with nonstick cooking spray or brush it with oil. Pour the recommended amount of batter onto the hot waffle iron. Close the lid and cook until the waffles are golden brown and release easily from the iron. Repeat until all batter is used.
4
Serve the waffles with Mexican crema and maple syrup. Accompany with pork sausage links.
Corn flour is available in the natural food sections of some supermarkets.
---
Get our new Cooking newsletter.
You may occasionally receive promotional content from the Los Angeles Times.