Cranberry-tangerine relish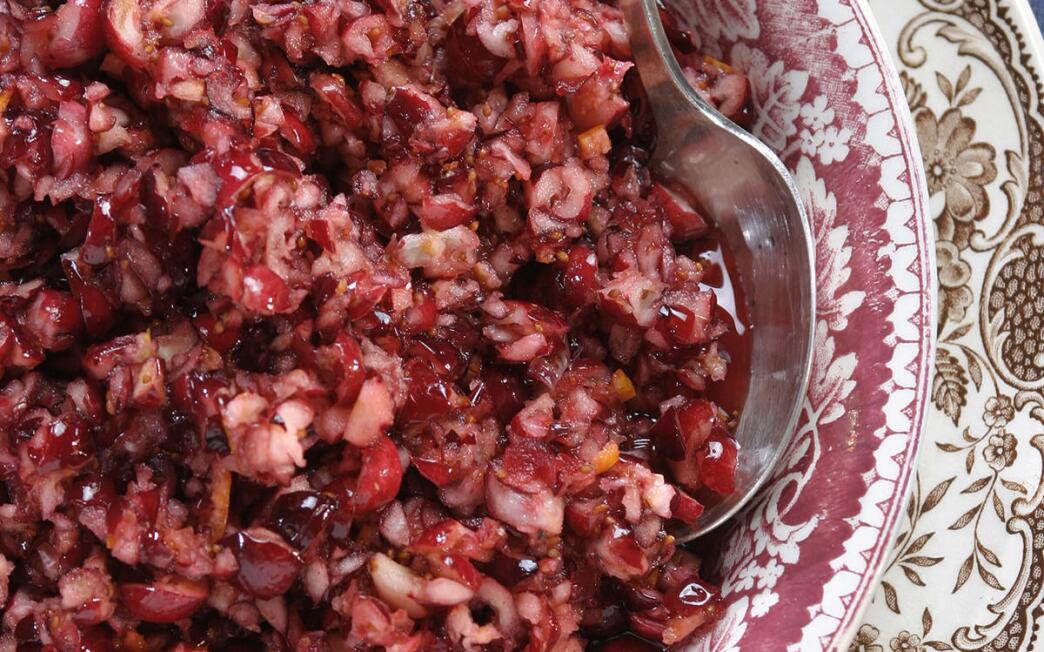 Print Recipe

Print Recipe
Thanksgiving dinner without cranberries would be as forlorn as if the turkey were missing.
Not only are cranberries native to the U.S., recalling that first feast of local foods, but you need that tart-sweet flavor to punctuate all that richness.
Cranberry jelly is cranberry jelly, but relish is something else: fresh and complex, with gorgeous crunch and irresistible zing. And all that's involved is a quick chop and mix -- no cooking necessary.
The basic idea couldn't be easier. Just toss the berries in a food processor, add some sugar, and pulse. The creativity is all in the aromatics.
Cranberry-tangerine relish is a take-off on the classic combination of cranberry and citrus. Tangerines have a distinctive flavor that's beautifully underlined with a little Chinese five-spice powder, that beguiling mixture of ground star anise, cloves, cinnamon, fennel and pepper. Soften the pucker of the berries and citrus with some sugar, and you get a relish that's familiarly tart but with a haunting spice note.
For a sweeter relish, try a blend of finely chopped cranberries, apples and toasted almonds, with brown sugar and vanilla bean added for richer flavor. The apples give the relish a satisfying crunch.
You can also take the relish in another direction. Jalapenos and onions might seem unlikely partners for cranberries, but the combination is spectacular.
Lightly sweetened with honey, this relish is the perfect foil for turkey with a spicy rub and cornbread stuffing. The jalapeno flavor from seeded peppers comes through without spicy heat, and lime juice and zest add sparkle.
All these relishes come together quickly, which makes their intense flavor all the more extraordinary.
Times staff writer Mary Ellen Rae contributed to this report.
1
Rinse and drain the cranberries, discarding any bruised ones. Peel the tangerine and use a sharp paring knife to remove excess strings from the segments. Using the same knife, scrape the pith from the inside of half the peel and finely chop the peel. Measure out 1 tablespoon.
2
In a food processor, combine the cranberries, tangerine segments, the 1 tablespoon chopped peel, one-half cup sugar and the five-spice powder. Pulse 8 or 10 times to the desired coarse consistency. Taste and add more sugar if desired.
3
Spoon into a glass bowl, cover and chill for at least 1 hour or overnight. Stir before serving.
4
Cranberry, vanilla bean and toasted almond relish: Omit the five-spice powder. Substitute the scraped seeds from half of one vanilla bean for the tangerine, and use brown sugar instead of white. After processing, remove the mixture to a bowl and pulse a peeled, cored and quartered Honey Crisp or Fuji apple with one-half cup toasted slivered almonds 4 to 5 times and combine with the cranberry mixture.
5
Cranberry, jalapeno and red onion relish: Omit the tangerine, sugar and five-spice powder and add 1 tablespoon finely chopped seeded jalapeno, one-fourth cup honey, 1 teaspoon minced lime peel and 1 tablespoon lime juice. Process; stir in one-fourth cup finely diced red onion and a pinch of salt.
From Mary Ellen Rae, Times Test Kitchen recipe tester.
---
Get our new Cooking newsletter.
You may occasionally receive promotional content from the Los Angeles Times.