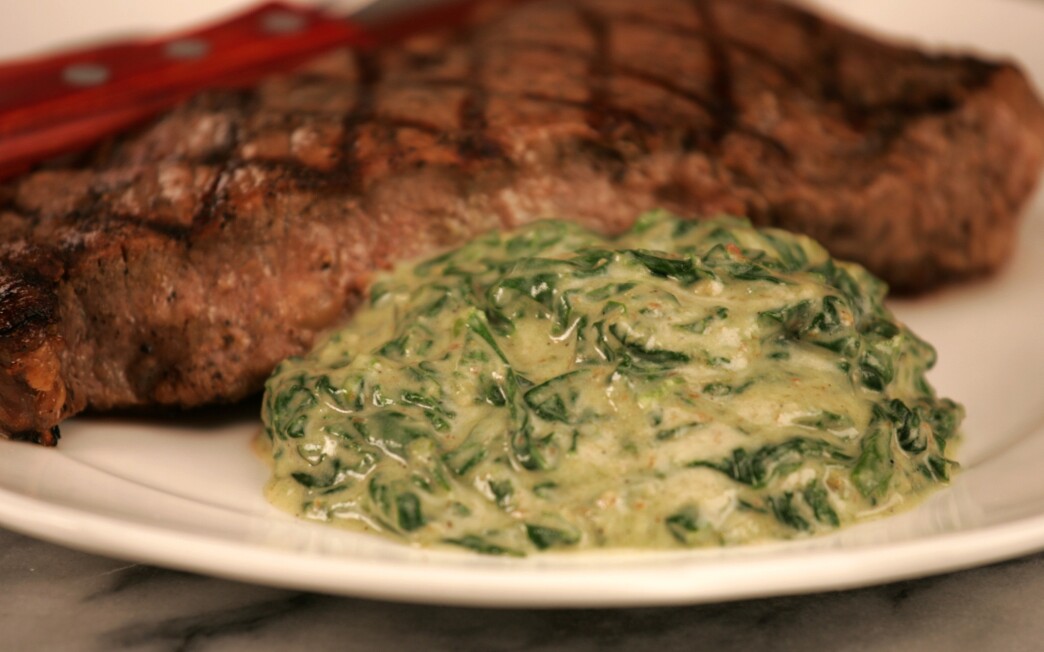 Print Recipe

Print Recipe
Dear SOS: I'm looking for a good creamed spinach recipe like you would find at Lawry's, Morton's or the rest of the fine steak and prime rib restaurants. I can take the fat, so please don't go low-cal on me. Please let me know if you find one.
Mike Joyce
Diamond Bar
Dear Mike: Lawry's was happy to share its recipe for creamed spinach, combining fresh spinach with a rich base of bacon, scallion, onion and more than a hint of garlic, making for a wonderfully hearty take on this classic dish. It's great served on its own, and is a perfect side dish alongside a great steak or slab of prime rib.
Spinach base
1
In a large skillet, cook the chopped bacon over medium-high heat until browned and crisp, stirring frequently, about 15 minutes.
2
To the pan, stir in the green onion, onion, chopped garlic, salt and pepper and simmer, stirring frequently, until the vegetables are tender, 10 to 12 minutes. Remove from heat.
3
Stir in the butter, then puree the mixture in a blender. (The base can be made ahead of time to this point and covered and refrigerated. Reheat before using.)
1
Heat the spinach base in a large skillet over medium heat until warm. Gradually whisk in the flour until fully incorporated. Cook over medium heat for 10 minutes to cook out the flour taste, stirring frequently.
2
While the base is heating, scald the milk in a medium saucepan. Remove from heat but keep warm on the stove.
3
When the flour is cooked, whisk in the hot milk and half and half, mixing thoroughly. Bring the mixture to a boil over high heat. Reduce the heat to a simmer and continue to cook, stirring frequently, until the mixture is thickened to a cream sauce consistency, about 5 minutes.
4
Stir in the spinach, a little at a time, until all is added. Continue to cook until the creamed spinach begins to bubble, about 10 minutes.
5
Remove from heat and serve immediately. This makes about 4 1/2 cups creamed spinach.
Adapted from Lawry's the Prime Rib in Beverly Hills.
---
Get our new Cooking newsletter.
You may occasionally receive promotional content from the Los Angeles Times.