Egg salad sandwich with dill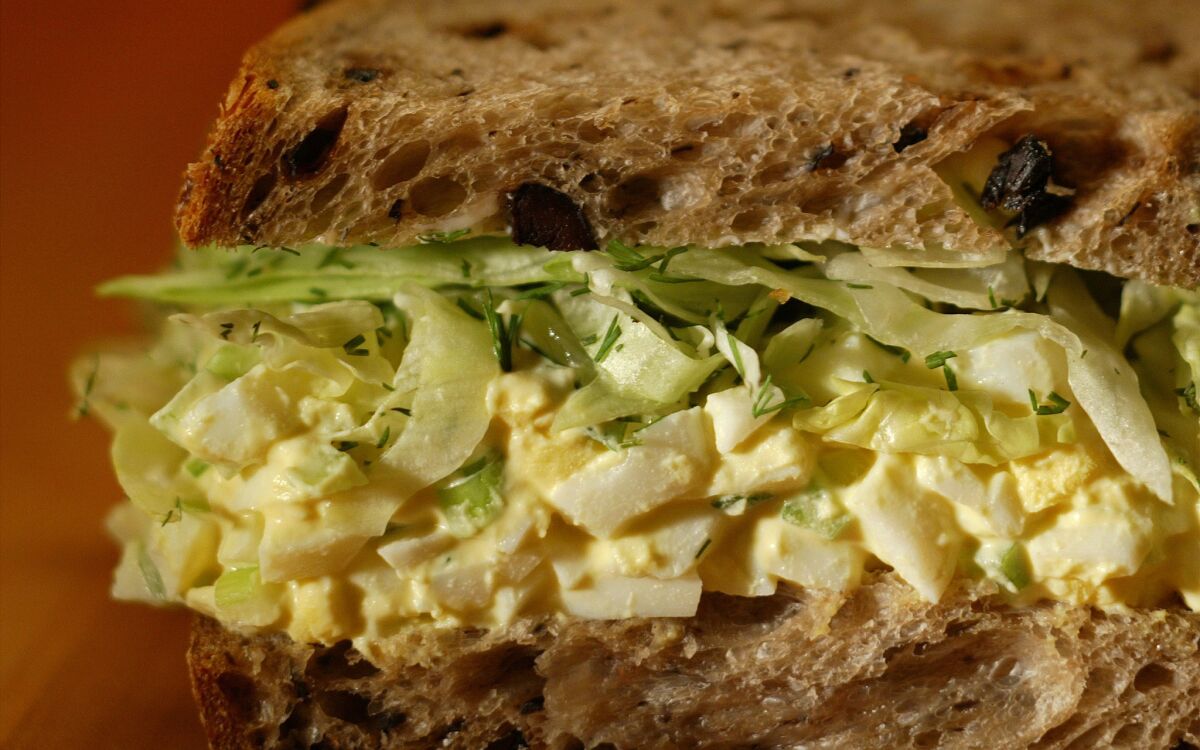 Print Recipe

Print Recipe
There's something wonderful about an egg salad sandwich. Or a chicken salad sandwich. Or a tuna salad sandwich. Salad sandwiches are the ultimate lunchtime comfort food for this fickle in-between season.
We've had enough split-pea soup and chili by now, haven't we? The weather's warming up and nothing sounds better than a sandwich. It's like rediscovering a favorite silk sweater you had packed away for the winter.
Pastrami piled high on rye doesn't quite do it. We've outgrown PB & J. Smoked turkey breast with arugula, Gruyere, pickled red onions and aioli is delicious, but too recherche for the moment.
BLT? Closer.
But spring is coming. Give us a salad sandwich. But give it to us with a little something special.
Our egg salad sandwich is a straightforward classic. Toss some fresh chopped dill with the chopped lettuce and nestle the egg salad between slices of chewy olive bread (La Brea Bakery makes a good one that you can find in most supermarkets) and the classic is reborn.
For the hard-boiled eggs, use eggs that are as fresh as possible -- the flavor will be better and the color deeper yellow-orange. Best are farm-fresh eggs from the farmers market, but supermarket eggs are fine.
To hard-cook them, place them in a pot, cover with cold water, bring them to a boil, remove them from the heat, cover the pan and let it stand 25 minutes. (But you knew that.) Pour off the warm water and peel them under cold running water while they're still warm.
Our curried chicken salad is more reminiscent of Southeast Asian curries than of Indian ones, with flavors of lemongrass, lime, green onion and cilantro. We've rolled it up in nan (Indian flat bread). You can find it at Indian groceries or Trader Joe's, but for a real treat, pick up some freshly baked at an Indian restaurant. Instead of bland chicken breast poached in water, we simmer dark meat in flavorful chicken stock with lemongrass.
The dressing for the salad is bound with yogurt, rather than mayonnaise. Use the good-quality Indian curry powder (available in Indian groceries or better supermarkets), rather than a supermarket brand.
For textural fun, sprinkle chopped peanuts over the salad, add some cilantro leaves with stems, and roll up the mixture into freshly baked nan.
Finally, we've paired fresh Dungeness crab with Meyer lemon -- two California favorites that are still in season -- in a sandwich of crab salad bound with homemade Meyer lemon mayonnaise. The distinctive Meyer lemon flavor is the perfect foil for the delicate flavor of the crab; dark green watercress is just the right accent.
Choose a Dungeness crab that's heavy for its size -- about 2 pounds is good. Ask your fishmonger to crack and clean it (many seafood counters, including those at Whole Foods, will do so at no charge).
The mayonnaise can be prepared ahead and kept covered in the refrigerator. You'll use only about half of the mayonnaise recipe amount for the crab salad; use the rest to accompany simple grilled or poached seafood, as a dip for artichokes, or just to spread on bread for any kind of sandwich.
1
Chop the eggs. Stir in the onion, celery, mustard, vinegar, mayonnaise and salt. Cover and chill until ready to serve.
2
Toss together the shredded lettuce and dill.
3
Divide the egg salad among 4 slices of the bread, spreading it to the corners. Grind black pepper over the egg salad, then place equal amounts of the lettuce-dill mixture on each sandwich. Top with the remaining bread slices. Cut in half and serve.
---
Get our new Cooking newsletter.
Your roundup of inspiring recipes and kitchen tricks.
You may occasionally receive promotional content from the Los Angeles Times.