Eggplant With Tahineh and Toasted Pine Nuts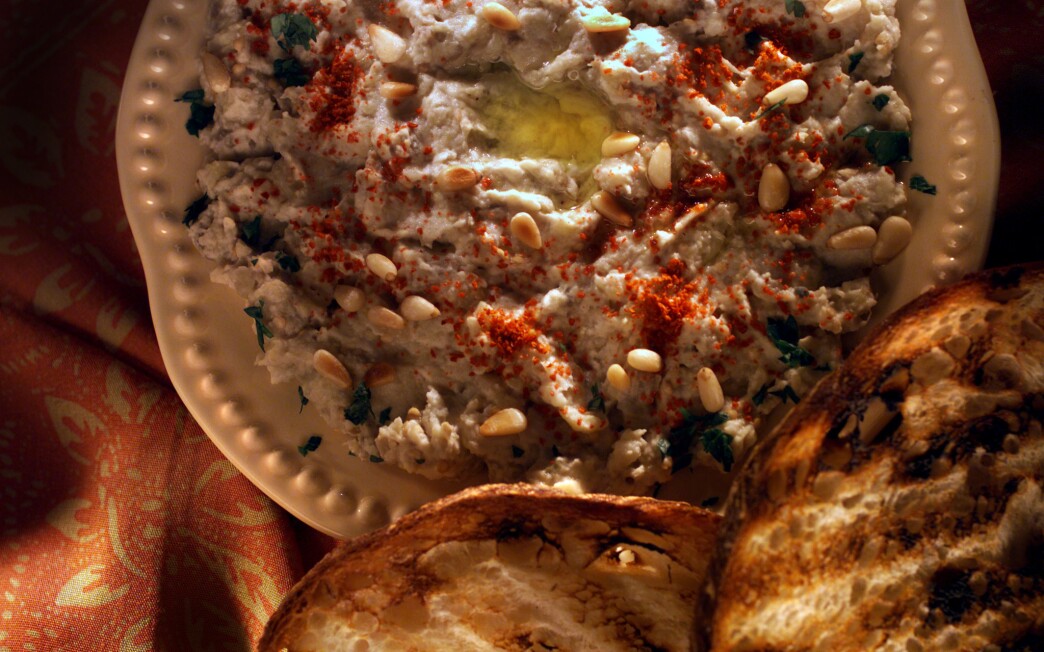 Print Recipe

Print Recipe
Exchanging recipes with neighbors is friendly and fun. But as a newlywed and a novice at the stove, I quickly found out that it can also be dangerous. When I lived in Bat Yam in metropolitan Tel Aviv, my next-door neighbor's recipe for a tasty spread led to an eggplant explosion.
It all started when my Middle Eastern mother-in-law cited the local proverb that a woman must know 101 ways to prepare eggplant in order to be fit for marriage. Determined to prove myself worthy of her son, I started with the dips I liked, the three favorites in Israel: eggplant with tahineh , eggplant with mayonnaise and eggplant with oil and lemon. My neighbor made them well, and when I asked how she cooked the eggplant, she said, "Nothing could be simpler. Just place a whole eggplant in a very hot oven. You can set it directly on the oven rack--you don't even need a pan."
I put a large, beautiful eggplant in my oven and went to the living room to study for a college exam. After 10 minutes, I heard a loud bang. At first I thought there had been a blast in the neighborhood. Then I realized the explosion had come from my own kitchen.
I hesitantly opened the oven and found, to my shock, it was empty. On closer inspection, I noticed bits of eggplant stuck to the oven's roof and walls. My eggplant had burst into smithereens.
After talking with another friend, I realized my mistake: Before you roast the eggplant, you have to pierce it a few times with a fork. Otherwise, the steam builds up inside the eggplant as it bakes and can cause it to blow up.
Since then, I never forget this step (and I'm always sure to bake my eggplants in a pan as well ... just in case).
Soon these Israeli eggplant recipes--which can be considered spreads, salads or dips--became standards in my kitchen. Their smooth texture is satisfying but not starchy or heavy.
Then I started exploring. An Egyptian friend mentioned that her family loves eggplant with plenty of sauteed garlic and coriander. I understood why as soon as I prepared it. For those days when I want a lighter dip, I adopted a delicate rendition popular in Turkey, in which eggplant is matched with yogurt, a little olive oil and a hint of garlic.
Other cooks told me they combine tender roasted eggplant with cooked and even raw vegetables. When I discovered a wonderful orange-hued blend of eggplant with grilled sweet and hot red peppers, it became a staple on my late summer menus.
I've also enjoyed a tangy reddish eggplant spread flavored with cooked tomatoes, tomato paste and vinegar. After I sampled roasted eggplant mixed with finely diced raw tomatoes, cucumbers and onions at a kebab restaurant, I started making that at home and added sweet peppers as well.
I love Provencal eggplant with olives and capers too, and the slightly more elaborate specialty of India called eggplant bharta . To prepare this aromatic dish, you take the roasted eggplant one step further by cooking it with gingerroot, garlic and chiles as well as savory spices.
Roasted eggplant is good with an Asian accent of soy sauce, sesame oil, rice vinegar and chile paste, and even with a sort of "Mexico meets Mideast" salsa-style seasoning--tomatillos, charred chiles, onions and plenty of cilantro.
As appetizers, these eggplant dishes are great served with fresh or toasted pita or crusty bread or presented as a salad on a bed of greens. Occasionally I spread them on slices of cucumber or tomato as a light hors d'oeuvre. They make superb sandwich fillings with all sorts of smoked meats, cheeses or grilled vegetables. When served with meat or vegetarian entrees, they play a double role as a relish and vegetable accompaniment.
When I moved to California, I found all sorts of eggplant varieties besides the familiar, oval globe type. At farmers markets I sometimes see white ones that look just like eggs. My produce store carries tiny purple Indian eggplants that resemble miniatures of the globe type, as well as small, ball-shaped, pale-green Thai eggplants. They are interesting but too small for these recipes. The slim, zucchini-sized Asian varieties--lavender-skinned Chinese and purple-skinned Japanese eggplants--do work very well.
I like these varieties so much that I planted some. They give me plenty of perfect fruit as well as an unexpected pleasure--beautiful leaves and flowers.
Which variety to use for these salads is a matter of preference. People from the Mideast tend to be partial to the common, fairly large eggplants for their more dominant flavor. Smaller Asian eggplants cook faster, but there are more of them to peel, so there is a trade-off in time. I use whichever I have on hand.
In addition to roasting, there is another technique for cooking whole eggplants--grilling, which is actually more popular in the Mideast, because the eggplants acquire a smoky flavor that way. Whenever I'm planning to grill, even for a quick supper, I try to have some eggplant on hand to put on the barbecue afterward so they are ready for future meals.
Some of my friends in Israel use a variation of this method. They cook whole eggplants directly on the flame of their gas burners. But I don't like cleaning the stovetop after the eggplant juices have dripped all over it. One eggplant mess was enough for me.
1
Heat the grill or broiler.
2
Grill or broil the eggplants, turning them often, until their skin blisters and begins to blacken, then peel them.
3
Heat the oven to 375 degrees. Toast the pine nuts on a baking sheet until light brown, 3 minutes, or toast them in a dry skillet over medium-low heat, tossing them often, for 2 to 3 minutes. Watch so they don't burn. Immediately transfer them to a plate.
4
Chop the eggplant with a knife to a slightly chunky puree. Transfer to a bowl. Add the garlic and mix well.
5
Spoon the tahineh into a bowl. Gradually stir in 6 tablespoons of lemon juice and the water. Add to the eggplant and mix well. Season generously with salt, add pepper to taste and more lemon juice if you like.
6
At serving time, spread the eggplant in a thick layer on a platter or plate. Sprinkle with Aleppo pepper, drizzle the center lightly with olive oil, then sprinkle with pine nuts. Sprinkle the edges with parsley and serve.
This rich, sesame-flavored, cream-colored dip is the most popular eggplant preparation in the Middle East. Its unique taste comes from tahineh, or sesame butter, accented with lemon juice and garlic. Use pure tahineh paste, not prepared tahineh sauce; the ingredient label on the jar should list only sesame. Usually there is oil on top; stir until blended before measuring it. If you're serving the dip's time-honored partner, pita bread, be sure to buy fresh, good-quality loaves from a Mideast market or bakery, not the thin, flimsy ones you find in some supermarkets. At Mideast grocery stores you'll also find red Aleppo pepper, which adds a gentle heat, more than paprika but much less than cayenne. For a festive presentation, I top the spread with pine nuts.
---
Get our new Cooking newsletter.
You may occasionally receive promotional content from the Los Angeles Times.