Etta's corn bread pudding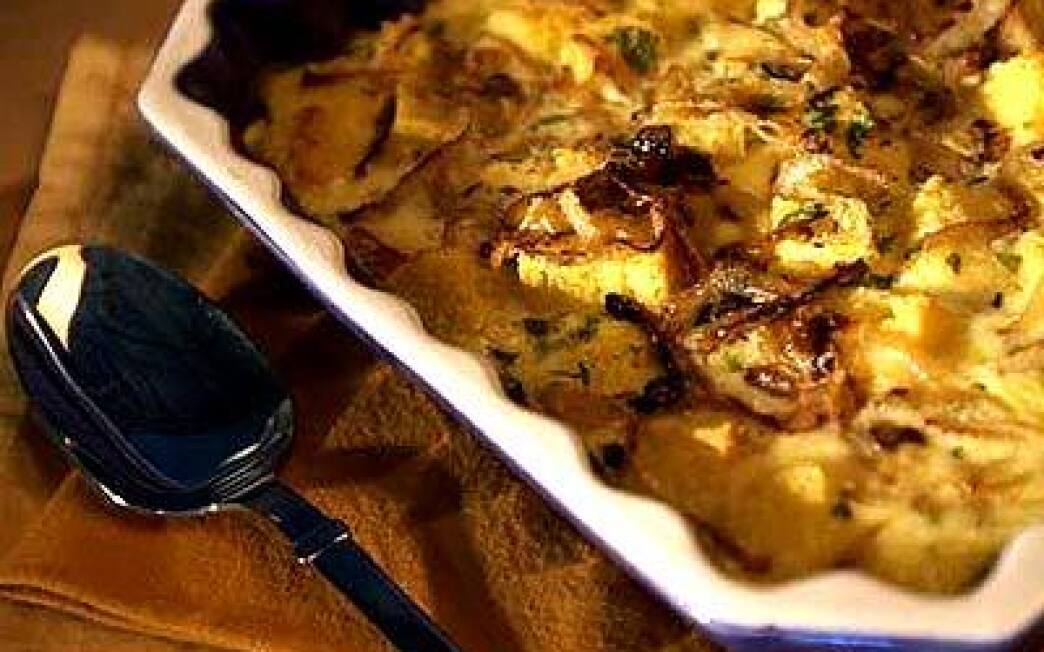 Print Recipe

Print Recipe
Dear SOS: Do you have recipes for casseroles to take to Thanksgiving dinner for 12-16 people?
Betty Norton
Los Angeles
Dear Betty: This corn bread pudding comes from "Tom Douglas' Seattle Kitchen" by Tom Douglas (William Morrow, $30). It's herbal and custardy, and would be delicious with turkey or any meat. And it can be made a day ahead: Just cover it and refrigerate. To reheat, cover it with foil and bake at 375 degrees for about 25 minutes.
Corn bread
1
Heat the oven to 425 degrees. Butter an 8-inch square baking dish.
2
Combine the flour, cornmeal, cheese, baking powder and salt in a large bowl. In a medium bowl, whisk together the eggs, milk and honey. Add the wet ingredients to the dry ingredients, stirring until just combined. Stir in the melted butter.
3
Pour the batter into the prepared pan and bake until a toothpick inserted in the bread comes out clean, 15 to 20 minutes. Cool completely before cutting.
Pudding
1
Reduce the oven temperature to 350 degrees. Put the cubed corn bread in a buttered 13-by-9 baking dish and set aside
2
Heat the butter in a skillet over low heat and cook the onion very slowly until soft and golden brown, at least 20 minutes, stirring occasionally. Remove from the heat.
3
Scatter the onion, cheese, parsley, rosemary and thyme over the corn bread cubes. Whisk together the cream and eggs with the salt and pepper and pour over the corn bread. Let sit for 10 minutes so the corn bread absorbs some of the custard. Set the pudding dish in a larger roasting pan filled with hot water to come up two-thirds of the way the sides of the dish.
4
Bake until the top of the pudding is golden and the center slightly set, 70 to 80 minutes. Don't wait for it to be too firm, or the whole thing will curdle. Remove the pudding from the water bath immediately or else it will continue to cook. Serve hot.
---
Get our new Cooking newsletter.
You may occasionally receive promotional content from the Los Angeles Times.