Gingerbread macarons
Yields
Makes about 5 dozen cookies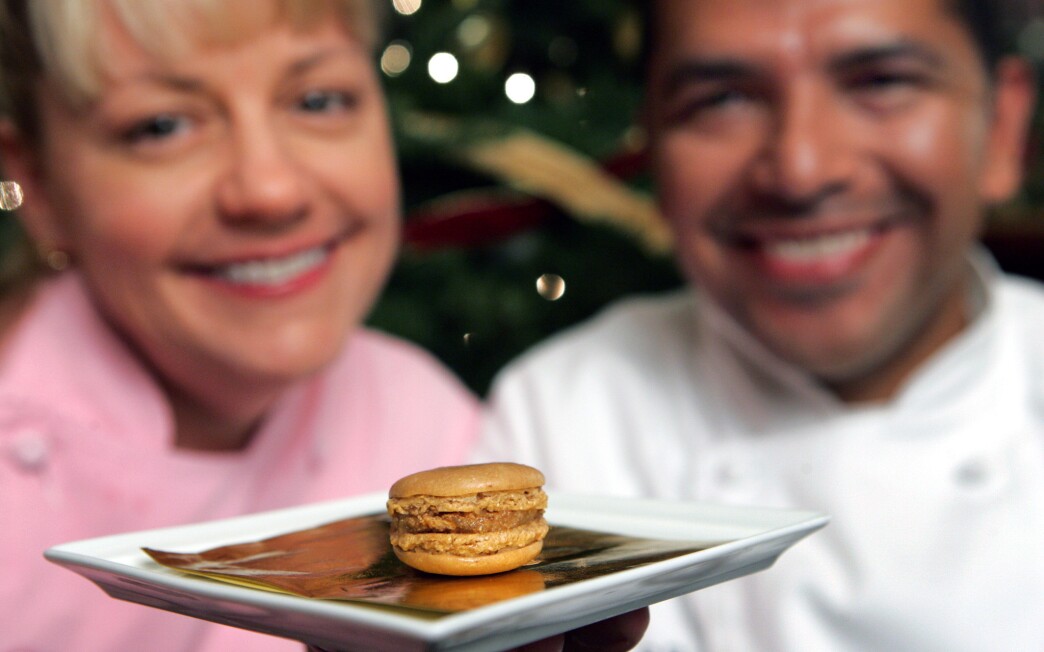 Print Recipe

Print Recipe
One by one, packages of freshly baked cookies began arriving in The Times' lobby, some in pretty boxes, bound in tissue paper and ribbon, others in fancy restaurant bags. Many entries were delivered by hired messengers, some by white-clad kitchen staff, one from a pastry chef, her little daughter in tow.
One chef showed up with a refrigerated cooler; another left his cookies like a room service elf, with a bottle of bubbly and instructions for eating them, the recipe in a gilt frame. One pastry chef even messengered over a fresh batch when she learned her staff had mistakenly given us day-old cookies.
Los Angeles' top pastry chefs and bakers weren't just doling out holiday cheer to the Food section staff. They were participating in a bake-off.
Why a cookie contest? Because it's the holidays, and our thoughts -- along with those of the rest of America -- had turned to cookies. We wondered what visions the many great pastry artists in town might be having, not of sugarplums, but of their favorite cookie.
So we issued a challenge to two dozen of the best pastry chefs and bakers in Los Angeles: Give us your best cookie.
We contacted restaurants known for their pastries, chefs who do their own baking, favorite bakeries, even a restaurant chef turned caterer whose desserts had wowed us in past years. We asked for any kind of cookie, holiday or not, your call (though we ruled out bar cookies, which felt like a different species).
Deliver a dozen of them, we asked, plus the recipe. Then we'd sample them in a blind taste test. No peeking, no playing favorites, no unwrapping the presents before it was time.
Now, professional dessert practitioners are not, let's face it, like the rest of us. They keep strange hours, practice arcane crafts -- sugar artistry, yeasted doughs, puff pastry -- and navigate daily the kind of sugar highs that usually only kindergarten teachers have to negotiate. And they are very, very competitive.
Just how competitive became clear during the course of that Friday, as the guards at the lobby desk and in shipping and receiving kept calling as the boxes piled up. Even before we unveiled the cookies, there were noticeable differences in presentation -- and approach.
'Cookie justice'
One entry came in a beribboned glass jar, another folded in napkins inside a basket. A dozen cookies came in a stridently anonymous cardboard box, its contents protected by a paper declaring "blind cookie justice for all!"
Earlier that week, many bakers, telephoned in their kitchens, paused beside their ovens, asking who else was going to play. Adrian Vasquez, pastry chef at Providence, laughed when I invited him to participate, and told him that we'd need the cookies in three days. He wanted to know exactly who had said yes.
Others also laughed when I called, but with pleasure rather than astonishment. Sherry Yard, Spago's longtime pastry chef, giggled before pronouncing it a marvelous idea; she immediately promised to submit a cookie that one of the big food magazines had been trying to wangle from her for years.
Craig Strong, executive chef of the Ritz-Carlton, Huntington Hotel & Spa in Pasadena, who answered the hotel's kitchen phone on the first ring, chuckled too, saying he'd drive his cookies down the next day.
And when reached on her cellphone, Nancy Silverton yelled above the rising kitchen din of the newly opened Pizzeria Mozza to say, "Of course! Lovely idea!" in the middle of a loud sentence -- to someone else -- about how she still didn't know how to work the restaurant phones.
The entries were cataloged, numbered and laid out on plates for the tasting. It looked like Christmas morning in the test kitchen: crunchy biscotti and delicate macarons, homey oatmeal cookies, tiny madeleines and decorated sugar cookies, wafer-thin tuiles, nut cookies dipped in chocolate, Linzer cookies, meringues and swank chocolate sables covered every surface.
We marveled at the range. But we were struck too by the fact that although a few entries were rarified and technically sophisticated, this overall cookie population was decidedly homey.
We got to "work" tasting.
There were rows of sugar cookies, some in holiday shapes and piped with frosting, and butter cookies spiked with ground pistachios. There were two kinds of biscotti, one laced with almonds, another a more classic version, baked to crunchy perfection and laced with pistachios and dried cranberries.
Tiny madeleines, with a dense crumb, redolent of oranges and almonds, were a big hit (the chef would later reveal that he considered them a hybrid, somewhere "between a madeleine and a financier").
Also rosemary pine nut cookies -- thin shortbread cookies with a nougatine topping and an edible garnish of rosemary. Melt-in-your mouth buttery, the cookies' rosemary aroma hit you before you tasted it.
Rich, filled sugar cookies, a spicy raisin compote beautifully embedded within, formed a kind of sandwich, their tops perfectly encrusted with sugar. And a French macaron, heady with ginger and filled with an incredible, dense apple compote. Delicate and ethereal in taste and texture, they melted in our mouths, the thin crust on the surface of the cookie like the crust of snow atop the pillowy softness of a snowbank.
Chocolate cookies came laced with espresso or doubled with more chocolate chips, but one stood out: a sophisticated sable with a depth of flavor that seemed to go beyond chocolate (was there a hint of licorice?).
Clever construction
And the gingerbread theme continued. Besides the macarons, there were sugar-topped drop cookies and then, the most technically interesting entry, a mammoth gingerbread cookie filled with apple butter. "That's awesome," murmured one panelist. "How'd they do that?"
Reaction was mixed on this one: Although some tasters loved the rich, spicy tones and the clever construction, others found the cookie too tart or inelegantly big. An argument ensued over whether the filling was apple butter or plum. (It was apple butter. When contacted later, City Bakery's Maury Rubin said rhetorically of his cookie: "The construction? Somewhere between utilitarian and earnest. I like circles.")
We tasted in flights, first silently, as we took notes and assigned scores; then we talked, retasted and reconferred.
Clear favorites emerged pretty quickly. We loved the filled sugar cookies, with their rich, raisin interior, and the orange madeleines, so small and perfect. And we loved the deeply flavored and amazingly delicate ginger macarons as well as the dense chocolate sables with their sugar-rolled edges.
Later, we tallied the scores.
So who won? All of us, of course -- but, as in college football, you need rankings at the end of the season to make it seem, well, real.
Fifth and fourth, respectively, were the rosemary pine nut cookies, courtesy of Silverton and her pastry chef Dahlia Narvaez at Mozza, and the chocolate sable cookies, from Michelle Myers of Boule and Sona. Third were the filled sugar and spice cookies, a family recipe from Strong, the Ritz-Carlton Huntington chef. "All great cookies recipes," he said later, "come from Grandma."
A close second were the orange madeleines, from Alain Giraud, former executive chef at Bastide and a masterful baker whose signature lavender vacherin some of us here still dream about. Giraud laughed later, calling the madeleines "a simple recipe," just a mignardise that he likes to give people when they finish dinner. "We can talk about Proust," he added, "but that's another conversation."
And first? The tiny macarons, which had arrived individually wrapped in iridescent cellophane, in a lined and beribboned box to make Tiffany proud. "I returned from Paris 10 years ago," explained Spago's Yard, "totally inspired by the 'Gerbert' macaron." Gerbert refers to a miniature macaroon. "I wanted to create an Austrian American version, with the spice of Lebkuchen" -- the traditional German version of gingerbread." So Yard and Sixto Pocasangre, executive pastry chef of Wolfgang Puck Catering, began experimenting. "About two days and dozens of tries later, voila!"
Voila, indeed.
Apple compote
1
In a large skillet over a medium flame add the butter, vanilla bean and seeds, cook until the butter turns golden brown, about 6 minutes. Add the apples, letting them caramelize on one side, then turn, about 5 minutes total.
2
Sprinkle the sugar and brown sugar over the apples and cook, turning occasionally to caramelize and soften the fruit, about 10 minutes. Add the heavy cream and continue to cook for 1 minute. Remove from heat. Remove the vanilla bean and put the apple mixture in a food processor, add lemon juice and pulse until smooth. Cool over ice, 45 minutes to 1 hour. (This can be made and stored in an airtight container in the refrigerator for 1 week.)
Macarons
1
Line two 17-by-12-inch baking sheets with parchment paper and set aside. In a food processor, blend the almond flour, powdered sugar, ginger and cinnamon for 1 minute. Sift the blended almond mixture directly into a medium mixing bowl. Set aside. (This can be made up to 2 days in advance.)
2
Fill a small saucepan halfway with water. Bring to a simmer, then remove from the heat. In the bowl of a stand mixer, whisk the egg whites until foamy. Place the bowl over the pot of hot water and whisk quickly until the egg whites reach 100 degrees on a candy thermometer.
3
Remove the bowl from the pot of water and whisk in the cream of tartar. Place it on a stand mixer fitted with the whip attachment. Whip on medium speed for 2 minutes, then gradually beat in the sugar. Continue whipping for 6 minutes until the egg whites come to medium stiff peaks and are shiny.
4
Turn the mixer to the lowest setting and carefully spoon in the molasses. Remove the bowl from the mixer. Add egg whites to the almond mixture by gently bringing the flat side of a rubber spatula through the center of the egg whites and up the opposite side of the bowl, folding the dry ingredients over the egg whites. Repeat the same motion 50 times, turning the bowl a quarter turn each time.
5
Fit a pastry bag with a medium round tip (No. 4) and fill with the mixture. On the parchment-lined baking sheets, pipe 1-inch rounds (the batter will be slightly wet) by holding the bag at a slight angle and releasing small amounts of batter. Allow one-half inch between cookies; they will spread slightly. Keep the piped cookies at room temperature, uncovered, for 1 to 2 hours. (This will help form a skin.)
6
Heat the oven to 325 degrees, placing the racks in the center and lower shelves of the oven.
7
Bake the macarons for 12 minutes, reverse the trays on the racks and rotate. Bake 12 to 14 minutes more, or until firm and not wet. Cool on a rack.
8
Fill the macarons by placing the apple compote in a pastry bag fitted with a small round tip. Pipe a one-half-inch round of filling on to the bottom (flat side) of one cookie, then place another cookie on top to make a sandwich (try to pick two cookies the same size and shape). Twist gently to spread the filling. These are best filled 1 hour before eating so that the apple compote makes the macaron melt in your mouth.
From executive pastry chef Sherry Yard of Spago, with Sixto Pocasangre. Save extra compote for another use.
---
Get our new Cooking newsletter.
You may occasionally receive promotional content from the Los Angeles Times.