Grilled blue cheese and pear sandwich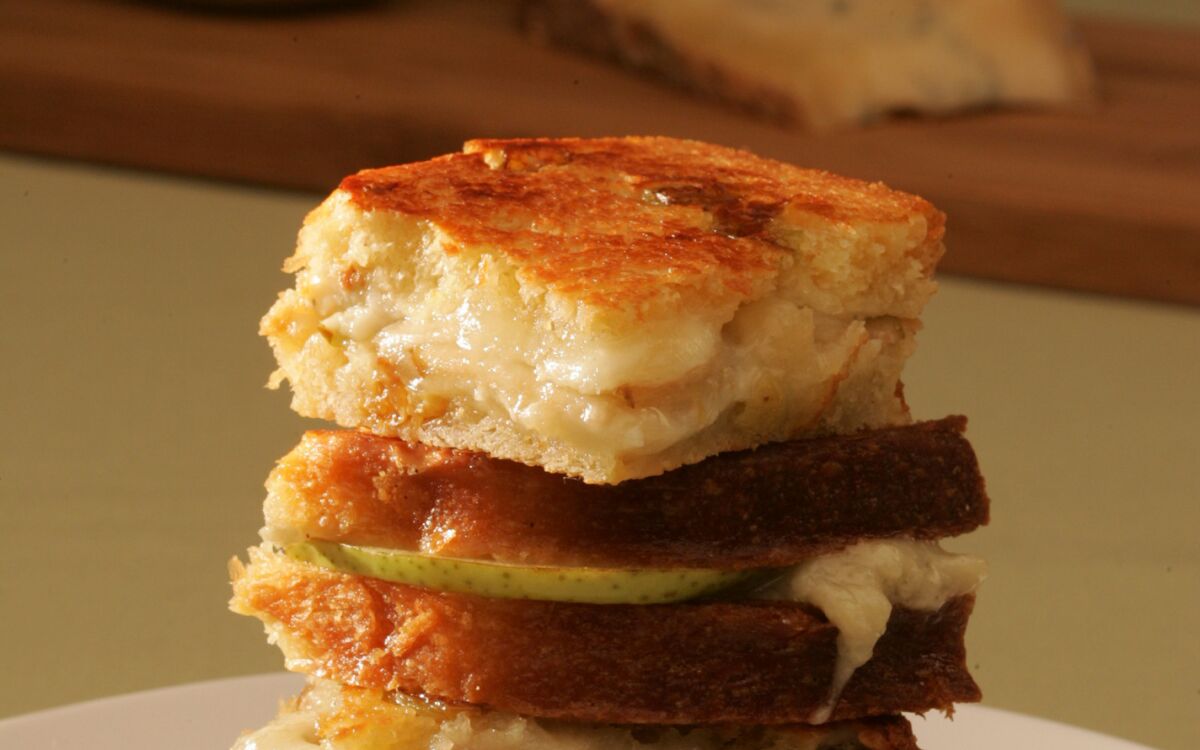 Print Recipe

Print Recipe
High-quality bread, butter and cheese are already a magical combination; when toasted, that magic becomes transformative. Like many true comfort food classics, the grilled cheese sandwich of childhood is easily revamped to more sophisticated, enchanting fare. Blue cheeses, if not too gooey or overwhelmingly pungent, can make for pretty tasty sandwiches. Be sure to slice the cheese very thinly, or better yet, grate it. It's a bit messier, but it melts the most evenly. Sandwich in a few thin discs of pear with a mild blue cheese. To bring it all together, choose a good butter. It adds a certain extra luxuriousness to the sandwich. A hint of sweetness from the raisins in the brioche and honey, if using, will complement the piquancy of the blue cheese.
From the story: Grilled cheese sandwich: Updating an American icon
1
Heat a cast-iron pan or griddle over low heat. Brush one side of each bread slice with melted butter.
2
Spread half of the cheese evenly over the unbuttered side of two slices of the bread. Place a single layer of the pear slices over the cheese, then top with the remaining cheese. Place the remaining bread on top of each sandwich, buttered-side up.
3
With a spatula, place one of the sandwiches into the heated pan and weight it with a second heavy pan or a steak weight. (If your pan is large enough, cook both sandwiches; otherwise, cook them one at a time.) Cook until golden brown, about 3 to 4 minutes. Flip the sandwich, weight it with the pan or steak weight, and cook until golden brown, another 3 to 4 minutes.
4
Remove the sandwich to a cutting board and cut it in half or quarters. Serve immediately with a drizzle of chestnut honey, if desired, on the plate.
You can substitute any good-quality raisin bread.
---
Get our new Cooking newsletter.
Your roundup of inspiring recipes and kitchen tricks.
You may occasionally receive promotional content from the Los Angeles Times.