Grilled Nutella and pecan pound cake 'sandwiches'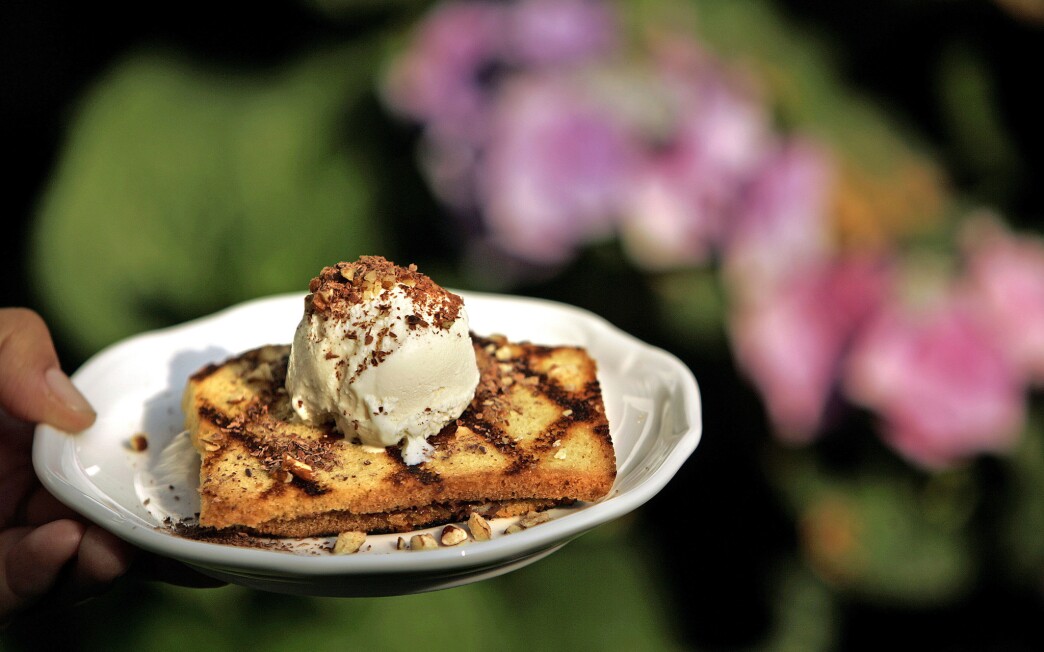 Elaine Smith's pound cake
1
Heat the oven to 325 degrees. Generously butter a 10-inch tube or bundt pan. Dust with flour, tapping out all excess. Set aside.
2
In the bowl of a stand mixer (or use a large bowl and hand-held electric mixer), beat the butter until creamy and pale. Sift the powdered sugar and gradually add it to the butter, beating continuously until the mixture is very light and fluffy.
3
Beat in the eggs, one at a time, making sure to blend well after each addition. Beat in the vanilla. In a separate bowl, mix the baking soda with the cake flour and beat it into the butter mixture, half a cup at a time, until the batter is smooth and velvety.
4
Pour the batter into the prepared pan and smooth the top. Bake for 55 to 65 minutes, or until a wooden pick inserted in the center comes out clean. Cool for 10 minutes in the pan, then turn out onto a rack to cool completely before slicing.
Sandwich assembly
1
In a small skillet over medium-low heat, toast the chopped pecans, stirring or shaking the pan frequently, 1 or 2 minutes, until aromatic. Set aside.
2
Spread 1 1/2 tablespoons Nutella on each of eight slices of the cake, then top each slice with a heaped teaspoon of nuts. Top each prepared slice with a remaining slice of cake to form a sandwich.
3
Using a flat, thin, long-handled metal spatula, gently place each of the sandwiches on a clean, well-oiled grill over medium heat. Cook for 1 to 2 minutes on each side until lightly golden, rotating each sandwich 90 degrees halfway through, to get good grill marks. Flip each sandwich; repeat on the other side.
4
To serve, place a grilled sandwich on each of eight plates with a small scoop ( 1/8 cup) of ice cream. Garnish evenly with any remaining nuts, and sprinkle 1 1/2 teaspoons of chocolate over each serving. Serve immediately.
The pound cake recipe makes more cake than is needed for the sandwiches. The pound cake recipe comes from my grandmother, Elaine Smith. It's delicious even without the embellishment of grilling and chocolate.
---
Get our new Cooking newsletter.
You may occasionally receive promotional content from the Los Angeles Times.