Grilled swiss chard reuben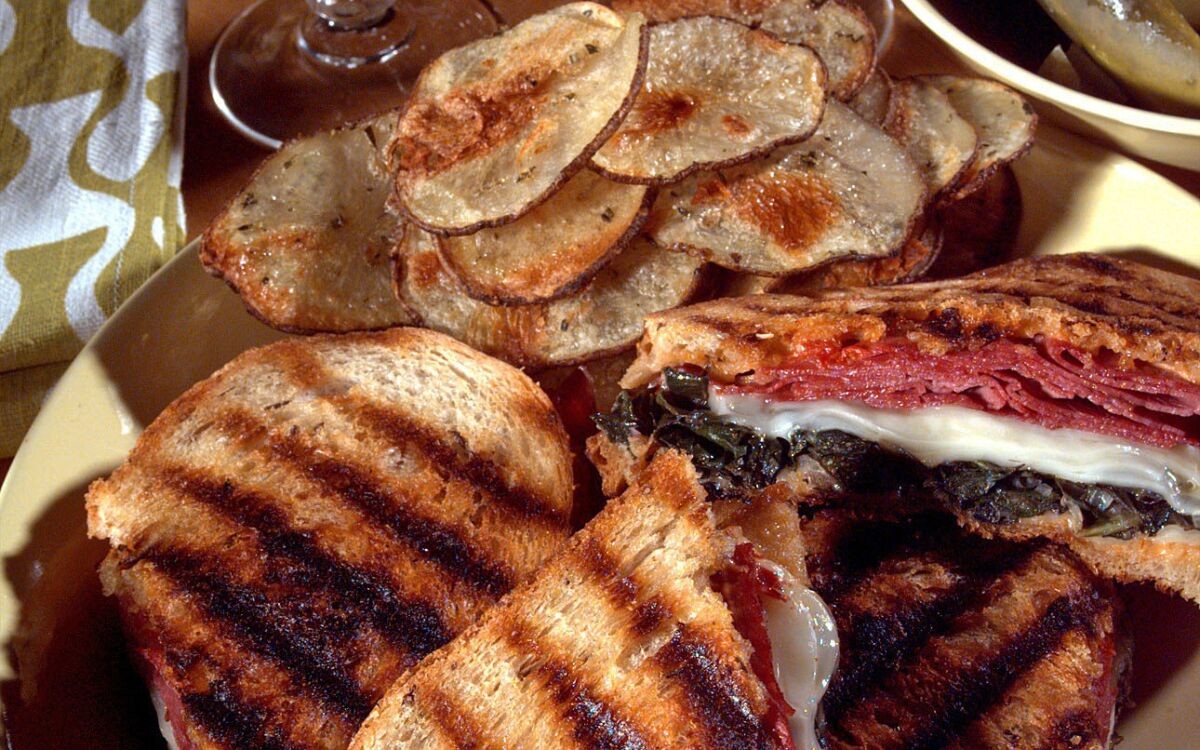 Print Recipe

Print Recipe
Just because St. Patrick's Day falls midweek doesn't mean you can't cook up something to celebrate, even if you have a busy schedule.
Instead of slow-cooking corned beef, pick up sliced corned beef and Swiss cheese from the deli and make these quick grilled Reuben sandwiches with Swiss chard, a pleasant change from the usual sauerkraut. The oven-fried potato chips, developed in The Times Test Kitchen by Mayi Brady, can be made in a snap if you have a mandoline or food processor.
End the meal with traditional Irish coffee or coffee with Baileys Irish Creme. Top either with a spoon of lightly whipped cream and drizzle a bit of creme de menthe on top for that touch of green.
1
Heat olive oil in medium skillet over medium heat. When hot, add shallots and saute until tender, about 1 minute. Add chard and cook, stirring, until chard begins to wilt, about 1 minute. Cover, reduce heat to low and let chard steam gently about 10 minutes. Stir in lemon juice and salt to taste.
2
Combine mayonnaise and chili sauce. Spread dressing on 1 side of each slice bread. Place half of corned beef on each of 2 slices bread. Add 1/4 of cheese and half of chard to each. Top each with remaining cheese and remaining slices of bread. Brush top slices of bread with half of melted butter. Place sandwiches buttered side down on preheated grill pan over medium heat and grill until browned, 4 to 5 minutes. Brush top of bread with remaining melted butter, turn and grill other side, about 4 more minutes.
---
Get our new Cooking newsletter.
Your roundup of inspiring recipes and kitchen tricks.
You may occasionally receive promotional content from the Los Angeles Times.