Hasiba's Honeyed Marinated Eggplant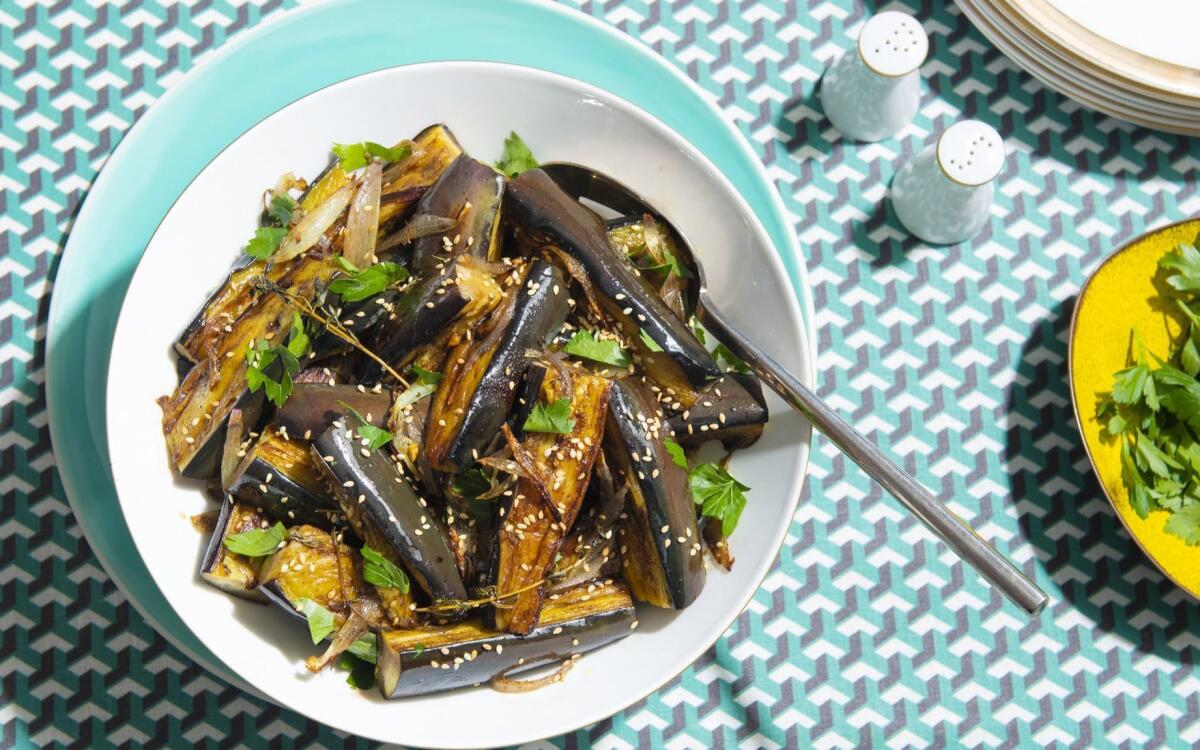 Print Recipe

Print Recipe
Chefs Or Amsalam and Alexander Phaneuf of cult hummus joint Hasiba serve a must-order marinated eggplant that you can now make at home. Their recipe combines silky texture, puckery tartness and richness courtesy of olive oil in every bite.
1
Trim 1 inch off the top and bottom of each eggplant. Halve each eggplant crosswise, then stand each half on one end and cut each into 8 wedges, for 32 pieces total. Toss the wedges with 1 tablespoon salt in a large bowl, then arrange them with one cut side down on a paper towel-lined baking sheet. Drain for 2 to 4 hours. Pat the eggplant dry with paper towels.
2
Heat a heavy-bottomed large skillet over medium-high heat. Add half cup olive oil, then arrange half the eggplant with one cut side down until the bottoms are golden brown, 5 to 6 minutes. Add an additional quarter cup oil, flip the eggplant and fry until the other side is golden brown, about 6 minutes more. Transfer to a plate to cool and repeat with the remaining eggplant and an additional three-quarters cup olive oil.
3
Reduce the heat to medium-low and pour any oil left in the pan into a bowl. Return 2 tablespoons oil to the skillet, or add more fresh oil to make 2 tablespoons. Add the shallots and cook, stirring, until translucent, 2 to 3 minutes. Add the garlic and paprika and sprinkle with salt. Cook, stirring, until fragrant and caramelized, about 2 minutes. Add both vinegars, the thyme and 2 tablespoons water. Swirl the liquids and scrape any browned bits from the pan. Raise the heat to medium-high and cook until the liquid is reduced by half, 5 to 6 minutes.
4
Remove from the heat and stir in the honey. Add the eggplant and gently stir to coat. Reduce the heat to medium-low and cook until the eggplant softens but is not mushy, about 5 minutes. Cover and cook until the eggplant softens further and one-eighth inch of liquid remains in the skillet, about 5 minutes more. Taste and add more honey and salt, if desired.
5
Transfer to a nonreactive bowl and cool to room temperature, about 30 minutes. Cover with plastic wrap, transfer to the refrigerator and chill completely, at least 4 hours and up to 5 days.
6
When ready to serve, remove the eggplant from the refrigerator and let come to room temperature. Remove and discard the thyme sprigs. Stir in the lemon juice, then garnish with the parsley and sesame seeds.
Make Ahead: The eggplant can be refrigerated tightly covered for up to 5 days.
Recipe from Alexander Phaneuf, adapted by Adeena Sussman
---
Get our new Cooking newsletter.
Your roundup of inspiring recipes and kitchen tricks.
You may occasionally receive promotional content from the Los Angeles Times.