Homemade marshmallow candies
Yields
Makes about 3 dozen candies, depending on size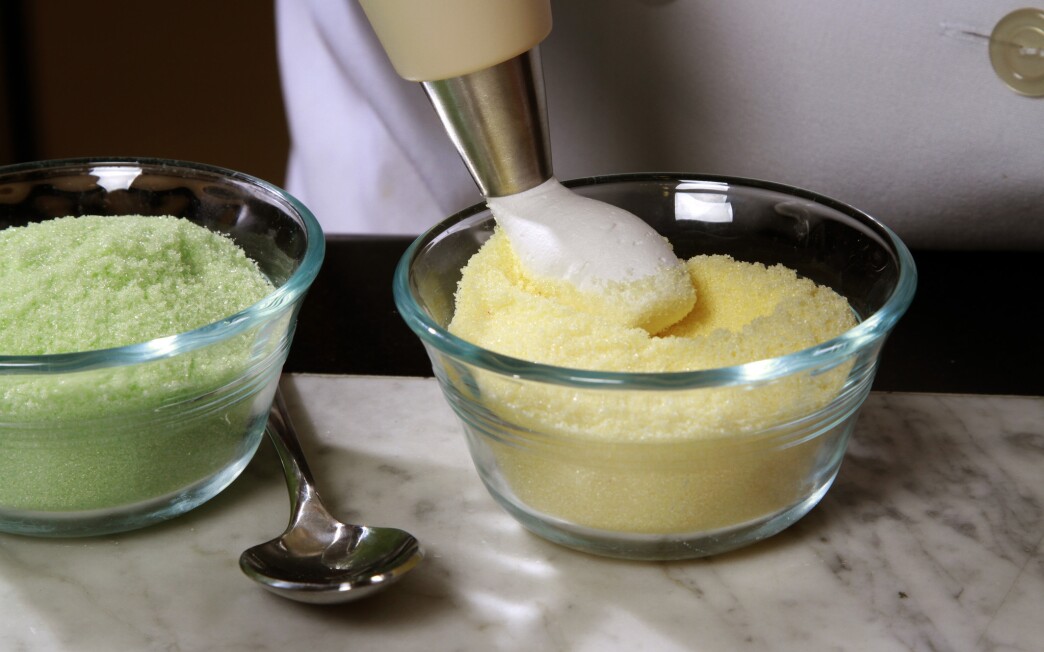 Print Recipe

Print Recipe
Maybe they slowly grew on me. Or maybe it was the sheer sugar rush -- from testing close to 75 dozen chicks -- but I'll admit it. I've grown fond of Peeps.
For most of us, an Easter basket simply isn't complete without a box of Peeps. The colorful marshmallow candy brand is celebrating its 60th anniversary this year, and the popular chicks are to Easter what candy corn is to Halloween and candy canes are to Christmas.
Of course, Peeps are probably just as famous for what people do with them, and I'm not just talking about fluorescent-tinted s'mores or a post-apocalyptic trip in the microwave. A quick Internet search will give you Peep "sushi" ("peepshi") and "peepza" (add the Peeps during the last minute or so while baking a pizza, so they just start to melt with the cheese). You'll find Peeps on cars ("peepmobiles") and as clothing, fluffy re-creations of famous art (Van Gogh's "Starry Night" and Warhol's "Marilyn Monroe"), and countless methods of Peeps destruction. And no Easter season is complete without the annual Peeps Diorama Contest.
But I was never a big fan of actually eating them -- that is, until I tried homemade. While commercial Peeps have a devoted following, others find them to be overly sweet, tough and chewy. (Some fans actually prefer that tougher texture, aging the Peeps -- "curing them," as they call it).
But freshly made, "peeps" are soft in texture, each bite light and fluffy. Delicate almost.
They're nothing more than homemade marshmallows, a simple combination of sugar, water, gelatin, corn syrup and flavoring. Basic cut-out peeps are easy to make: Spread freshly made marshmallow on a baking sheet and leave it to set up, and then cut out peeps in any of a number of holiday shapes -- flowers or bunnies, whatever you like -- dipping the little creations in colored sugar for decoration.
Piped chicks are a bit more challenging. While online recipes for Peeps-like chicks are plentiful, I found none yielded a marshmallow stiff yet pliable enough to form the right shape. After comparing a bunch of recipes, tweaking and fine-tuning to perfect a method, I found that the right marshmallow consistency -- along with a bit of practice with a piping bag -- is key to homemade marshmallow chicks.
That said, don't be embarrassed with your first batch of piped chicks. They take practice. (Did I mention testing almost 75 dozen before getting it right?) If you find your piping skills are lacking, you can always spread the marshmallow out onto a greased sheet and cut them out later. You'll still have peeps.
Left to dry in the air, even homemade peeps will turn stiff and chewy. But store them in a baking pan covered tightly with plastic wrap, and they'll stay soft and delicate for several days.
Then go crazy. Make enough peeps for a diorama, Easter bonnet or demolition derby. Who knows? You might even find you actually prefer to eat them.
So many options to cheep about
Once you've mastered the basic techniques, you can really start to play around with your "peeps."
Vanilla flavoring can be substituted with another flavoring, such as almond, mint or lemon extract. Or use powdered spices such as ground cinnamon. You can even use rose- or orange-blossom water, which is actually quite delicious. Start by beating in about one-fourth teaspoon of the flavoring at a time and then adding more to reach the desired taste.
Colored sugars are available at most grocery stores as well as at cooking and baking supply stores, but you can make your own custom hues: Place granulated sugar in a sealable plastic bag or jar with a few drops of food coloring, then shake until the coloring is evenly distributed. Spread the sugar out onto a rimmed baking sheet for about 30 minutes to dry, then sift the sugar before using to remove any lumps.
1
In the bowl of a stand mixer fitted with the whisk attachment, sprinkle the gelatin over one-fourth cup of water and let stand until the gelatin is softened. If piping chick-shaped candies, fit a piping bag with a large, round tip (preferably one-half inch) and place the colored sugar in a bowl. If cutting out shapes, butter the baking sheet and line with parchment paper, then butter the parchment paper.
2
In a large saucepan, combine the remaining water with the sugar and corn syrup, and cook until the sugar reaches 245 degrees using a candy thermometer. Remove from heat.
3
With the mixer running on low speed, slowly pour the hot sugar syrup down the side of the mixer so it doesn't splash against the whisk. Slowly increase the mixer speed to high and beat until the marshmallow lightens in color, about 6 minutes, then beat in the vanilla. For piped marshmallows, continue beating on high speed until the marshmallow firms and stiffens in texture (similar to a stiff meringue); the marshmallow will have lost some of its sheen and should break off as the beater is removed, but it should not be overly stringy, 10 to 16 minutes. For cut marshmallows, beat less, only until the marshmallow is fluffy and doubled in volume, 8 to 10 minutes total.
4
To pipe marshmallow chicks, start by piping the body: Hold the piping bag over the colored sugar and begin piping the marshmallow out onto the sugar so it is about 1-inch in diameter and approximately one-half-inch thick. Continue piping the body so it is about 2 1/2 inches in length, then slowly release the tip from the marshmallow, pushing the marshmallow up to form a tail. To form the chest and head, pipe on top of the body, starting from the front of the body and piping over half of the back. Continue piping, but reversing direction, to form the head, slowly releasing the tip to form the beak. Spoon the colored sugar over the formed marshmallow to coat completely. Remove the marshmallow to a parchment-lined baking sheet.
5
To form cuttable marshmallows, using a lightly greased offset spatula, immediately spread the mixture onto the buttered parchment-lined sheet, spreading the marshmallow so it covers the pan in an even layer. Set aside, uncovered, 2 to 4 hours to set. When the marshmallow is set, cut out shapes using lightly greased cutters. Gently press the marshmallows in colored sugar to evenly coat.
6
Form the eyes: Place the chocolate chips in a glass measuring cup or bowl and microwave in 10-second increments, stirring occasionally, until melted. Use a toothpick to dot the melted chocolate over the candies to form eyes (and noses, for marshmallow bunnies).
This recipe requires the use of a candy or digital thermometer.
---
Get our new Cooking newsletter.
You may occasionally receive promotional content from the Los Angeles Times.