Jack Fry's shrimp and grits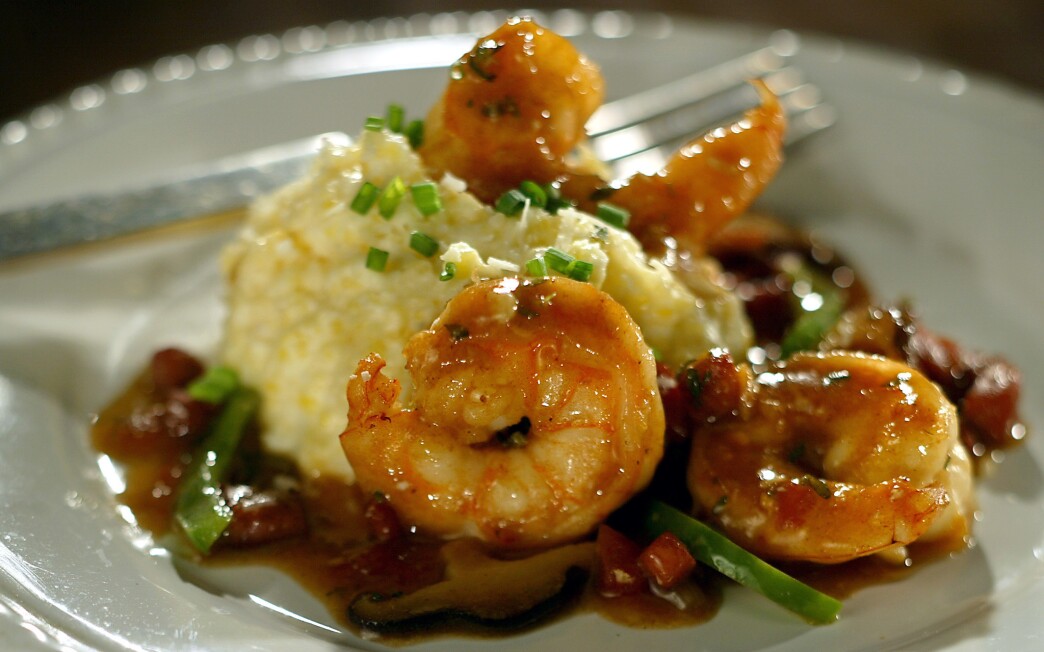 Print Recipe

Print Recipe
Dear SOS: Please see if you can get a recipe for shrimp and grits at Jack Fry's restaurant in Louisville, Ky. It is one of the best things I've eaten.
Michelle Phillips
Cheviot Hills
We wondered if this letter could be from the Michelle Phillips of the Mamas and the Papas fame, so we called the writer and learned that it was indeed the actress-singer looking for a recipe. Phillips, it turns out, is also a skilled cook who can usually detect what's in a restaurant dish and re-create it at home.
She loved the shrimp and grits she tried at Fry's, but couldn't figure out the recipe. "It doesn't sound like much, but I tell you, it is so delicious," she says.
Chef Shawn Ward's recipe calls for cooking the shrimp in red-eye gravy made with Madeira, shiitake mushrooms and fresh thyme, and serving them on creamy grits enriched with Parmigiano-Reggiano.
Because the Kentucky country ham Ward uses is hard to find, we substituted Virginia ham, which is available at Bristol Farms and 99 Ranch markets.
Red-eye gravy
1
Melt the butter in a large saute pan over medium-high heat. Add the ham and cook until browned, about 5 minutes. Add the onion, green pepper, mushrooms and thyme, and cook until the onion is translucent, about 5 minutes.
2
Add the Madeira, coffee, chicken broth and tomato and bring to a light boil. Stir in the cornstarch mixture. Reduce the heat and simmer the sauce until it reduces by one-third, about 10 minutes.
Grits
1
In a saucepan, combine the milk, cream and butter. Bring to a light simmer. Slowly stir in the grits, reduce the heat to low and stir frequently until the grits are thick and creamy, about 10 minutes.
2
Stir in the cheese and the salt and pepper to taste. Keep warm.
Assembly
1
Heat 1 tablespoon butter in another large saute pan. Add the shrimp and cook until pink, about 3 minutes.
2
Add the red-eye gravy. Add the remaining butter and stir to incorporate.
3
To serve, divide the warm grits among 6 plates and top with the shrimp and gravy. Garnish with the cheese and chives.
---
Get our new Cooking newsletter.
Your roundup of inspiring recipes and kitchen tricks.
You may occasionally receive promotional content from the Los Angeles Times.