Old-Fashioned Peanut Brittle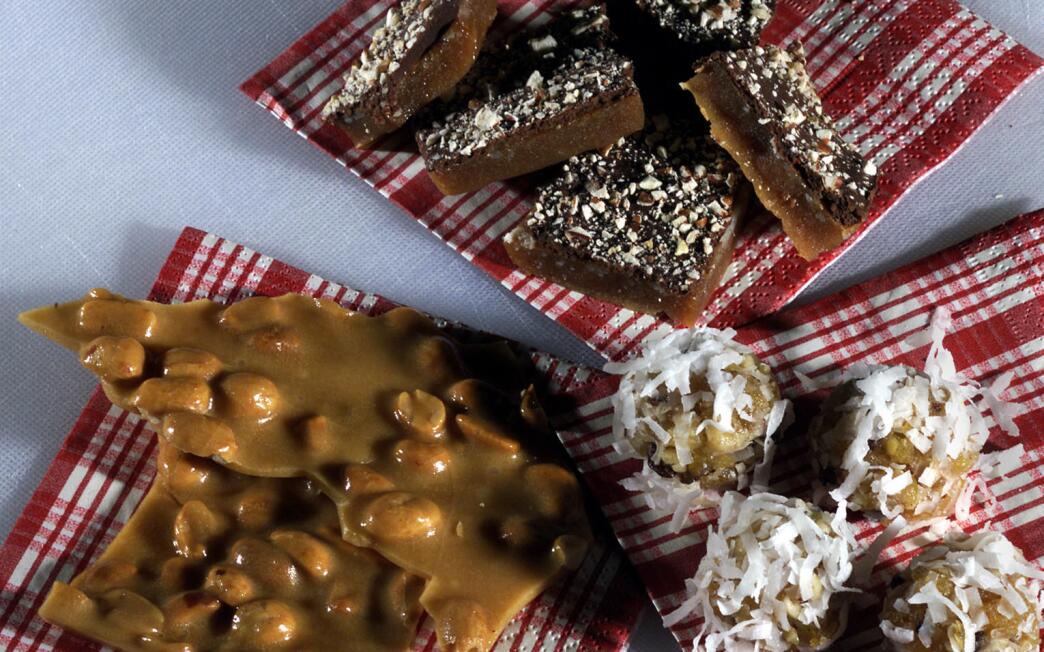 Print Recipe

Print Recipe
Nothing does the trick like candy. Serve it after dinner with coffee for an easy dessert or keep some on hand for a quick pick-me-up. And if you need a hostess gift, take some along; I've never seen anyone protest the gift of candy.
Here are several delicious candy recipes. I like them better than what I can buy. You might need some special equipment to make them. The peanut brittle and toffee must cook to high temperature to harden; this process requires a candy thermometer, which eliminates the guesswork. Also, be sure to use a heavy 2 1/2-quart saucepan with a fairly narrow base so the thermometer can reach into the mixture. You will also need a wooden spoon and potholders.
1
Butter a jellyroll pan and set it aside.
2
Combine the sugar, corn syrup and water in a heavy 2 1/2-quart saucepan. Clip a candy thermometer to the pan so it reaches the ingredients. Place the pan over medium-high heat; stir until the sugar dissolves. When the syrup comes to a boil, stir in the butter. Keep the mixture at a low boil, stirring frequently, as the syrup becomes golden and thick, about 20 minutes.
3
Continue cooking the syrup until the thermometer registers 280 degrees (soft-crack stage). Stir in the peanuts, which will lower the temperature. Stir constantly until the thermometer reaches 305 degrees (hard-crack stage). Remove the pan from the heat; quickly stir in the baking soda and vanilla.
4
Immediately pour the hot mixture (carefully) onto the prepared pan. Use the back of a wooden spoon to spread it out to the edges of the pan. When cool, lift the brittle from the pan and break it into bite-size pieces.
The brittle can be kept in an airtight container at room temperature up to one week.
---
Get our new Cooking newsletter.
You may occasionally receive promotional content from the Los Angeles Times.