Pepita and goat cheese bites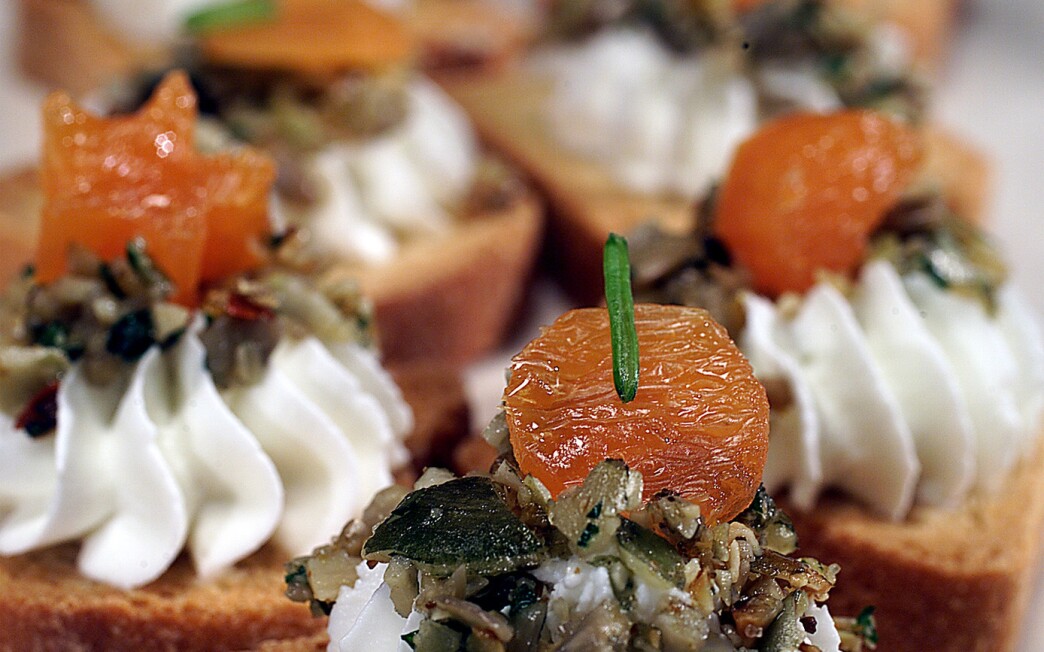 Print Recipe

Print Recipe
It's easy to get carried away when eating hors d'oeuvres, but the same is true when making them. You can spread on too much cheese, sprinkle on too many nuts, and suddenly you've got a lot of calories and fat in one little bite.
With these appetizer toasts, you can control the amount of cheese for each toast by using a pastry tube. Squeeze on a small dollop or a star (by using a star-shaped tip) of cheese, about 1 teaspoon per toast. Then sprinkle on just one-fourth teaspoon of the nut mixture for the finishing touch. If you don't have a pastry tube, snip off the corner of a resealable plastic bag and fill it with cheese, or roll some cheese in wax paper to make a tube.
If you have time, give these bites a decorative garnish by cutting out pieces from a yellow bell pepper.
1
In a small food processor, grind together the sunflower seeds, pepitas, garlic, red pepper flakes, cumin, salt and orange zest until the nuts are finely ground. Stir in the olive oil and cilantro.
2
Spoon the goat cheese into a pastry bag fitted with a large serrated tube and a star-shaped tip, if you desire. Pipe about 1 teaspoon of cheese onto each of 24 mini toasts. Set aside any leftover toasts for another use. Spoon about 1/4 teaspoon of the nut mixture over the cheese. You'll have some nut mixture left over; use it to sprinkle over salads.
3
For the optional garnish, cut the pepper into quarters and remove the stems and seeds. Use small hors d'oeuvre cutters to cut circles, stars and moons from the pepper. Top each toast with a pepper decoration. Top the circles with a 1/2-inch piece of a cilantro stem.
---
Get our new Cooking newsletter.
You may occasionally receive promotional content from the Los Angeles Times.