Poached Salmon and Potato Salad With Fresh Herb Sauce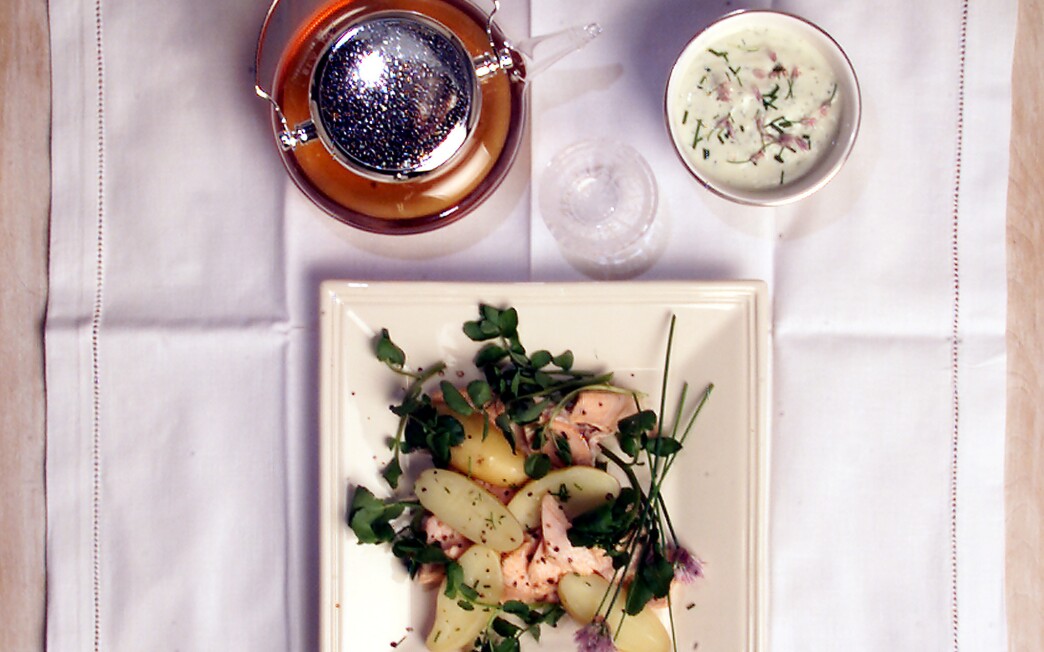 Print Recipe

Print Recipe
Last August, I arrived in New York during a heat wave. After a long day of travel and traffic, I was hungry but too hot to have much of an appetite. I walked to a Japanese restaurant across the street from my hotel, seeking an easy venture requiring little energy.
Once settled inside the cool of the restaurant, I scanned the menu and found the perfect dish for this day: cubes of exquisitely tender, fresh tofu floating in ice water, accompanied with a dark dipping sauce of soy, green onions and ginger. The cool tofu with its grace note of pungent sauce was the perfect dish--nourishing, light and delicious. When done eating, I felt truly refreshed.
While we know that tofu can simmer nicely in winter braises and curries, be seared in a pan or tossed in a stir-fry, many of us might be less acquainted with what tofu can accomplish in the summer kitchen.
Cool and smooth, tofu is a natural for hot weather as it requires little, if any, cooking. It can disappear with ease into smoothies and herb-infused sauces and dressings, but it also does well as a salad ingredient, especially when served with lively dressings based on ginger, garlic, soy, sesame or peanut.
When it comes to using tofu in summer salads, my preference is for soft or silken tofu packed in water. Soft tofu is strong enough to handle without breaking, but tender enough to be pleasing on the tongue.
Japanese and other Asian brands marked "regular" or "firm" (rather than soft) are tender enough to use in salads, especially if they're poached first. I would definitely avoid extra-firm, which is too coarse for these recipes. Extra-firm tofu is better for grilling or crumbling into a skillet.
Tofu is often used as a substitute for mayonnaise or soft cheeses. I never use tofu as a complete replacement for more familiar ingredients. Rather, I use it to stretch those ingredients. Tofu is neutral enough that a few tablespoons of sour cream, yogurt or mayonnaise (instead of, say, a half-cup or more) will convey the tang and flavor of those ingredients and make the resulting dish so familiar that it's not in the least bit suspect.
The herb-laced sauce for the poached fish, for example, is one I've served innumerable times to guests who never guessed that there was tofu present.
Similarly, tofu works well in smoothies, where there are plenty of flavorful ingredients present--yogurt, fresh fruit, fruit juices, espresso, peanut butter, bananas, chocolate, even ice cream.
When it comes to using tofu in sauces and smoothies, the smoother and softer the tofu, the better it will work, which means that silken tofu is ideal. The food processor will take it from a cube to a silken creamy puree in moments. Just be sure to stop the machine and scrape down the sides a few times to make sure it's completely pureed.
When you can, use tofu packed in water that you find refrigerated in the produce or dairy section rather than the aseptic variety, which doesn't need to be refrigerated. The flavor of aseptically packed tofu can be improved by simmering it briefly in salted water before using in a salad.
For best results, when using tofu, be scrupulous about using tofu before its expiration date, and try to use it at least a few days before that. In my experience, the expiration date takes tofu dangerously close to the outer limits of freshness.
Certainly, the success of the dish that I enjoyed in the Japanese restaurant depended greatly on the quality of the tofu which, as you might expect, was impeccably fresh and delicate--which is how tofu should be. Always.
*
Madison is the author of "This Can't Be Tofu!" (Broadway, $15).
Salmon
1
Rinse salmon. Place in large skillet, cover with cold water and add a heaping tablespoon of salt. Bring water to boil then turn off heat and let stand 25 minutes. Remove skin from salmon and refrigerate, covered, at least 1 hour.
2
Close to serving, scrub potatoes, cut in half lengthwise and steam over boiling water until tender when pierced with a knife, 25 to 35 minutes.
3
To serve, flake salmon onto 4 plates, add potatoes and intersperse with clumps of watercress. Spoon a little sauce over salmon and potatoes and garnish with chives. Serve remaining sauce on side.
Sauce
1
Puree tofu in food processor or blender with yogurt, sour cream and oil until smooth. Scrape down sides; add lemon zest, juice, dill and garlic and process again until smooth and pale green.
2
Scrape into bowl and stir in all but a few chives. Taste for salt and season with pepper. Wipe bowl so that it looks neat, sprinkle remaining chives and chive blossoms, if using, over top. Cover and chill at least 1 hour. Makes about 1 cup.
The tofu disappears into the sauce, and even friends who approach tofu with firm suspicion never guess that it's here. This herb-laced sauce is not only perfect for chilled salmon and steamed summer potatoes, it's also friendly to a host of other dishes, such as warm flageolet beans, green beans, romaine salads and vegetable slaws. You can take it right through the seasons of your herb garden, replacing the dill with marjoram, lovage, chervil, tarragon and lemon thyme.
---
Get our new Cooking newsletter.
You may occasionally receive promotional content from the Los Angeles Times.