Portabello Mushroom Sandwich
Yields
Makes 2 sandwiches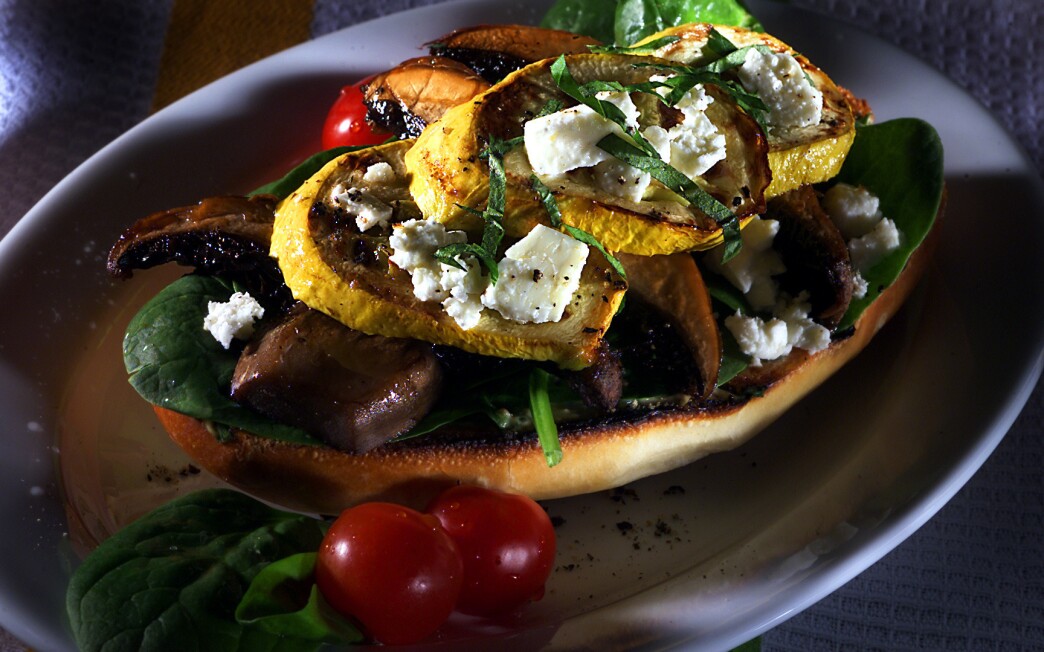 Print Recipe

Print Recipe
Portabello mushrooms are a natural for vegetarian sandwiches. They have a great "meaty" flavor but are low in calories and fat.
And they're easy to cook--just roast them in the oven or on the backyard grill. If you're grilling them, make sure to cut the mushroom slices large enough that they won't slip through the grate, and cut the squash on the diagonal. Whether you cook indoors or out, you'll want to try these quick, easy sandwiches again.
You can find sun-dried tomato paste in tubes at well-stocked supermarkets and specialty stores. Keep it on hand for these sandwiches or use it in dips and spreads.
1
Heat the oven to 450 degrees. Spray a large baking pan with cooking spray.
2
Wipe the tops of the mushrooms clean with a damp paper towel. Cut the dry woody ends off the mushroom stems then slice the mushrooms into 1-inch thick slices. Place the mushroom and squash slices in a single layer on the baking pan. Roast the vegetables until they're slightly browned, turning them halfway through, 7 to 10 minutes. Season them with salt.
3
Combine the mayonnaise, sun-dried tomato paste, lemon juice and minced basil in a small glass bowl. Rub the cut side of the toasted rolls with garlic. Spread the rolls with the mayonnaise mixture. Top the bottom of each roll with 1/2 cup of spinach leaves, 3 slices of the roasted portabello and half of the squash slices. Sprinkle 1/2 tablespoon of crumbled feta over the top of each sandwich. Sprinkle each sandwich with pepper and 1 tablespoon of shredded basil leaves. Cover each sandwich with the top of the rolls.
---
Get our new Cooking newsletter.
You may occasionally receive promotional content from the Los Angeles Times.