Potato and wild chard soup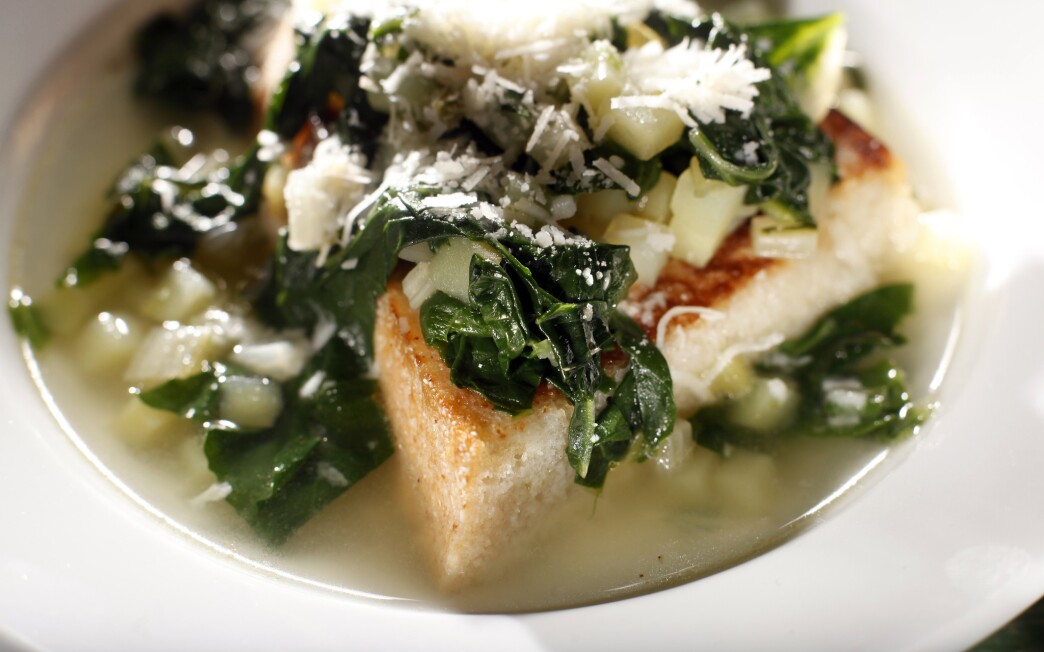 1
Peel and cut the potatoes into small dice. You should have about 4 cups. Wash the chard in several changes of cold water, drain and then strip the leaves from the stems. Reserve and dice the chard stems. You should have about 1½ cups.
2
Bring 4 quarts of salted water to a boil. Cook chard leaves in boiling water until tender, about 3 to 4 minutes. Drain, and spread them out to cool. With your hands, squeeze out the excess water. Rough-chop the chard leaves.
3
Peel and finely chop the garlic. Sweat the chard stems in olive oil over medium heat in a 6-quart stockpot. After 2 minutes, add the garlic and pinch of salt; continue sweating for 5 minutes.
4
Add the potatoes and 2 quarts of cold water to the chard stems. Bring the soup to a boil, then reduce to a simmer and continue cooking until the potatoes are very tender, about 15 minutes. Add the chopped chard leaves and simmer 2 to 4 more minutes. Season to taste with salt and pepper (we added 2 teaspoons of salt and 1 teaspoon of pepper). This makes about 3 quarts soup.
5
Serve with a drizzle of new-season, cold-pressed olive oil and freshly grated Parmesan.
Adapted from "Zuppe: Soups From the Kitchen of the American Academy in Rome" by Mona Talbott. Talbott suggests serving the soup over a slice of toasted bread or with a poached egg.
---
You may occasionally receive promotional content from the Los Angeles Times.