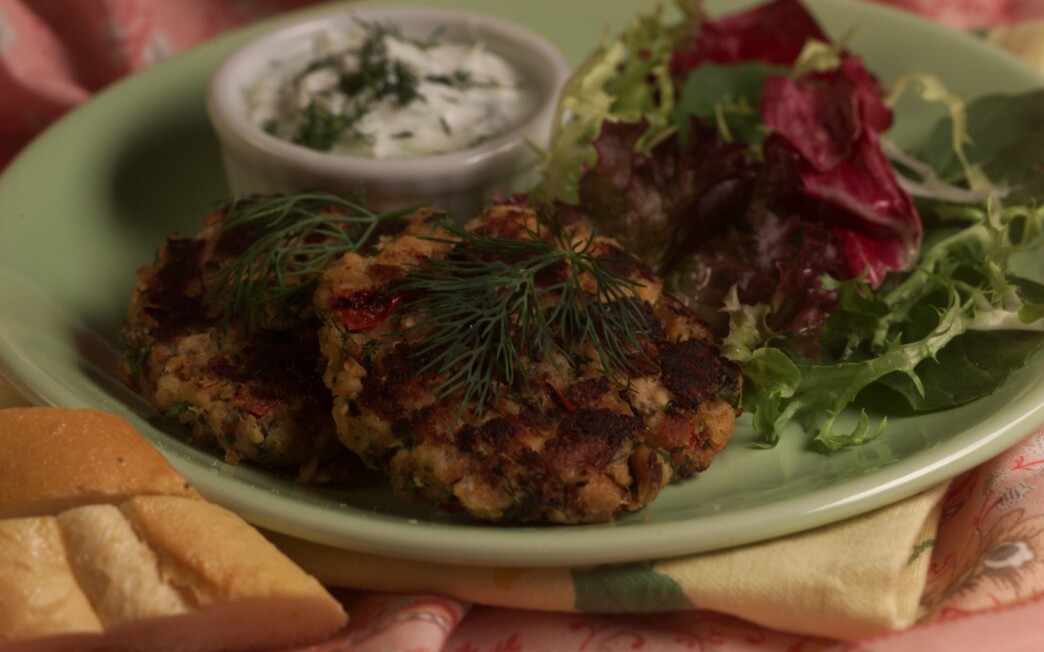 1
Heat 1 tablespoon olive oil in large skillet over moderately low heat. Add onion and saute 3 minutes. Add bell pepper and salt and pepper to taste and saute 5 minutes longer, stirring frequently to prevent browning.
2
Separate salmon into flakes in large bowl, using fork. Add parsley, dill and lemon juice. Add sauteed vegetables and cream and stir to mix. Add enough bread crumbs to hold mixture together. Taste for seasoning and add additional salt, pepper or hot pepper sauce. (Mixture can be made 1 hour ahead.)
3
Heat 1 tablespoon oil in large skillet over moderately high heat. Using your hands, form salmon mixture into 8 (2 1/2-inch) cakes. Add cakes to skillet, being careful not to crowd pan (cook in batches if necessary), and gently press down with spatula to flatten. Cook 3 minutes, flip cakes, flatten again and cook 2 minutes more. Remove to an oven-proof plate and keep warm in 250-degree oven. Repeat with remaining mixture, adding oil as needed. Serve hot with lemon and lime wedge, topped with sprigs of dill.
---
Get our new Cooking newsletter.
You may occasionally receive promotional content from the Los Angeles Times.