Sicilian rum cake (Cassata)
Time
1 hour, plus 1 hour chilling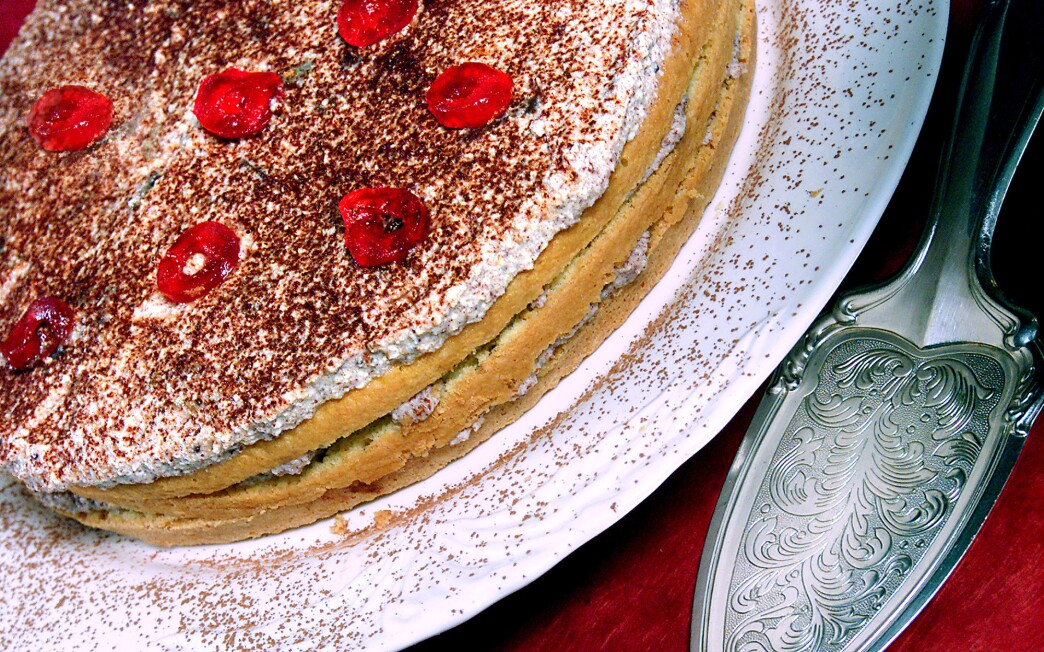 Print Recipe

Print Recipe
This is a classic cassata (Sicilian rum cake) — sponge cake, liquor, candied fruits, ricotta cheese — minus the marzipan.
From the story: Grandma Made Rum Cake
Spongecake
1
Heat the oven to 350 degrees. Butter and flour a 9-inch round cake pan.
2
Combine the egg yolks and 3/4 cup sugar in a mixing bowl, whisking until thick and light. Stir in the vanilla.
3
Beat the egg whites and salt until they form soft peaks. Add the remaining 2 tablespoons of sugar and beat until glossy, 15 to 20 seconds.
4
Incorporate 1/3 of the whites into the yolk mixture. Sift 1/4 cup of the flour over the mixture and fold it in. Repeat, folding in whites and flour, until the last flour is nearly incorporated. Fold in the butter.
5
Pour the batter into the pan. Bake just until the cake pulls away from the pan, 30 minutes. Cool slightly before unmolding.
Assembly
1
Cut the spongecake into 3 layers. Pour rum over the candied fruits.
2
Beat the cheese, powdered sugar, cinnamon and almond extract until creamy, about 2 minutes. Drain the fruit and stir it in, along with the chocolate, blending well.
3
Place 1 cake layer on a large cake plate and spread with 1/3 of the filling. Top with the second layer and spread with 1/3 of the filling. Top with the remaining layer and spread the remaining filling over top. Sprinkle with cocoa powder and garnish with the cherries. Chill 1 hour.
This spongecake is adapted from "The New Basics Cookbook" by Julee Rosso and Sheila Lukins (Workman, 1989).

For a 2-layer cake, cut the cake in half.
---
Get our new Cooking newsletter.
You may occasionally receive promotional content from the Los Angeles Times.