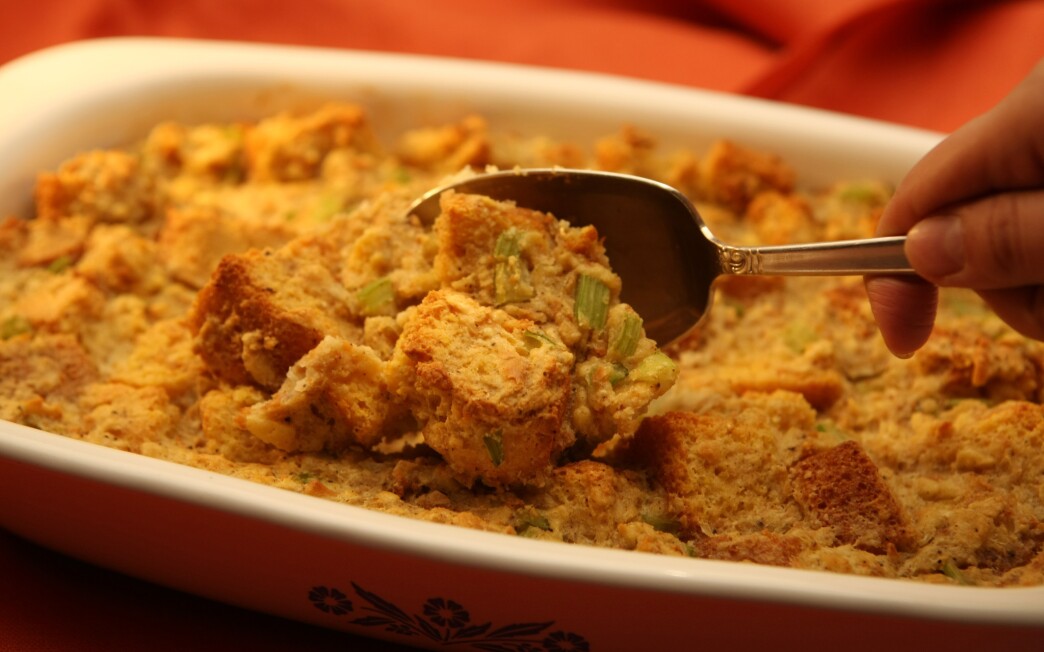 Print Recipe

Print Recipe
Corn bread stuffing is very Southern, though bread or chestnut stuffings from the English tradition are also common in the South. This cooks up like a savory bread pudding made with cornbread.
From the story: An American Meal
Toasted cubed corn bread
1
Heat the oven to 425 degrees.
2
In a large bowl, whisk together the flour, cornmeal, baking powder and salt. Separately, in a medium bowl, whisk together the milk, egg and butter.
3
Whisk the milk mixture into the flour mixture and pour into a greased 8-inch square pan. Bake until pale golden and a toothpick inserted in the center comes out clean, about 20 to 25 minutes.
4
Cool 5 minutes, invert on a rack and cool completely.
5
Turn the oven down to 350 degrees. When the bread is cool, cut it into rough 1-inch cubes and place them in a baking pan. Bake, stirring occasionally, until the bread is dry and deep golden, about 20 minutes. (Recipe can be prepared to this point 1 day in advance and stored at room temperature.)
Assembly and baking
1
Heat the oven to 350 degrees.
2
Heat the oil in a large skillet over medium high heat and saute the celery and onion until barely tender, about 5 minutes, stirring occasionally. Remove from heat and cool slightly.
3
Combine the celery, onion, corn bread, cracker meal, seasoning salt, celery salt, eggs, milk, broth and pepper in a large bowl. Mix well and place in an oiled 9-by-13-inch baking dish.
4
Bake until the top is golden brown, about 45 minutes.
The corn bread is adapted from Gourmet magazine.
Make Ahead:
The corn bread can be made a day in advance.
---
Get our new Cooking newsletter.
You may occasionally receive promotional content from the Los Angeles Times.