Spigarello sauteed Italian style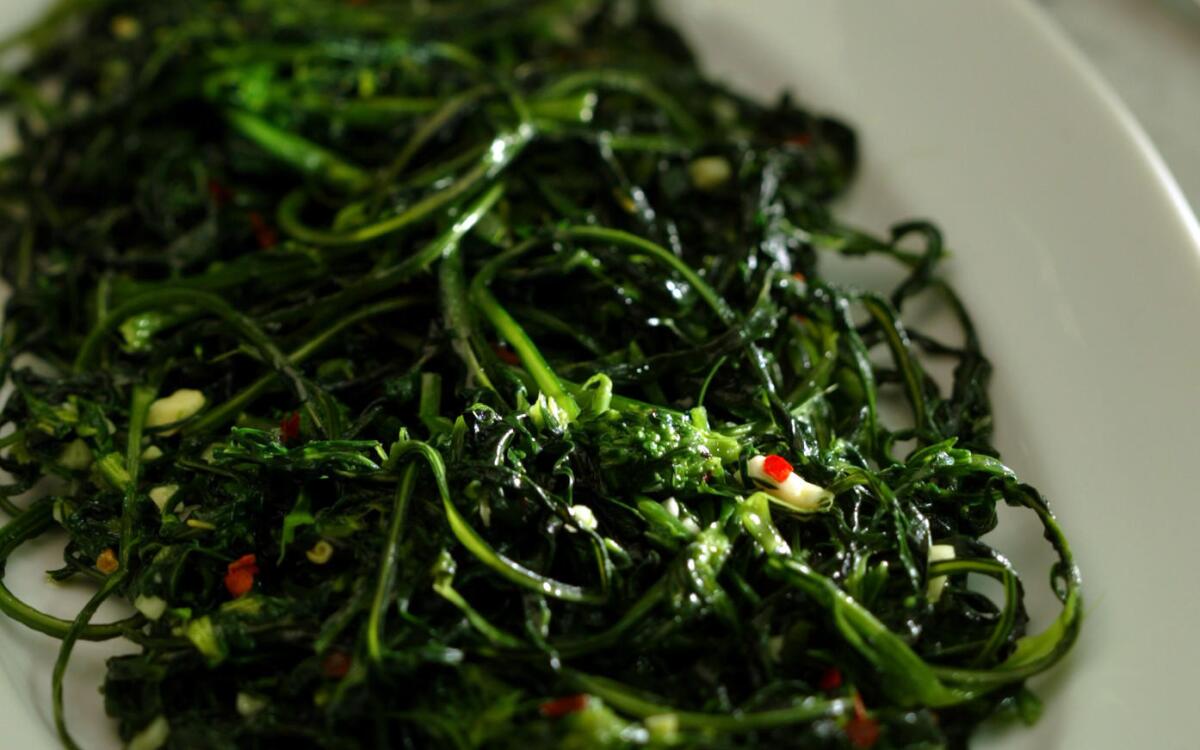 Print Recipe

Print Recipe
"Asking a farmer where he gets his seeds," says Bill Coleman, of Coleman Family Farms in Carpinteria, "is like ... I don't know what to compare it to. You just don't do it." The particular seeds in question are those for broccoli spigarello, a leafy green member of the brassica family, whose origin seems a mystery.
Not only is this intriguing green gaining a passionate following among customers of the Coleman Family Farm stand at the Santa Monica Farmers Market, it's also showing up on the menus of L.A. restaurants. It came to our attention when a reader wrote in asking for a recipe from Lucques. When we picked up the vegetable to prepare the recipe, we were immediately enthralled by the vegetable.
Broccoli spigarello, or spigarello for short, has the bluish-gray hue of its cousin cavolo nero (Italian black kale). Its leaves are like long, thin broccoli leaves with ruffled edges that twist and twirl upward from the stem. This time of year, it sprouts small white and green flowers that look a lot like the florets of broccoli rabe.
Its wonderful, slightly sweet, almost familiar flavor is like a cross between kale and broccoli rabe -- it lacks the bitterness of many leafy greens -- and is perhaps most similar to broccoli leaves or broccoli sprouts.
Despite all the comparisons, Coleman insists spigarello is not a hybrid. "It's a primitive broccoli," he says.
Curiously, this delicious new "primitive" green seems to be Southern California's very own. Coleman Family Farms was the only source I could find for it. Not just in L.A., but anywhere. (James Birch of Flora Bella Farm will have it available for about six weeks beginning in May.)
Mark Peel (chef-owner at Campanile), Jeff Jackson (executive chef at the Lodge at Torrey Pines) and Goin all get their spigarello from Coleman. Two national produce distributors who carry it cite Coleman as their source. Stranger still, a Google search for "spigarello" yielded only 23 links, two of which referenced people by the last name Spigarello. The vast majority of the others either mentioned Coleman Family Farms or linked to recipes by chefs whose spigarello came from that farm.
I started asking around, my net cast wide over Italy. I queried sources in or familiar with Sicily, Sardinia, Emilia-Romagna and Tuscany. Not one had heard of spigarello. So what gives?
When pressed, Coleman said he discovered spigarello about 15 years ago, on a visit to a friend in Seattle. That friend, an Italian American, had spigarello growing in his kitchen garden; he claimed to remember eating it as a child. Coleman liked it, and his friend gave him some seeds. I hinted to Coleman that perhaps I might speak to the man in Seattle, but Coleman said he had died long ago, and a bank has sprouted on the spot where the spigarello once grew.
Coleman said he has been selling spigarello at the Santa Monica and Santa Barbara farmers markets for about 10 years, but only in the last few years has it caught the fancy of curious shoppers and a few chefs devoted to sourcing unusual local ingredients.
Goin first spotted it at Coleman's Santa Monica stand about four years ago. "Being a greens fanatic," she says, "I had to check it out." Today she uses spigarello at both of her restaurants, Lucques and A.O.C.: blanched and sauteed with shallots, garlic, thyme and chile, then tossed into a side dish of farro or into braised beef or chicken; and, an ode to the season, layered in a gratin with winter squash and wild mushrooms.
At Campanile, spigarello is often used in place of cavolo nero: sauteed with olive oil, garlic and chiles as a side dish for poultry, chopped and used to stuff poultry or lamb, or tossed with pasta and then topped with the restaurant's signature Bolognese sauce. Jackson, of the Lodge at Torrey Pines, uses it to make minestrone or ribollita -- a Tuscan soup of bread, white beans and greens. Govind Armstrong of Table 8 slow-braises the greens with extra virgin olive oil, garlic, chile and thyme.
Having lost spigarello's Farmer Zero, as it were, we were stumped. But a vegetable does not fall from the sky and into a kitchen garden in Seattle. Further probing uncovered a simple explanation: a misspelling. Spigarello is, in fact, a corruption of spigariello (notice the extra "i"), whose real name is cima di rapa, a.k.a. broccoli rabe. Spigariello is an heirloom variety, some even say the original broccoli rabe.
So why didn't my sources guess this? One explanation is that, as Victor Hazan, husband of America's Italian food ambassador Marcella Hazan, states, "The names of plants vary greatly depending on local usage. Broccoli means one thing in the Rialto market and an entirely different one to cooks in Puglia."
With the American corruption of the spelling, they were unable to research the green. Still, for whatever reason, none knew heirloom broccoli rabe even by the name spigariello.
Though it's an heirloom broccoli rabe, you have to treat spigarello (as we'll continue to call it here in California) differently than the broccoli rabe we know and love: The stems, which are the main attraction in broccoli rabe, are so fibrous in spigarello that they're inedible. With spigarello you only eat the leaves and flowers (if any).
To prepare spigarello, first pull the leaves from the stems, much as you would strip the needles off a stem of rosemary. Then cook the leaves as you would other leafy greens such as chard, kale or ... broccoli rabe. Blanched and sauteed with olive oil and garlic in the Italian style, spigarello's leaves, which are slightly firmer than mustard greens yet more delicate than kale, get nice and crisp around the edges.
So it's not a mystery. Spigarello, one "i," is a tasty green, and one that we, in classic California style, have made our own.
1
Wash the spigarello thoroughly. Pull the leaves off the stems, grabbing the leaves from the top of the stem and pulling toward the bottom to remove (in the same way you'd strip rosemary needles). Discard the stems. Bring a large pot of salted water to a boil. Add the spigarello, return to a boil and blanch for 3 to 5 minutes, until the greens wilt slightly and bend easily in the pan. Drain in a colander.
2
Heat the olive oil in a large heavy skillet over medium-high heat. Add the spigarello, season with salt and saute until slightly crispy, about 3 to 5 minutes.
3
Stir in the garlic and red pepper flakes, turn off the heat and let stand for about 1 minute, stirring often. (If the pan is too thin to hold much heat, cook over low heat for 1 minute after adding the garlic and pepper flakes.) Sprinkle with vinegar and toss lightly. Serve warm.
From Mark Peel at Campanile, where this is served as a side dish with braised chicken, creamy polenta and charred cherry tomatoes.
---
Get our new Cooking newsletter.
Your roundup of inspiring recipes and kitchen tricks.
You may occasionally receive promotional content from the Los Angeles Times.