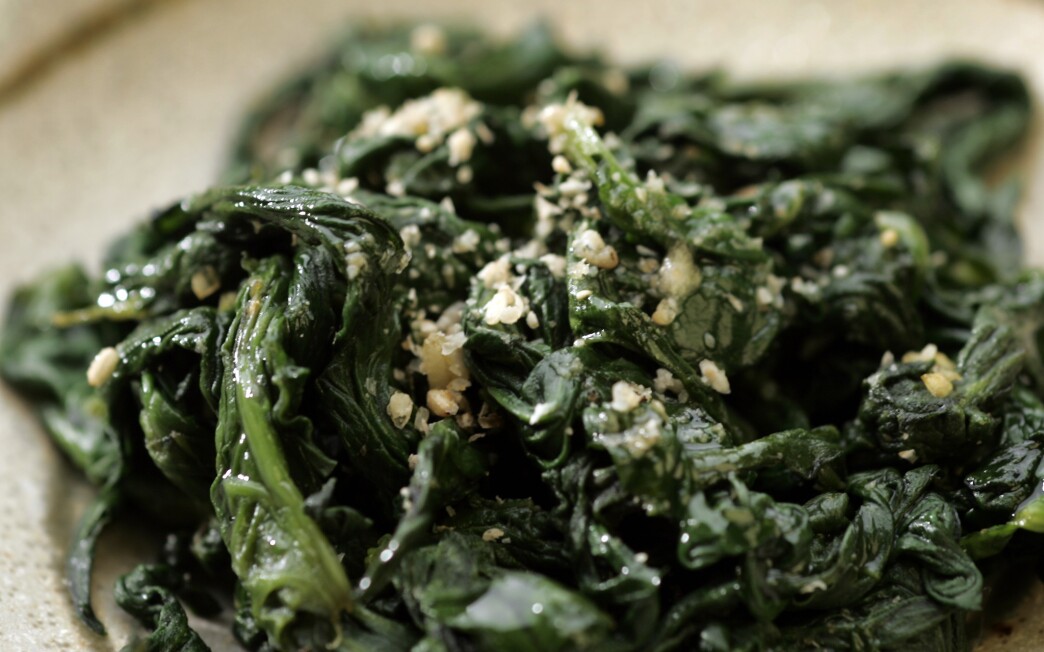 Print Recipe

Print Recipe
When it comes to eating bibimbap, it's all in the mixing. Bibimbap, or "mixed rice," emerges from the kitchens of just about any Korean restaurant in Koreatown: a mound of warm rice in an oversize bowl topped with artfully arranged sections of vegetables, sliced grilled beef and then an egg fried sunny-side up. It's drizzled with a little sesame oil and served with a dollop of kochujang, spicy red pepper paste. When you mix it all together with your spoon, the yolk breaks open and, along with the kochujang, coats the whole crunchy-savory-delicious affair.
It's no wonder then that bibimbap is such a madly popular restaurant dish, but it's especially suited to making at home.
My grandmother could whip up a bowl of bibimbap in less than 20 minutes with whatever rice, namul panchan (vegetable side dishes) and bulgogi (grilled rib-eye steak) was left from previous dinners. Just about any namul -- such as sauteed mung bean sprouts, sauteed mushrooms, lightly pickled cucumber, fresh daikon, braised zucchini or seasoned steamed spinach -- might make an appearance in a beautiful vegetable composition atop rice.
Chang Sun-Young, author of "A Korean Mother's Cooking Notes," remembers eating bibimbap as a girl at the end of the lunar year. "We mixed together all of the leftover side dishes in the kitchen with kochujang and rice to clear out the pantry and make room for the new dishes of the new year," she said.
Even if your pantry doesn't happen to include toraji (bellflower root) or kosari (fernbrake), or your refrigerator isn't already stocked with brined cucumber salad, these are worth shopping for or preparing for bibimbap. Mountain fernbrake is a woodsy, earthy fern that's native to Korea, and shredded white bellflower root has a slightly bitter taste and meaty texture. Both are found in the dried-package aisles of Korean markets.
Dol sot bibimbap -- served in a hot stone bowl so that the bottom layer of rice is browned and crispy -- might be the most popular version of bibimbap at Jeonju restaurant in Koreatown, but it's a relatively new invention created in restaurants around the mid-'70s. The restaurant is named after Jeonju, a city in southwestern Korea that is famous for bibimbap.
"Around Jeonju region, they produce very good-quality rice, soy bean sprouts, and all those things that you might use for bibimbap," says Kyeyoung Park, an anthropology professor at UCLA who studies Korean American culture. "When people visit Jeonju city, the first thing they want is bibimbap."
The homemade version is usually served in a large bowl (which isn't hot or made of stone), and can be quickly assembled with freshly steamed rice, namul panchan and grilled rib-eye or whatever meat you might have on hand.
If there's no time for making traditional Korean namul from scratch, there's always the pre-fab shortcut: the mind-boggling array of ready-made panchan at the Koreatown Galleria. Or try inventing your own, like a seafood bibimbap featuring wild Alaskan salmon and crumbled seaweed, or bibimbap with grilled kale, eggplant and zucchini.
There are no hard and fast rules about what bibimbap is or isn't -- the beauty of it isn't just in its appearance but also in its infinite adaptability.
1
Prepare the spinach by cutting off the stems and separating the leaves. Carefully wash the spinach in several changes of water.
2
Place the wet, clean spinach in a large frying pan over medium-high heat and cook until it is wilted and bright green, about 4 minutes. Note that the spinach may need to be added in batches, a little more added as what's in the pan cooks down. When all of the spinach is wilted, remove from the heat and quickly add the ice cubes to stop the cooking process.
3
Drain the spinach and squeeze it vigorously two or three times until as much water is removed as possible. Shape the spinach into a ball and slice four or five times so that it's in bite-size pieces.
4
In a medium bowl, combine the soy sauce, sesame oil, sesame seeds, garlic, rice vinegar, green onion and sugar. Add the spinach and thoroughly massage with hands. Chill in the refrigerator until serving. Serve in a small bowl, garnished with a sprinkle of sesame seeds.
Adapted from "Dok Suni: Recipes From My Mother's Kitchen" by Jenny Kwak with Liz Fried. This should be made the same day of serving.
---
Get our new Cooking newsletter.
You may occasionally receive promotional content from the Los Angeles Times.