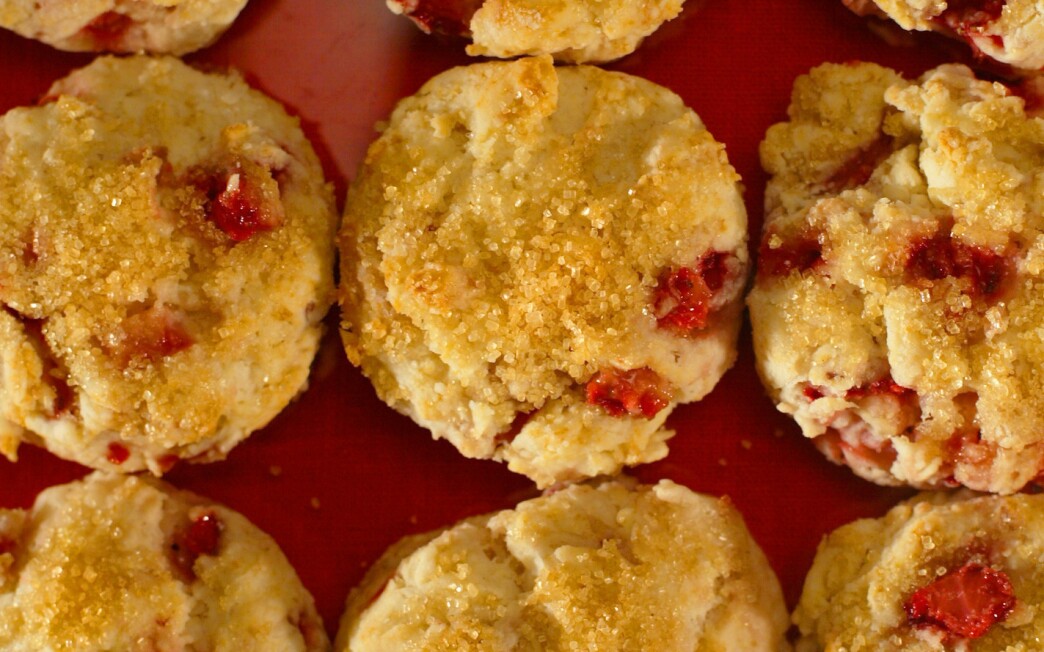 Print Recipe

Print Recipe
A biscuit need not be confined to the bread basket, content as a humble side. With a bit of creativity, it steps forth and shines at the Easter table.
Add chopped fresh strawberries, and you have a dessert-like biscuit that does away with the need for jam.
Add chopped fresh herbs and spin the dough into pinwheels for an eye-catcher that stands up to assertive main dishes.
Or play upon biscuit-eaters' cravings and turn out a bigger biscuit for a sandwich, one topped with onion seeds, cracked pepper and flaked salt.
All three of our biscuits are made with buttermilk, whose flavor no good biscuit should be without.
The beauty of the biscuit is that it is one of the quickest breads you can make. Most can be on the table in 30 minutes.
Biscuits made with yeast take a bit longer, of course, but they're still faster than yeast rolls because they rise just once.
Only one of these biscuits needs a biscuit cutter -- the strawberry version. The pinwheel involves rolling and slicing, while the salt and pepper biscuits are cut with a knife once the dough is rolled flat.
The secrets of biscuit success are fresh ingredients, accurate measurements, proper handling of the dough and the right oven temperature.
If you bake a lot, your baking powder and baking soda probably are fresh, but it's always a good idea to check the expiration dates.
You'll know your yeast is active once you dissolve it in warm water because it will begin to bubble after a few minutes.
Your butter should be fresh too; butter with a refrigerator taste can ruin a perfectly good batch.
It's easy enough to measure ingredients, but sometimes when rushing along, accurate measuring goes by the wayside.
Before measuring flour, stir it in the canister or bag, then lightly spoon it into a measuring cup and level it off with a knife. Be sure to use a measuring spoon and level small amounts of dry ingredients as well. One of the pleasures of biscuits is making them by hand -- a mixer can overmix the dough and make them tough.
Use two knives or a pastry blender to mix the butter into the flour until the mixture has the texture of cornmeal. This distributes tiny lumps of fat evenly throughout the dough; when they melt in the oven, they'll create the flaky texture.
Some cooks prefer to use their fingertips for blending. A fork works well for blending in the liquid.
Keep a light touch when kneading, and watch the flour. Too much flouring of the work surface -- and too much handling -- and the biscuits will become tough.
Biscuits are baked in a hot oven for a quick rise and quick browning. And most important of all: They're best warm from the baking sheet.
If you don't mind starting the day with a little baking, the strawberry biscuits are wonderful for brunch. (We find they're good for snacking, though, and outstanding with afternoon coffee or tea.) The chopped strawberries brighten the classic light brown biscuit color.
For a different spin at dinner, serve the pinwheels, filled with fresh tarragon, chives and dill. Their added secret: a brush of cream across the tops.
And for those real biscuit fans who can never eat enough, our salt and pepper ones are a meal in themselves. Just slice and add ham, another favorite meat or cheese. And if that's too much trouble, they're also just fine on their own.
1
Heat the oven to 450 degrees. Line a baking sheet with parchment paper.
2
Toss the strawberries with 1 to 2 tablespoons granulated sugar to taste, depending on their sweetness. Set aside.
3
Sift together the flour, 1 tablespoon granulated sugar, baking powder, baking soda and salt in a mixing bowl. Use a pastry blender or two forks to cut in the butter. It's OK to have visible chunks of butter (this makes for a flakier biscuit).
4
Stir in the strawberries and toss to coat with the flour. Stir in the buttermilk until the flour mixture is moistened.
5
On a lightly floured work surface, lightly knead the dough until it holds together. Pat or roll to 3/4-inch thick. Use a 2-inch biscuit cutter to cut into rounds. Place the biscuits on the baking sheet and sprinkle each biscuit with 1/4 teaspoon turbinado sugar. Bake until light brown, 15 to 18 minutes.
From Virginia Evans. Turbinado sugar is sold at health food and specialty stores and well-stocked supermarkets.
---
Get our new Cooking newsletter.
You may occasionally receive promotional content from the Los Angeles Times.