Sun-dried-tomato-stuffed eggs
Time
Active work time: 25 minutes Total preparation time: 1 hour 15 minutes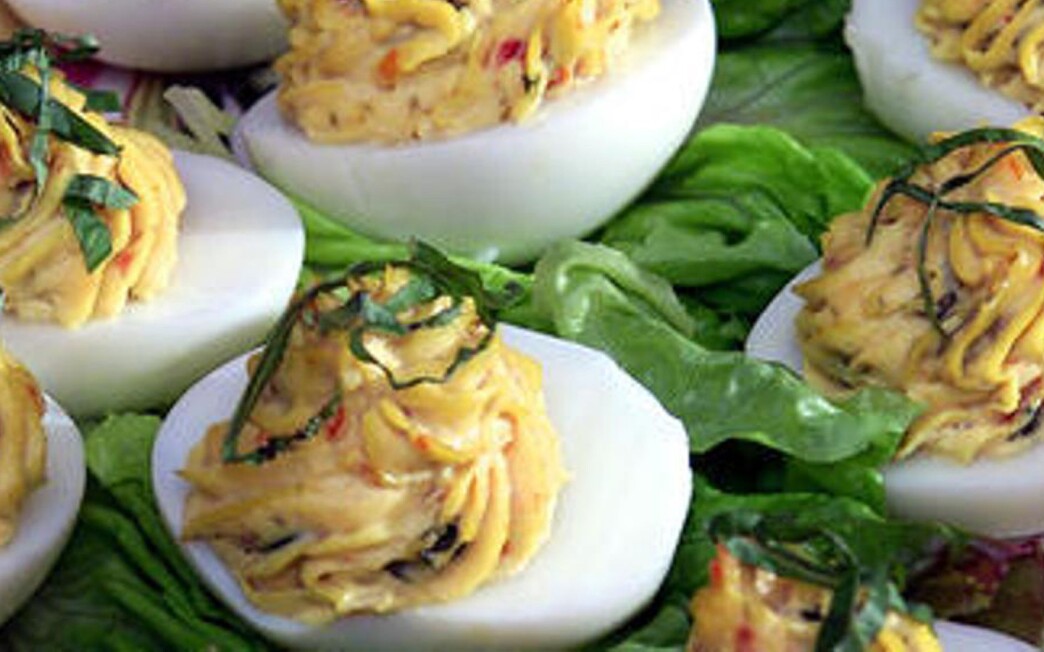 Print Recipe

Print Recipe
Times Test Kitchen intern Mary Ellen Rae thought up these stuffed eggs for an April 11 story on an Easter buffet. They're best the day they're made. If that is impossible, you can make them a day ahead, up to the point of piping the filling into the eggs. Just keep everything refrigerated, and press plastic wrap directly onto the surface of the yolk mixture to keep it fresh. Then fill the eggs just before serving.
1
Place the 12 eggs in a large saucepan. Fill with cool water. Bring the water to boil over medium heat. As soon as it boils, reduce the heat to simmer and cook the eggs 20 minutes. Fill a bowl with ice cubes and cold water and set aside.
2
Meanwhile, place the sun-dried tomatoes in a microwave-safe bowl and cover them with water. Microwave for 2 minutes, then let the tomatoes sit several minutes until they have softened. Drain on paper towels, then finely mince.
3
When the eggs are cooked, lift them from the pan using a slotted spoon and place them in the cold water. Chill completely, then peel and slice them in half lengthwise. Remove the yolks and push them through a potato ricer or a mesh strainer to break them up into small pieces. This will help make a smoother mixture.
4
Combine the yolks, tomatoes, capers, shallot, mustard, mayonnaise and 2 tablespoons of basil in a small bowl. Stir to combine.
5
If the egg whites are inclined to roll around on a plate, cut a very thin slice off the bottom. Fill a pastry bag fitted with the star tip with the egg yolk mixture. Pipe the filling into the egg whites, then garnish the eggs with the remaining basil. If you don't have a pastry bag, you can cut the tip off a resealable bag to pipe in the filling, or use a teaspoon. Cover the eggs with plastic wrap and refrigerate until ready to serve.
Adapted from a recipe by Mary Ellen Rae, formerly of The Times Test Kitchen.
---
Get our new Cooking newsletter.
You may occasionally receive promotional content from the Los Angeles Times.