Vegan hazelnut rice pudding with orange and dark chocolate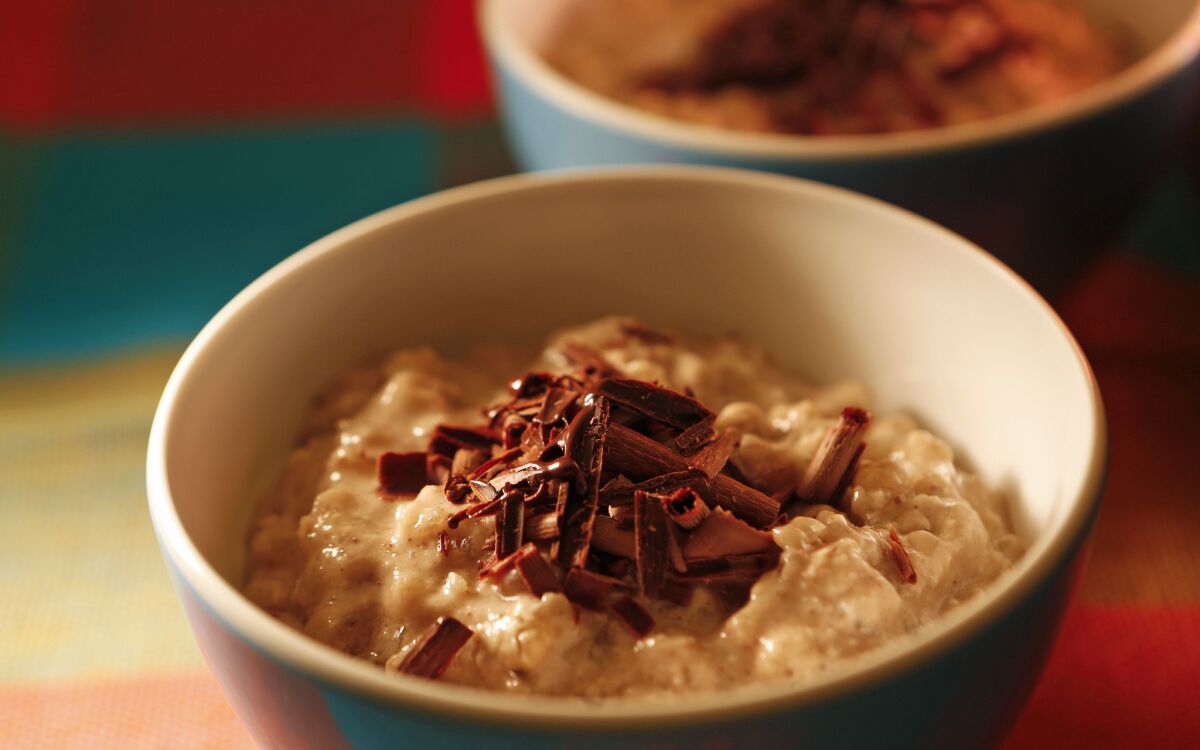 Print Recipe

Print Recipe
Nobody will know this rice pudding is vegan unless you tell them.
Cooking the rice using a risotto technique, adding the hot liquid to short-grain rice a little at a time and stirring frequently, coaxes more starch out of the rice, allowing for an extra creamy rice pudding.
If you are using homemade nut milk, make it more of a cream by allowing more of the finer nut grit to pass through into the milk in the straining process than you normally would and reduce the amount of water. Your result will be a thicker, creamier milk.
1
Rinse the rice several times until the water runs clear. In a large saucepan, combine the water and hazelnut milk with the salt, cinnamon stick and zest, and bring to a simmer over high heat.
2
Place the rice in a separate heavy saucepan. Stir in 2 cups of the simmering nut milk and bring to a simmer over medium-high heat. Cook, stirring occasionally, until the rice has absorbed almost all the liquid.
3
Continue cooking the rice as you would a risotto, adding the nut milk, a ladleful at a time, as the rice begins to swell and absorb the liquid. When the rice is almost tender, stir in the brown sugar and vanilla extract. Continue cooking, stirring frequently to make sure the rice does not stick to the bottom of the pan and burn, 25 to 30 minutes total. The finished rice will be thick and creamy.
4
Move the rice to a medium bowl and cover with plastic wrap pressed flat against the surface (this will prevent a skin from forming). Refrigerate until chilled, and serve garnished with shaved dark chocolate.
Sugar is often processed using animal bone char, which is unacceptable to many vegans. This recipe calls for vegan brown sugar (animal-free processing) and vegan dark chocolate, both of which are generally available at health food markets as well as online.
---
Get our new Cooking newsletter.
Your roundup of inspiring recipes and kitchen tricks.
You may occasionally receive promotional content from the Los Angeles Times.