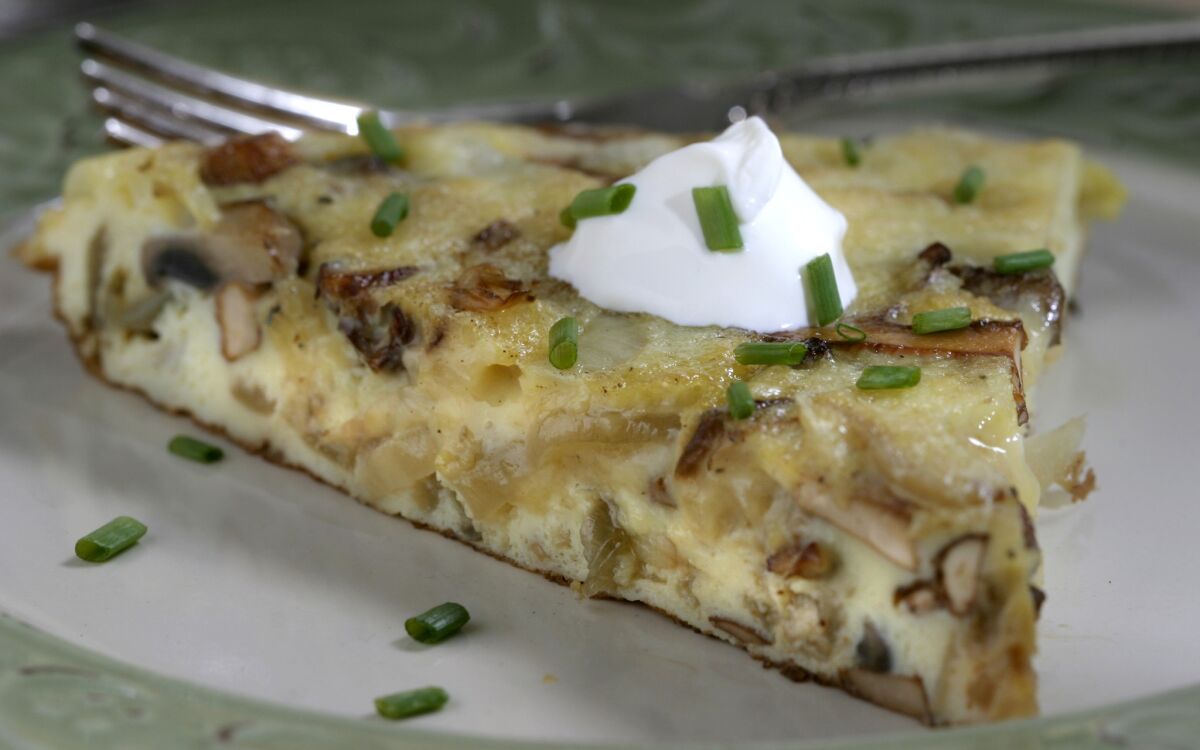 Print Recipe

Print Recipe
A frittata is forgiving and flexible. You can wrap it up and it's good a few hours later. Or you can eat it cold. You could make one late at night and have leftovers for lunch the next day. For this recipe, any mix of wild and domestic mushrooms will do — and a generous dose of thinly sliced shallots and garlic. Once you've sliced the mushrooms and shallots, it comes together and cooks in minutes. Pecorino cheese and a bit of crème fraîche provide just enough body to hold the eggs and vegetables in a rustic pie shape.
From the story: Midnight supper
1
Whisk together the eggs, one-fourth cup creme fraiche and the cheese until thoroughly combined. Set aside.
2
Heat a large nonstick skillet or cast iron pan over medium-high heat. Add the olive oil and butter and heat until the butter bubbles but is not yet turning brown. Add the shallots and garlic and cook over medium to medium-low heat until tender and beginning to brown, about 3 to 4 minutes.
3
Add the mushrooms and thyme and cook until the mushrooms are tender, about 2 minutes. Season to taste with salt and pepper.
4
Stir the egg mixture to recombine, then pour it over the mushroom mixture. Reduce the heat to medium-low. Use a rubber spatula to even out and distribute the mushroom-shallot mixture. Cook until the bottom is set and the edges begin to shrink a little, about 5 to 8 minutes. Meanwhile, set the oven rack at least 6 inches away from the broiler and heat the broiler.
5
When the bottom is set, finish the frittata by broiling briefly until the top is just set, 1 to 2 minutes. Do not brown.
6
Remove the frittata from the oven and loosen it from the pan with a spatula. To serve, cut into wedges and top each with a dollop of creme fraiche and a sprinkling of chopped chives and sea salt.
From David Lentz at the Hungry Cat.
---
Get our new Cooking newsletter.
Your roundup of inspiring recipes and kitchen tricks.
You may occasionally receive promotional content from the Los Angeles Times.