Zynodoa's bruleed cast iron cornbread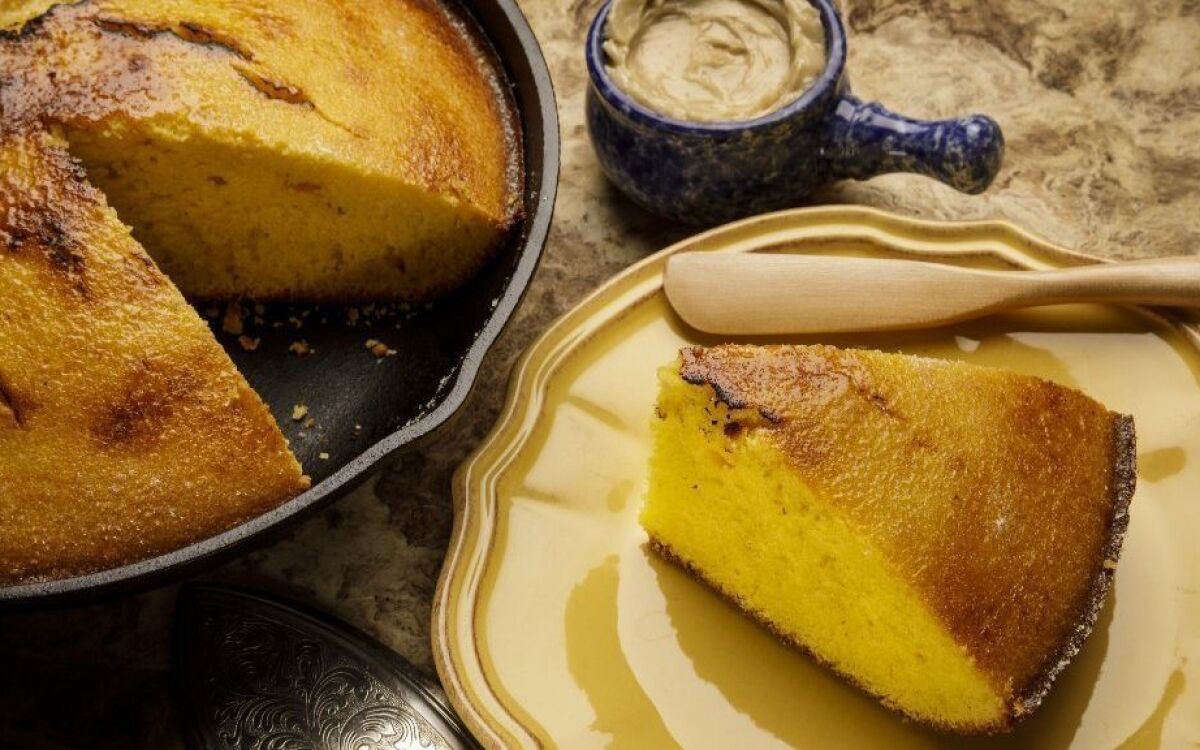 Print Recipe

Print Recipe
Reader Nancy Halpern of Santa Monica and her husband were on an East Coast road trip last summer when they happened upon Zynodoa Restaurant in the old Southern town of Staunton, Va. "We enjoyed the most fabulous, unusually moist cornbread served in an iron pan with a caramelized glaze. It became our dessert," she writes. "I've been searching for the perfect cornbread and this was it!"
Lightly sweet and with a delicate crumb, the cornbread at Zynodoa is served piping hot in a cast iron skillet, the mounded bread topped with melted butter and a thin crust of caramelized sugar. The restaurant serves the bread with whipped honey butter and local Concord grape jam, but it could just as easily be served with a scoop of ice cream for dessert, or a side of bacon if you're thinking breakfast. We adapted the recipe to fit a standard skillet, with plenty of bread to serve a family for any time of day. Enjoy, Nancy, Zynodoa was happy to share the recipe so you can have a sweet taste of the South right here at home.
1
In a large bowl, whisk together the flour, cornmeal, 1 cup sugar, baking powder and salt.
2
In a separate bowl, whisk the eggs with 1 cup of the milk. Slowly whisk the liquids in with the dry ingredients.
3
Continue adding more milk, slowly whisking it in, until the batter is thick but pourable. You may not use all of the milk.
4
Whisk in ½ cup melted butter. This makes about 5 cups batter. Set the batter aside to rest for up to an hour. Meanwhile, heat the oven to 400 degrees.
5
Lightly oil a 10-inch cast-iron skillet and heat it in the oven for 10 minutes.
6
Pour the batter into the heated skillet and bake until golden around the edges and a toothpick inserted in the center comes out clean, about 30 minutes.
7
Brush the reserved melted butter across the top of the cornbread and sprinkle over a light coating of sugar. Place the bread under the broiler or use a torch to brûlée the sugar until it caramelizes. Serve warm.
Adapted from a recipe provided by Zynodoa Restaurant in Staunton, Va.
---
Get our new Cooking newsletter.
Your roundup of inspiring recipes and kitchen tricks.
You may occasionally receive promotional content from the Los Angeles Times.