Column: Oscar De La Hoya urges Canelo Alvarez not to make the mistake he did against Felix Trinidad
In Episode 2 on the new Pound for Pound series, follow Los Angeles Times reporter Lance Pugmire as he prepares for the rematch between Canelo Alvarez vs. Gennady Golovkin.
Reporting from Las Vegas —
Canelo Alvarez has to knock out Gennady Golovkin in their rematch Saturday night.
So said Oscar De La Hoya.
De La Hoya's choice of words was curious, if not downright bizarre, considering they placed an incredibly heavy burden on his promotional company's most valuable fighter.
He wasn't speaking only as Alvarez's promoter, however. He also was speaking as a former fighter.
As much as anyone associated with the event, De La Hoya understands how careers can be defined by the kind of moment that awaits Alvarez when he takes on Golovkin again at T-Mobile Arena. De La Hoya knows how fleeting these opportunities can be, how once they pass, they're gone forever.
"You can't turn back time," De La Hoya said. "You have to seize the moment."
He's lived the consequences of failing to do that, specifically in what was supposed to be the signature fight of his career, a controversial decision loss to Felix Trinidad of Puerto Rico in 1999.
"It's haunted me forever," De La Hoya said.
LIVE UPDATES: Coverage of Canelo Alvarez vs. Gennady Golokvin from Las Vegas »
If the strikingly handsome De La Hoya was the Alvarez of his generation, Trinidad played the role of Golovkin, a relentless stalker with devastating power in both hands.
Two undefeated welterweights, De La Hoya and Trinidad met in what was called the "Fight of the Millennium" on Sept. 18, 1999. In the buildup to the confrontation, comparisons were made to Ray Leonard's 14th-round stoppage of Tommy Hearns in 1981.
"It's funny because I fought Trinidad the way Canelo fought Golovkin the first time," De La Hoya said.
The description undersells De La Hoya's defensive performance that night.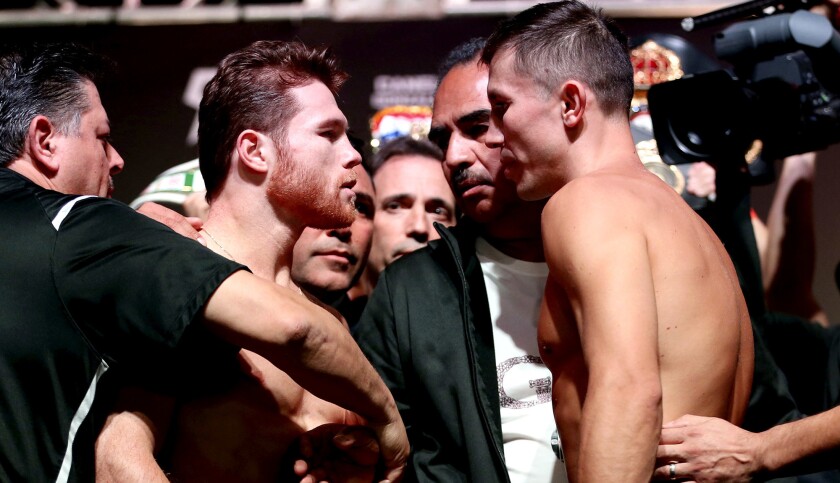 Alvarez was a plodder early in his career who gradually improved his movement through an unusual dedication to his craft. De La Hoya, substantially more naturally gifted than Alvarez, was light on his feet and blessed with blinding hand speed.
Alvarez boxed well in his fight last year against Golovkin, but ringside observers were divided over how effective he was in neutralizing his opponent's attack in what was ruled a draw. In De La Hoya's case, the view was unanimous. De La Hoya was wiping him out. Trinidad couldn't touch him.
Despite an obvious difference in class, De La Hoya never tried to finish Trinidad, as he remained content avoiding his punches and slapping him around. The strategy backfired as De La Hoya tired in the later rounds. Lacking the energy required to strike Trinidad after making him miss, De La Hoya was forced into a full-scale retreat over the last three rounds.
The decision was a shocker. Trinidad was gifted an undeserved majority decision.
Rather than elevate De La Hoya and Trinidad the way Leonard and Hearns' 14-round battle did them, the contest diminished both fighters. De La Hoya went on to a number of memorable fights and earned hundreds of millions of dollars over his career, but none of them erased the memory of what he did against Trinidad. When he retired, the feeling was that he was something of an underachiever, that he never became the fighter he should have become.
"If there's a fight that I can redo, it would be the last three rounds," De La Hoya said. "Even though in many people's eyes I won that fight, those last three rounds were critical."
His disappointment was only magnified by his familiarity with the pride and euphoria he experienced after his most courageous performances.
He knocked down Ike Quartey in a furious, 12-round attack when he believed he was down on the scorecards in a split-decision victory in 1999. He dropped a split decision to Shane Mosley the following year, but exchanged power punches with him in the center of the ring down the stretch. He stopped hated rival Fernando Vargas in 2002 and did the same to foul-mouthed verbal tormentor Ricardo Mayorga in 2006.
"There's a reason people still talk about me and Vargas or me and Mayorga, me and Mosley, me and Ike Quartey," De La Hoya said. "It's because you have to seize the moment."
But Trinidad was more dangerous than any of the fighters he beat, administering beatings that ruined the promising careers of Vargas and David Reid. De La Hoya retired wealthy and without any noticeable signs of brain damage. What if he had tried to knock out Trinidad and ended up in a violent fight that did permanent harm to him?
De La Hoya doesn't consider the possibility, thinking more of the regret he harbors. Not wanting Alvarez to endure the same fate, he has made it a point to share his experiences with the Mexican middleweight.
"Now that Canelo knows what he has in front in front of him, I strongly feel Canelo is going to go for the kill," De La Hoya said. "I strongly feel Canelo is going to be aggressive, is going to push him back, just the way I would have done if I would have fought Trinidad the second time around."
Alvarez will have the chance for redemption that De La Hoya never had. The same applies to Golovkin.
"Whether it's Canelo or whether it's Triple-G, they have to go out there and try to be great," De La Hoya said. "Not just good. You have to be great. And Saturday night is their opportunity."
What they do with that opportunity will determine how they are remembered.
---
Get the latest on L.A.'s teams in the daily Sports Report newsletter.
You may occasionally receive promotional content from the Los Angeles Times.