Letters of intent do not carry much weight when you're headed to an Ivy League school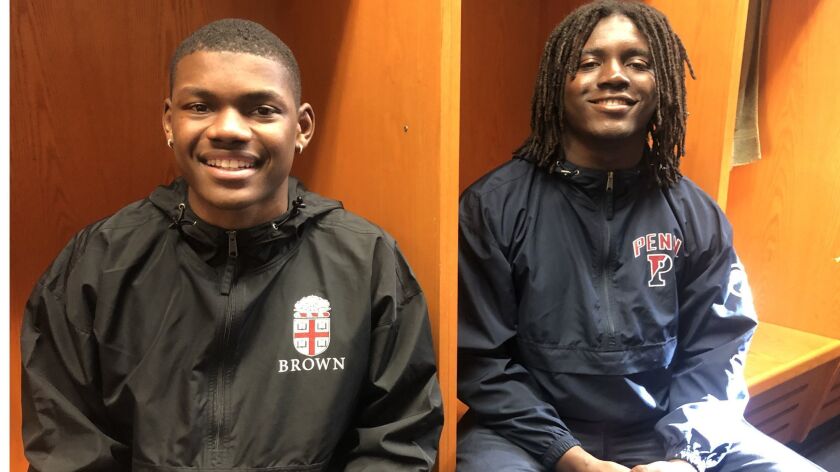 ESPN networks will be providing 15 hours of coverage on Wednesday to document letter of intent day for high school football players. Don't expect to hear a word about the college choices of West Hills Chaminade senior defensive backs Chris Rankins and Jalen Fisher, because they've chosen University of Pennsylvania and Brown, respectively, of the Ivy League, not Alabama, USC or UCLA.
Neither will be upset about receiving the silent treatment. They're hoping to have the last laugh in the future.
"If I want to play in the NFL — and I do — I can do that," Fisher said. "The Patriots' fullback went to Brown."
Said Rankins: "Committing to Penn is the step I'm taking to make a better life for me and my family."
Congratulations are in store for all those fortunate enough to sign with a college, but there's no guarantee of success for the ones with five stars or four stars next to their names. Rankins and Fisher put education as the highest priority, with football right behind.
Rankins, at 6 feet and 208 pounds, is an all-league safety with a 3.7 grade-point average and 1280 SAT score. Fisher, 5 feet 11 and 175 pounds, is an all-league cornerback with a 3.8 GPA and 1250 SAT. They've invested time and effort to earn an opportunity few receive.
"I never really thought about going to the Ivy League specifically growing up," Rankins said. "Education is the first thing for me. My parents instilled that into my brain. It's something that really meant a lot to me and I carried it on."
Fisher visited Brown in Providence, R.I., last week and said, "I loved it as soon as I stepped foot on campus." Told he had been accepted, Fisher said he immediately called his mother. "We were screaming and shouting on the phone," he said.
Sign up for our daily sports newsletter »
Each feels an additional responsibility, being African American and going to the Ivy League.
"It was a big impact on my decision," Rankins said. "I feel there's not a lot of people of color going to these schools. I feel I can really make a difference actually pursuing something in life and do more than just football."
Said Fisher: "I felt I can change the stigma that African Americans only can go to these Pac-12, SEC schools. They really can go to an Ivy League school, get a great education while playing the game they love."
Both will be participating in a ceremony at Chaminade along with classmates on Wednesday, although the Ivy League doesn't give athletic scholarships and doesn't have student-athletes sign a letter of intent.
"Great for them, but it wasn't my destiny," Fisher said of his teammates headed to FBS schools. "I have friends committed to play at Pac-12 schools. Kudos to them. They worked hard and deserve it. For me, in the long run, the Ivy League was best for me."
Rankins plans to major in political science at Penn. Fisher will major in business management at Brown.
As for lessons learned, Fisher said: "Not everybody is going to go to the NFL. Football is going to end someday, and you need your education to fall back on."
Said Rankins: "Keeping that balance between football and academics is key."
Twitter: @latsondheimer
---
Get the latest on L.A.'s teams in the daily Sports Report newsletter.
You may occasionally receive promotional content from the Los Angeles Times.