David Long Jr.'s chance to make NFL grade has finally arrived with scouting combine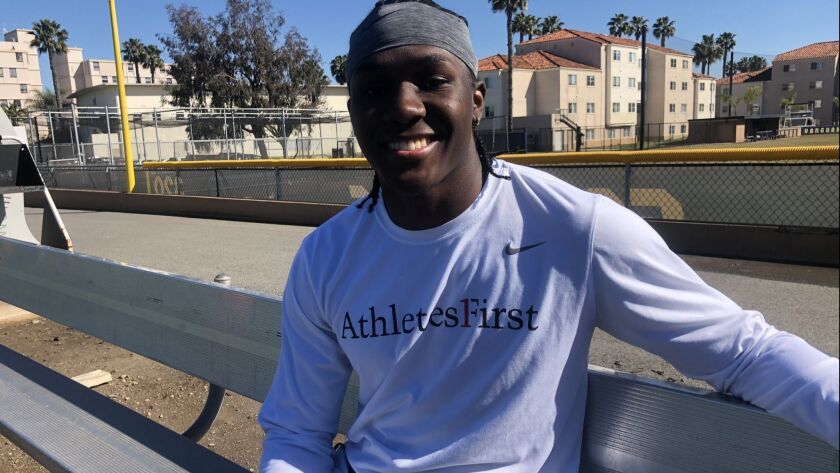 David Long Jr. has been training six days a week for nearly two months to prepare for the moment that has become a potential life-changing experience for college football players.
His big opportunity takes place next Monday in Indianapolis when defensive backs take the spotlight at the annual NFL scouting combine, which begins this week.
It comes down to running a 40-yard dash in less than 4.5 seconds — every 10th of a second can translate into thousands of dollars — lifting weights and leaping.
"You have to trust the guys getting you prepared," Long said earlier this month on a cool weekday morning at Vanguard University, one of the training sites his agency, Athletes First, uses to prepare clients for the combine.
Long, a Loyola High graduate, spent three years playing cornerback at Michigan. He started all 13 games the last two years. He was first-team All-Big Ten Conference. He chose to skip his senior year to enter the draft, and the position he plays has become one of the most important in professional football.
The 2018 NFL draft featured six defensive backs taken in the first round, including three cornerbacks. In 2017, eight defensive backs were first-round picks, five of them cornerbacks.
In January, ESPN's Mel Kiper Jr. projected Long as the No. 8 draft-eligible cornerback for the 2019 draft, likely putting him in the second round. That was before Long began working with trainer Ryan Capretta.
"The kid can run. The kid can fly," Capretta said.
Sign up for our daily sports newsletter »
Long used to run track at Loyola. All the techniques he learned are coming back to him, from how to get out of a starting block to how to move his arms to create speed.
"I'm grateful for my time at Loyola," he said. "Everything is applicable. I understand what they're talking about — shin ankles, knee ankles, getting out with my steps."
If anyone has proven himself ready to move forward, it has to be Long, who took the risk of leaving his home in Pasadena as a teenager for the cold and uncertainty of Michigan.
"I could have gone to USC," he said. "It allowed me to mature in places where I wouldn't have gotten to if I stayed back. I'm grateful for the experience. I got a chance to play in some big games. I played in the cold, lived in the cold. Any big risk you take, you have to see it through, and that's what I did."
He played in freezing temperatures and memorable storms in Wisconsin, Maryland and New Jersey. He learned how Vaseline helps keep you warm by protecting the pores against wind.
"You really don't think about the cold when you're playing football," he said. "There were some games definitely where it was freezing cold. But you really can't think of that. There's too much stuff going on in your mind. I'll always look back and remember those times when I was freezing and it was some of the best times of my life."
Now Long is on the cusp of becoming a professional athlete. It's all about being focused, showing passion and listening to the coaches responsible for helping him. As a cornerback, the challenge is immense.
"You have to like to compete and have tough skin," he said. "At Loyola, our offensive coordinator used to tell us, 'Next-play mentality.' That's something I took with me. You have to have next-play mentality, especially playing cornerback. It doesn't matter if you play 69 plays correct. The one play that you don't do correct and it goes for a touchdown, they're going to blame you. You have to be locked in and ready to compete and make some fun out of it. You're competing one on one against another person and I enjoy that."
Long used to train in Pasadena, where his workout partners were Darnay Holmes (UCLA) and Myles Bryant (Washington), Pasadena natives and fellow cornerbacks who could follow him one day to the NFL. Long is proud of his Pasadena ties.
"When I went to Michigan, they always said I was from L.A., and I had to explain to them there's a big difference between L.A. and Pasadena," he said. "It is really great for me to be able to go to the league and be a product of Pasadena."
Twitter: @latsondheimer
---
Get the latest on L.A.'s teams in the daily Sports Report newsletter.
You may occasionally receive promotional content from the Los Angeles Times.