Column: Fairfax's Daylen Williams emerges from father's shadow with sensational senior season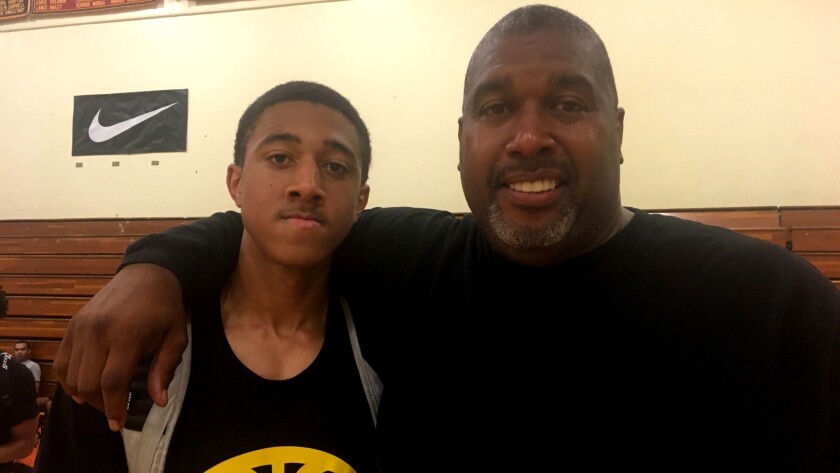 "Is that John Williams?"
Startled fans have the same reaction seemingly every time he walks into a gym. At 6 feet 8 and somewhere close to 300 pounds, he's a giant, literally and figuratively. Those who played high school basketball against him in the early 1980s in Los Angeles or watched him dominate at Crenshaw High swear no one was better before or since.
There he was in his usual place sitting courtside at Fairfax High on Wednesday night, cordial, friendly and cheering for his son, Daylen.
A former first-round draft pick out of LSU, Williams is an L.A. basketball legend who has stayed in the background while Daylen tried to make his own path to success.
It hasn't been easy for Daylen, who was barely over 6 feet tall when he showed up as a freshman. He missed the entire season because of an ankle injury. In his sophomore year, he broke his leg in the first game and didn't play again. By his junior year, he had grown to 6-6 and was a backup center.
Coach Steve Baik predicted he'd catch up and show everyone his skills.
It happened six days ago in the City Section Open Division championship game. He turned in his best game, scoring 18 points while rebounding, blocking shots and playing defense against Westchester's Kaelen Allen, the reigning City player of the year. Fairfax won 60-53.
"It was just a great feeling," Daylen said. "Being injured my first two years, getting back healthy. The loss to Westchester my junior year really hurt. I wanted to step up and not go out losing again."
Said John: "It's been a long time coming. I pretty much know what my son can do. He picked the perfect time to show up. I was very proud. I knew he was going to be there for his team."
Sign up for our daily sports newsletter »
A father and son both winning City championships isn't the first time it has happened, but the Williams duo joined some pretty select L.A. royalty. Before them, there were the Johnsons of Crenshaw, Marques and son Kris; and the duo of Dwayne Polee, who won at Manual Arts, and son Dwayne Jr., who won at Westchester. All four became City players of the year.
"There was a lot of expectations and pressure," Daylen said. "A lot of people tell me my dad was one of the best to come out of Los Angeles. I just try my best."
John was the City player of the year in 1984. Daylen should be an All-City selection, but his senior season and high school career ended after a 76-75 state playoff loss to Corona Centennial on Wednesday night. He finished with three points. It was another lesson in the highs and lows that come with playing basketball.
Daylen is nearly 6-8 now. He perfectly fits the role of "late bloomer." Colleges continue to evaluate his basketball future. He and his teammates went 27-2 this season, with both losses coming to Centennial. They were disappointed after losing a second time to the Huskies but not because they won't be able to win a state title. It's from having to break up a group of teammates who fought so hard to become the best in the City Section.
When Baik arrived from Chino Hills three years ago as the replacement for retiring coach Harvey Kitani, he didn't know what it meant to coach basketball in the City Section. He had heard about the tradition, the Fairfax-Westchester rivalry, the issues students must overcome. Now he understands it all.
"It was a special, special night for all of us," he said.
Fairfax earned its ring. Daylen Williams produced his own one shining moment. And Papa Williams did what dads are supposed to do — remind his son, "I love you."
Twitter: @latsondheimer
---
Get our high school sports newsletter
Prep Rally is devoted to the SoCal high school sports experience, bringing you scores, stories and a behind-the-scenes look at what makes prep sports so popular.
You may occasionally receive promotional content from the Los Angeles Times.