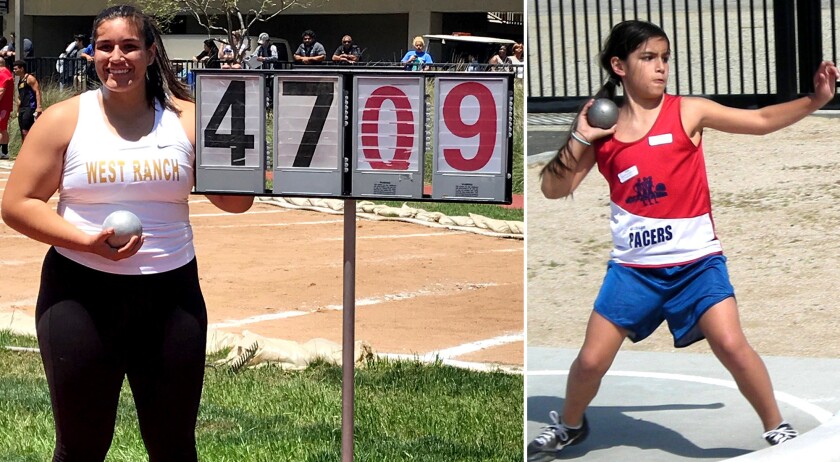 You're a 9-year-old girl who doesn't like running. The shotput coach asks, "Does anyone want to try shotput?"
Natalie Ramirez almost shouted it out: "Yes!"
So began an almost decade-long run that could culminate in a CIF state championship next weekend in Clovis, Calif.
Ramirez, a 5-foot-8 senior at Valencia West Ranch headed to UCLA, has won the Southern Section Masters Meet the last two years and finished third in the state last season. She owns the second-best mark in the state at 47 feet, 9¼ inches.
Her journey began when the shotput coach for the Northridge Pacers youth track team asked for volunteers.
"My dad was one of the running coaches, and I wasn't good at running, and wasn't fast and if I was going to pursue track and field further, I wanted to find something I wanted to like more," she said. "I tried it and he saw potential in me.
"I was always taller and bigger than anyone else and stronger. When I started, I felt real powerful. It just clicked. It was right."
Sign up for our daily sports newsletter »
Ramirez would spend time throwing a rubber discus and 4-pound shotput in the frontyard of the family home. She also reached the level of brown belt in karate and played guitar. But shotput became her focus.
She was home schooled until enrolling at West Ranch as a freshman. She wanted to compete in sports.
"It was an easier transition than I thought," she said. "I went in being scared. I was worried I wouldn't make friends. I kind of burst onto the track team immediately."
One of the best experiences Ramirez says she's had has been competing against Shyann Franklin of Santa Clarita Golden Valley since their youth days. They finished one-two on Saturday at El Camino College and will be competing on Friday and Saturday at the state championships at Buchanan High in Clovis. Franklin is going to California, so they'll see each other next year in Pac-12 competition.
"We've been competing against each other for 10 years," Ramirez said. "It's been an amazing experience to have someone familiar. We push each other. In the end, we're good friends."
The catch: The Southern Section high school baseball season couldn't have ended more impressively than the quality performances turned in Saturday at Dodger Stadium. All six teams in the three games showed off great defense, pitching and competitiveness.
The most memorable moment was the catch in the 12th inning of the Division 2 final by right-fielder Michael Forbes of Norco. You'll have to find an old video of Hall of Famer Willie Mays to understand how remarkable it was. He turned his back to home plate while racing to the warning track to try to catch the ball hit off the bat of Santa Margarita's Milan Tolentino.
"I was pretty shallow because there were runners on second and third with one out," Forbes said. "He roped it. I just turned and ran. Looked over my shoulder, saw the ball, kept tracking the ball."
Forbes compared it to catching a pass in football. He's a wide receiver.
Forbes threw eight shutout innings in Norco's 1-0 loss to Santa Margarita. He has great grades, a terrific attitude and loves to play. His twin sister, Megan, is the catcher for the Division 1 champion softball team.
Forbes' catch will be long remembered as one of the best in a high school game at Dodger Stadium.
Twitter: @latsondheimer
---