Column: Narbonne quarterback Jaylen Henderson doesn't run away from a challenge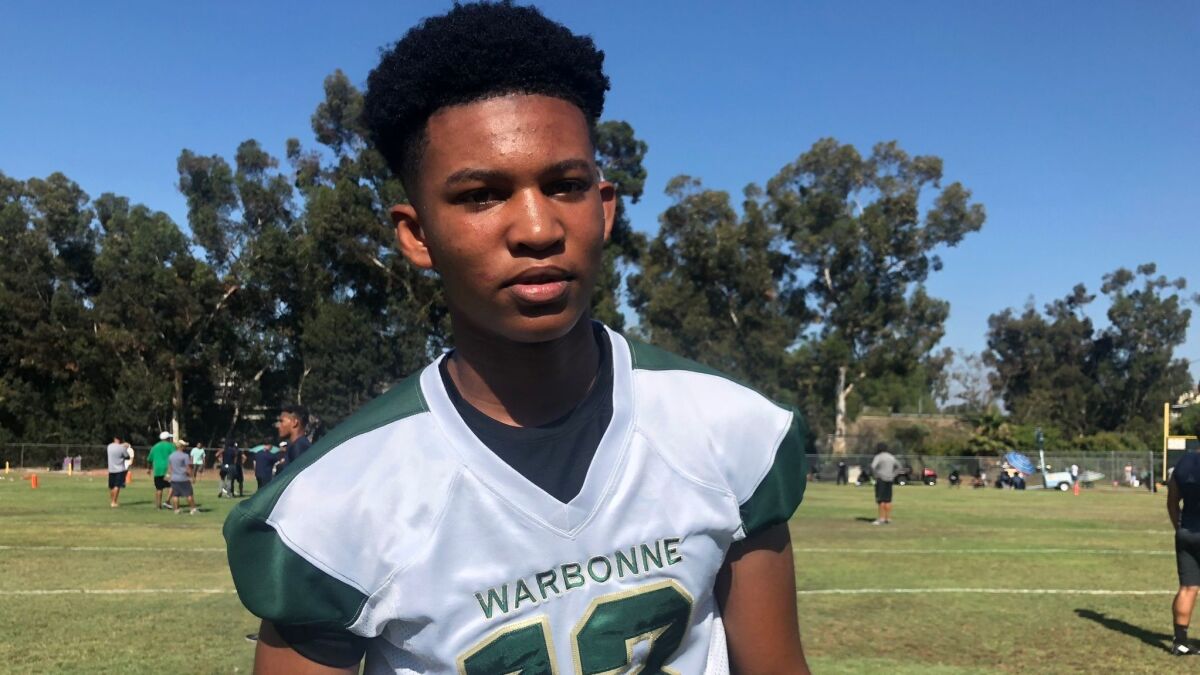 You need a pencil with an eraser these days to keep track of high school quarterbacks switching schools. They're all looking for the best opportunity, and being second string isn't motivation to stay.
At City Section power Narbonne, which has gotten its share of transfer students, the Gauchos have an interesting quarterback competition unfolding.
Long Beach Poly transfer Jake Garcia, a sophomore, was heavily favored to win the job based on his reputation as a promising college prospect.
Sophomore Jaylen Henderson, the junior varsity quarterback at Narbonne last season, decided to stay put to try to win the job. And Henderson is starting to open eyes and gain supporters.
At the Mission Viejo seven-on-seven tournament Saturday, he faced the kind of pressure he'll encounter this fall — except there was no tackling involved. It was a chaotic scene. Narbonne trailed St. John Bosco by two points. The Gauchos' defense stopped the Braves. Narbonne took over the ball with one minute left. Narbonne coach Manuel Douglas was waving his hands and yelling. Players were moving around with urgency, trying to score before time expired.
Looking calm and composed, Henderson led the Gauchos down the field with a couple of completions. Time was about to run out. It was fourth down, and Narbonne had one last play. With his coach pointing and frantically trying to call a play, Henderson found an open receiver to his left for the game-winning touchdown.
Yes, it was a meaningless seven-on-seven game, but Henderson demonstrated he can come through in a pressure situation, giving Douglas something to think about. Henderson has a 3.7 grade-point average and is such a good athlete he could start for the basketball team this season. The fact he stayed to offer competition to Garcia is even more impressive. Three other Narbonne quarterbacks declined to stay, transferring to Hawthorne, Lawndale and Cathedral.
On Monday, the City Section announced that Garcia must sit out the first month of the season, making Henderson the likely starter and giving him the chance to win the job on the field.
Henderson says one reason he doesn't run away from challenges is because of his sister, Brittiana, who passed away from cancer when she was 13. It's why he wears No. 13.
"She never gave up through her challenges, so I've learned to never give up through mine," he wrote on Twitter.
Whatever happens, it's clear that Henderson has shown he has the ability and mental toughness to be Narbonne's starting quarterback.
A healthy Ethan Rae: Orange Lutheran tight end Ethan Rae committed to USC earlier this week, which is probably a good sign he's healthy after tearing a knee ligament, which forced him to miss all of the 2017 season.
He's so healthy that he was competing with the Orange Lutheran lineman without a knee brace.
The Lancers have two tight ends headed to Pac-12 schools. Besides Rae, Elijah Mojarro is committed to Cal. Look for the Lancers to use lots of two tight end formations for running and passing.
Bru is back: Standout receiver Bru McCoy was back catching passes for Santa Ana Mater Dei on Saturday. The Monarchs held him out of the Edison tournament last week while he recovered from a sports hernia.
The fact he's in such good shape tells what kind of year the strong and agile McCoy could enjoy this season. He and tight end Michael Martinez make for a great duo for quarterback Bryce Young.
Mater Dei won the tournament championship, beating St. John Bosco in the final. The Monarchs also won last week at Edison. It shows how good the Monarchs are in their secondary.
St. John Bosco won the lineman competition, which is probably more important when the pads come on.
The summer passing season will end next Saturday with the Huntington Beach tournament.
City and Southern Section teams can begin official football practice July 23.
Narbonne sophomore QB making positive impression
---
Get our high school sports newsletter
Prep Rally is devoted to the SoCal high school sports experience, bringing you scores, stories and a behind-the-scenes look at what makes prep sports so popular.
You may occasionally receive promotional content from the Los Angeles Times.