Column: Midseason football report: A look at top players, top teams and unsung standouts in the Southland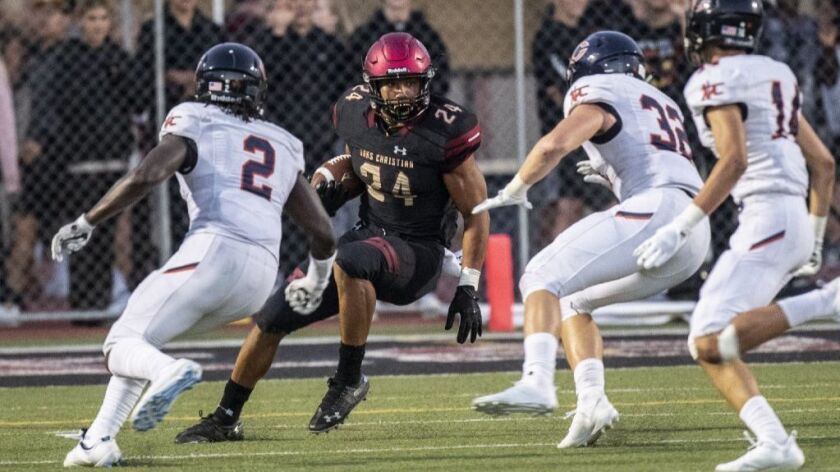 It's time for a midseason prep football report: Who's been good, who has exceeded expectations and who's been a surprise?
MVP candidates: 1. Bru McCoy, Santa Ana Mater Dei; 2. DJ Uiagalelei, Bellflower St. John Bosco; 3. Drake Jackson, Corona Centennial; 4. Akili Arnold, Mission Viejo.
McCoy's receiving and sacking skills have kept the Monarchs at the highest level. Uiagalelei has been delivering precision passes entering the toughest part of St. John Bosco's schedule. Jackson's play on the Centennial defensive line has been disruptive and impactful. Arnold, with five interceptions and six receiving touchdowns, has led the Diablos to a 6-0 start.
Quarterbacks with great starts: 1. Bryce Young, Mater Dei; 2. Uiagaleleli; 3. Joey Yellen, Mission Viejo; 4. Jayden Daniels, San Bernardino Cajon; 5. Ethan Garbers, Corona del Mar.
Young has completed 76% of his passes and has become comfortable scrambling out of the pocket against elite competition. Yellen keeps coming through in the fourth quarter of big games. Daniels has 20 touchdown passes and one interception. Garbers has improved more than any QB in the Southland.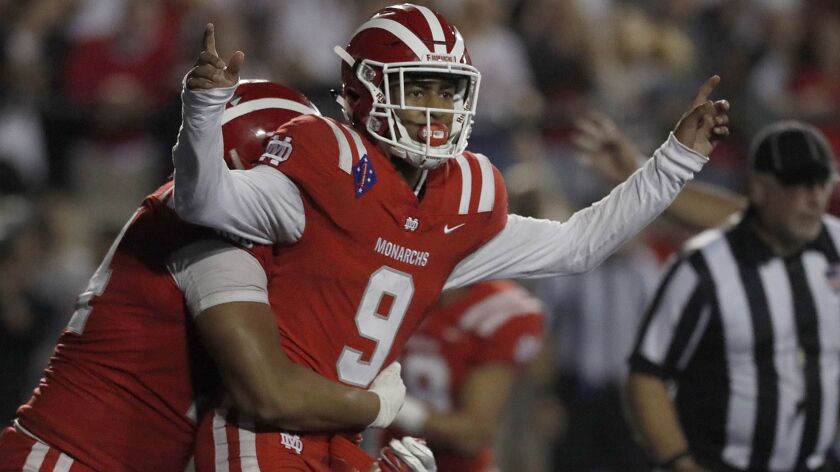 Running backs on the rise: 1. Zach Charbonnet, Westlake Village Oaks Christian; 2. Jordan Wilmore, Lawndale; 3. Zaquand Irby, Pomona Ganesha.
Charbonnet started the season with five consecutive games of more than 100 yards rushing for the 6-0 Lions. He has scored 11 touchdowns. Wilmore is averaging 164 yards rushing a game. Irby has topped the nation with 1,622 yards rushing and 21 touchdowns.
Receivers with big-play skills: 1. McCoy; 2. Kyle Ford, Orange Lutheran; 3. Jason Heller, Westlake Village Westlake; 4. John Humphreys, Corona del Mar.
Ford has caught eight touchdown passes. Heller has proven his 5-foot-8 frame means nothing as he creates havoc for defenders trying to cover him. Humphreys has been using his size and athleticism to be a consistent standout.
Surprise teams: 1. Mission Viejo; 2. West Covina South Hills; 3. Calabasas, 4. Eagle Rock.
Mission Viejo was good before Chad Johnson showed up as head coach this season, but the Diablos have started 6-0 despite playing one tough opponent after another. South Hills coach Matt Bechtel has his team headed for a 10-0 regular season. First-year coach Chris Claiborne of Calabasas has challenged his team with a grueling schedule and the Coyotes haven't wavered. Eagle Rock is 5-0 under coach Andy Moran and a surprise contender to make the City Section Open Division playoffs.
Unsung standouts: 1. Nehemiah Thompson, San Fernando; 2. Brandin Sun, Orange; 3. Darion Dorris, Palmdale Highland; 4. Nicholas Delgadillo; L.A. Garfield.
Thompson's tackling, sacks and rushing have helped the Tigers become the No. 2 team in the City Section. Sun has 10 sacks playing linebacker and defensive end. Dorris has 41 tackles as a linebacker for 5-0 Highland. Delgadillo has 59 tackles for 5-0 Garfield.
Best neighborhood teams without transfers: 1. Mission Viejo Capistrano Valley; 2. Camarillo; 3. Highland, 4. Crescenta Valley.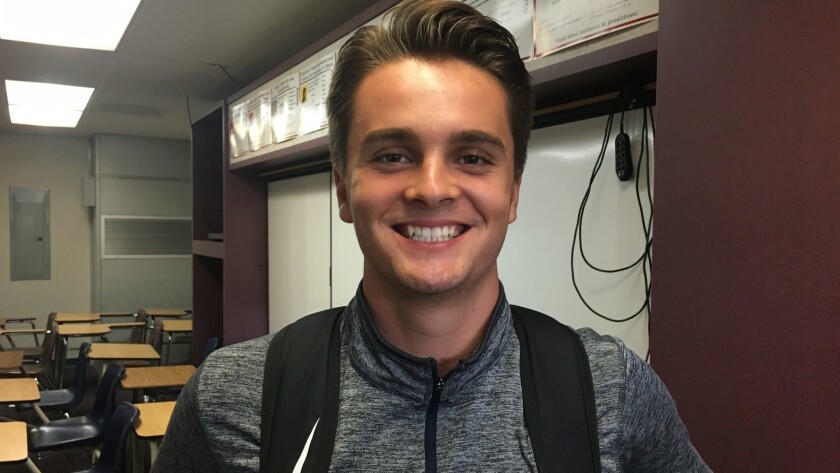 Capistrano Valley is 6-0 behind Nathan Manning, a three-sport athlete headed to Cal on a baseball scholarship. Camarillo is 5-0, led by junior running back Jesse Valenzuela, who is averaging 10.8 yards a carry. Highland is 5-0 and knocked off the previous No. 1 team in Division 5, Antelope Valley. Crescenta Valley is 5-0 and led by quarterback Cole Doyle, who has passed for 1,139 yards and rushed for 743 years.
Most impressive freshman: Kevin Green, Mission Hills Alemany. Green has 33 receptions and four touchdowns in five games.
Game of the year: St. John Bosco will play Mater Dei at Santa Ana Stadium on Oct. 12 to decide the No. 1 seed for the Division 1 playoffs.
Twitter: @latsondheimer
---
Get the latest on L.A.'s teams in the daily Sports Report newsletter.
You may occasionally receive promotional content from the Los Angeles Times.