Column: Hank Bachmeier takes his record-setting ways, and humility, into the playoffs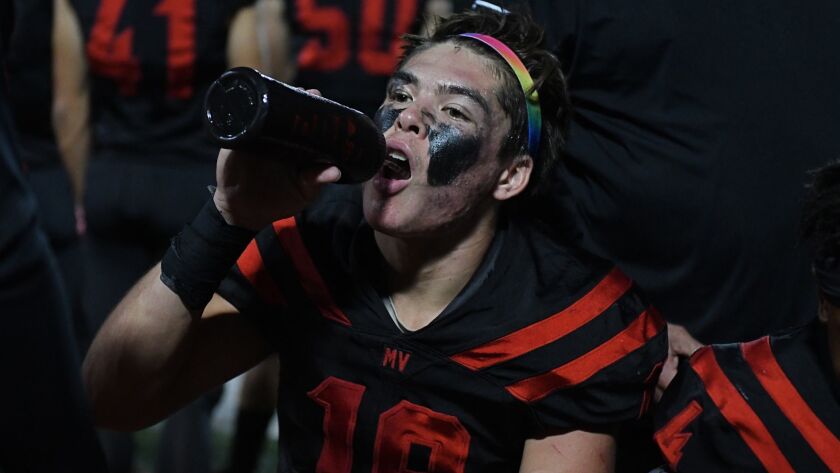 Quarterback Hank Bachmeier of Murrieta Valley High likes hanging out in the mountains, looking up at the stars, seeing wild animals grazing nearby. He lives in Rancho Capistrano, a gated community at an elevation of 3,200 feet surrounded by the Cleveland National Forest.
"I saw seven deer last night and a couple of baby Bambis," he said about his route home. "You get some mountain lions, snakes, coyotes. A lot of my neighbors have horses and sheep. I don't really want to live close to people. Maybe that attracted me to Boise State. I like keeping to myself."
Set to graduate in December, then take off to play quarterback for Boise State, the 6-foot-2, 185-pound Bachmeier has been a four-year starter at Murrieta Valley. His 154 career touchdown passes have surpassed the Southern Section record of 152 set last year by JT Daniels of Santa Ana Mater Dei. Jayden Daniels of Cajon also has 154 touchdown passes going into the opening round of the Southern Section playoffs on Friday.
"It's been a good run," coach George Wilson said. "He's been around forever. I don't feel shorted or cheated."
Bachmeier, 19, was home schooled until he arrived at Murrieta Valley as a freshman. He has helped engineer some big-time victories while accumulating 12,824 yards passing over four years.
Murrieta Valley defeated Westlake Village Oaks Christian 70-62 in 2016 when Bachmeier had seven touchdown passes. The Nighthawks defeated Santa Margarita 59-56 when Bachmeier passed for 479 yards and four touchdowns last season.
"It's definitely been a unique experience to have a four-year starter," Wilson said. "He's uniquely humble. He respects his coaches. He does what he's told."
Last week, during senior night, people were coming up to Bachmeier offering hugs and saying thanks for the memories.
"Coach has done a great job turning it around," he said. "We had that great run in 2016 and last year made the second round of the Division 1 playoffs with 2,200 kids. To be able to do that has been awesome."
This season, Murrieta Valley is 6-4 and opens the Division 1 playoffs at San Clemente. It's a young team that relies on Bachmeier's ability to run and pass to move the ball on offense.
"I love my team," he said. "We're playing Division 1 football. We've done a great job competing. I'm excited for these guys to keep continuing to grow."
Bachmeier figures to be a contender to start at quarterback for Boise State.
"I really just liked the situation there and the people there and it reflected the feel of high school," he said. "I want to be part of it."
There should be more Bachmeiers following in sports. He's got three younger brothers named Bear, Tiger and Buck as well as a younger sister, Ella.
"I say every day I hope they are better than me," he said.
Bachmeier remembers some tough times as a freshman on varsity.
"I look back, 'God, I was horrible.' I would run backwards and get sacked. I don't regret anything," he said. "Having those live bullets has made me the person I am today."
At Murrieta Valley, everyone knows the lunch lady, the security guard, the principal. It's a tight community. They also know the quarterback who appreciates the friends he has made and lessons he has learned coming down from the mountaintop.
"I think I've grown in all aspects," he said.
Don't assume Friday will be his final game.
"Last year people didn't believe we were going to be able to beat Santa Margarita, and we showed the world," he said.
Senior QB has passed for 12,824 yards
Twitter: @latsondheimer
---
Get the latest on L.A.'s teams in the daily Sports Report newsletter.
You may occasionally receive promotional content from the Los Angeles Times.