Column: Notre Dame running back Christian Grubb has burst into the spotlight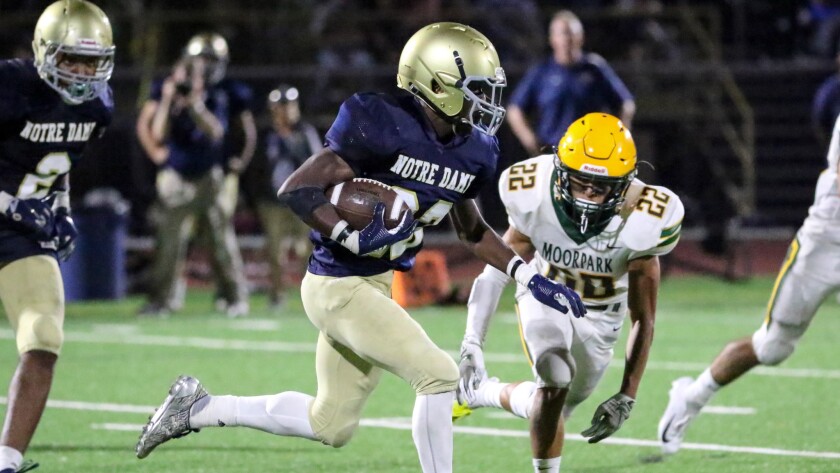 Christian Grubb's mother, Victoria, discovered how fast her son was in kindergarten. There were eight 5-year-olds lined up on the track. Christian burst out of lane five and somehow ended up in lane one by the end of the race.
"He made sure he crossed all the lanes so everyone knew who won," Victoria recalled.
Grubb, with 10.81-second speed in the 100 meters, has ignited a surging Sherman Oaks Notre Dame football team into the Southern Section Division 2 quarterfinals. He has scored 11 touchdowns in his last three games while rushing for 172 yards against Mission Hills Alemany, 109 yards against West Hills Chaminade and 133 yards against La Habra.
"As soon as he gets open, he's out of there," Chaminade coach Ed Croson said. "You can't catch him. Their line does a good job of getting body on body and creating space for him and then it's a race."
Notre Dame's offensive line has been creating lots of opportunities for Grubb, led by tackles Kyler Branim (6 feet 4, 245 pounds) and Daniel Fitzmorris (6-3, 305).
"They've been opening up big holes for me and doing everything right in practice and even better in games, and I've been taking my time when getting the ball, trying to go slow and fast through the hole," Grubb said. "I've been making sure that my vision is on point and know exactly where I'm going."
Grubb, 5-11, 170 pounds, is the Mission League sprint champion. He's following in the tradition of former Notre Dame track stars who became standout running backs, such as Justin Fargas, Rodney Glass and Khalfani Muhammad, all of whom won state 100-meter championships.
SO Notre Dame running back becomes standout
Critical to their transition from track to football was their ability to take a hit and show toughness. Grubb has been doing just that.
"I think this is definitely the first time I actually took the time to work on these things and carefully pinpoint each of my flaws and make them better and show during the game everything I've learned over the summer and in practice," he said.
His teammates are having fun blocking for Grubb.
"Any running back can get a 10-yard gain with a good hole. Christian excels because he can take it for a touchdown," Fitzmorris said.
Added Branim: "I feel his greatest skill is converting any play and making it bigger than it was intended."
Grubb's mother ran track in Britain. His father played tennis in Jamaica.
"I tell him, 'You got those genes from me. Every time you win a race, come back and thank me,'" his mother joked.
The speed was on display during a 96-yard kickoff return against Chaminade. Grubb appeared to be stopped soon after catching the kickoff. Everyone was waiting for the officials to blow their whistle when Grubb suddenly emerged from the pile and burst away for a touchdown.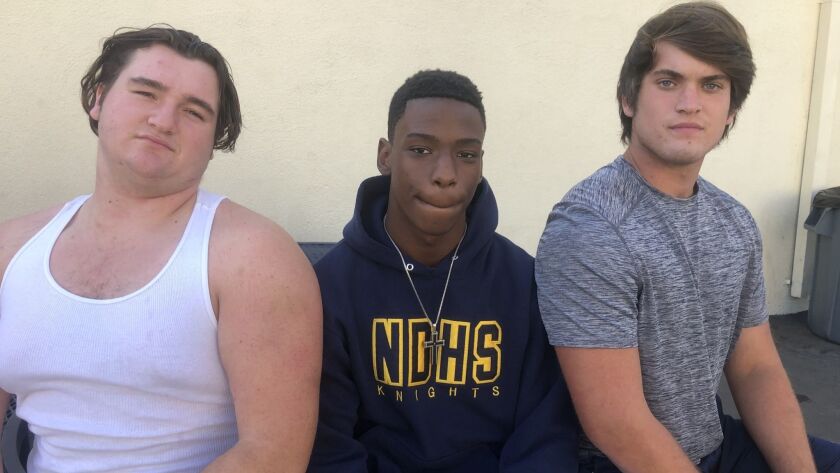 "It was like everyone stopped and he was gone," Croson said. "He disappeared in the mist, then came out on the other end."
And that's the problem in dealing with Grubb's speed. You can't catch him when he's even or has a head start.
"Once I know I'm in the open space, my speed takes care of the rest," he said.
Grubb can't wait to try out his speed in track during the spring.
"I feel I've definitely gotten a lot of faster since last year," he said.
Grubb's late-season development has intrigued a growing list of college recruiters. His next appearance comes Friday night, when Notre Dame (8-3) plays host to Los Alamitos (9-1-1).
Twitter: @latsondheimer
---
Get the latest on L.A.'s teams in the daily Sports Report newsletter.
You may occasionally receive promotional content from the Los Angeles Times.