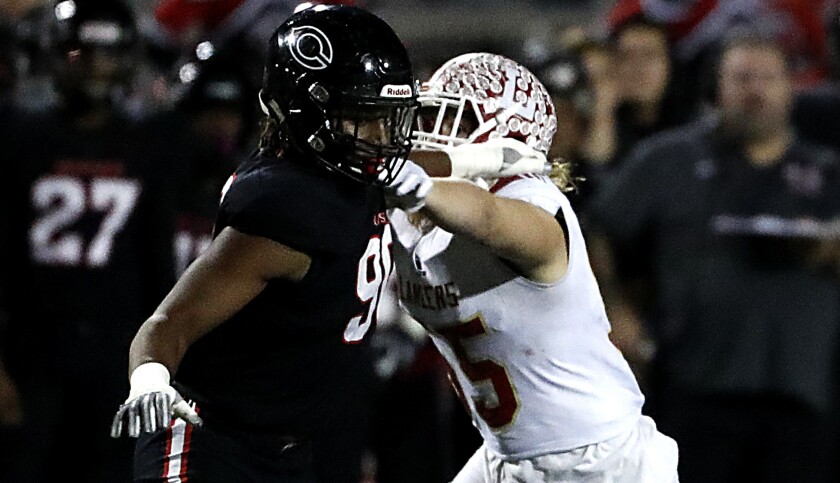 So much attention has been paid to Corona Centennial's high-scoring, no-huddle offensive attack through the years that it's almost a sin to discuss defense. This season, the 12-0 Huskies are averaging 54.6 points per game and have put up 80 and 84 points in victories.
The truth, though, is that if the Huskies are able to topple defending champion Santa Ana Mater Dei on Friday night in a Southern Section Division 1 semifinal playoff game at Santa Ana Stadium, defense will be the reason.
Centennial has perhaps its best defensive front four in Matt Logan's 22 seasons as head coach. The team has recorded 53 sacks, with the foursome of Drake Jackson, Korey Foreman, Malik Scurlock and Nick Smith combining for 25 sacks. They've nicknamed themselves "QB Killas."
"The cornerbacks' best friends are the defensive linemen," Scurlock said. "We have to do our part and put the pressure on."
Jackson, who is 6 feet 4 and 265 pounds, and Foreman, at 6-5 and 245 pounds, are considered in the mold of former Huskies standout Will Sutton. Both are destined for college and perhaps professional careers. Jackson is a senior with six sacks and Foreman is a sophomore with a team-leading 7 1/2 sacks.
"He's the young buck and still developing and learning and getting his body going in the right directions," Logan said of Foreman. "His potential and upside is amazing."
Jackson is capable of creating so much havoc that offenses have to consider double teaming him.
"What gets lost is he's a very smart football player," Logan said of Jackson. "When he first started, it was all about pass rush. He's learned to be much more."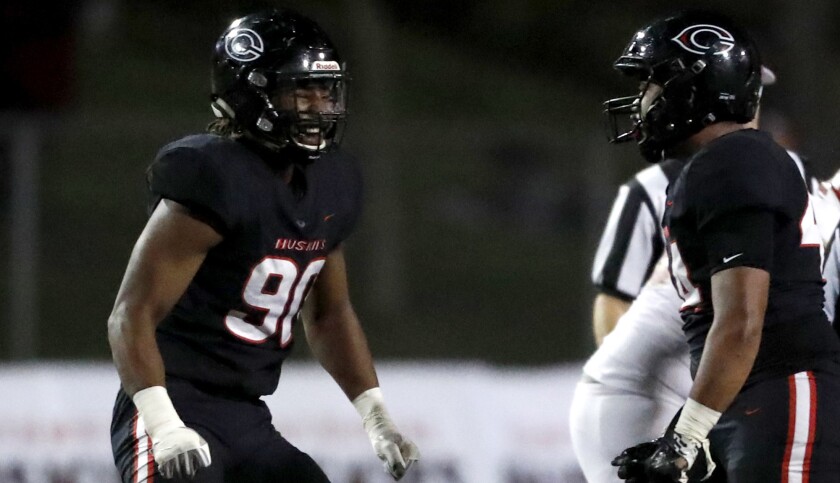 Scurlock, 6-3 1/2 and 280 pounds, transferred from Diamond Bar last year and usually lines up over the center. Moving him out of the way is difficult.
"I have to get out the war paint and look the center dead in the eyes until he knows I'm there," Scurlock said. "We have to flip the switch and be mean."
Smith, 6-2 and 205 pounds, is the smallest and most underrated of the linemen, but his surprising strength and quickness leads to big tackles.
"I use my speed and hands to make up for what I miss in weight," he said. "What makes us great is we have heart. It doesn't matter how big or small you are. We all make plays."
Centennial has won 10 section titles, including two Division 1 championships. Opponents have learned that to make it to the final or even win it, you have to go through the Huskies.
Their offensive stars over the seasons have been plentiful, from quarterbacks Tanner McKee, Matt Scott and Taylor Martinez to running backs Mike Bass, JJ Taylor and Tre Watson to receiver Javon McKinley. But Centennial also has its share of past defensive stalwarts, from NFL linebacker Vontaze Burfict to current college standouts Jaylen Johnson (Washington) and Camryn Bynum (California).
The Huskies' defensive focus on Friday will be to make sure Mater Dei quarterback Bryce Young feels pressure when trying to pass.
"We're a little banged up, so we have to get healthy this week and we have to keep Bryce in the pocket," Scurlock said.
Jackson was a youth football teammate of standout Mater Dei receiver Bru McCoy when the two played on a championship IE Ducks team.
"On the field, I don't know him," he said. "Off the field, that's my brother."
The defensive linemen have received inspiration from teammate Jack Coleman, who missed all of last season while undergoing chemotherapy for cancer of the lymphatic system. He has six tackles this season in his comeback.
"He gives us the strength we need because we know he fought and we have to fight," Jackson said.
Twitter: @latsondheimer
---